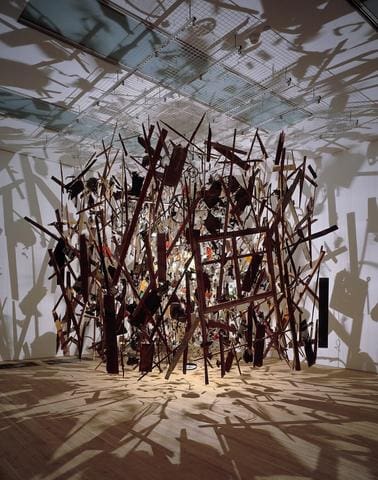 By James Brewer
As a child, Cornelia Parker was fascinated by American animated cartoons in which Roadrunner, Tom and Jerry and other characters suffered regular 'deaths.' In adulthood her artworks show what might be an "unconscious need to squash things," she admits. She is a sculptor who starts with destruction, paradoxically as a means of asserting creative narratives.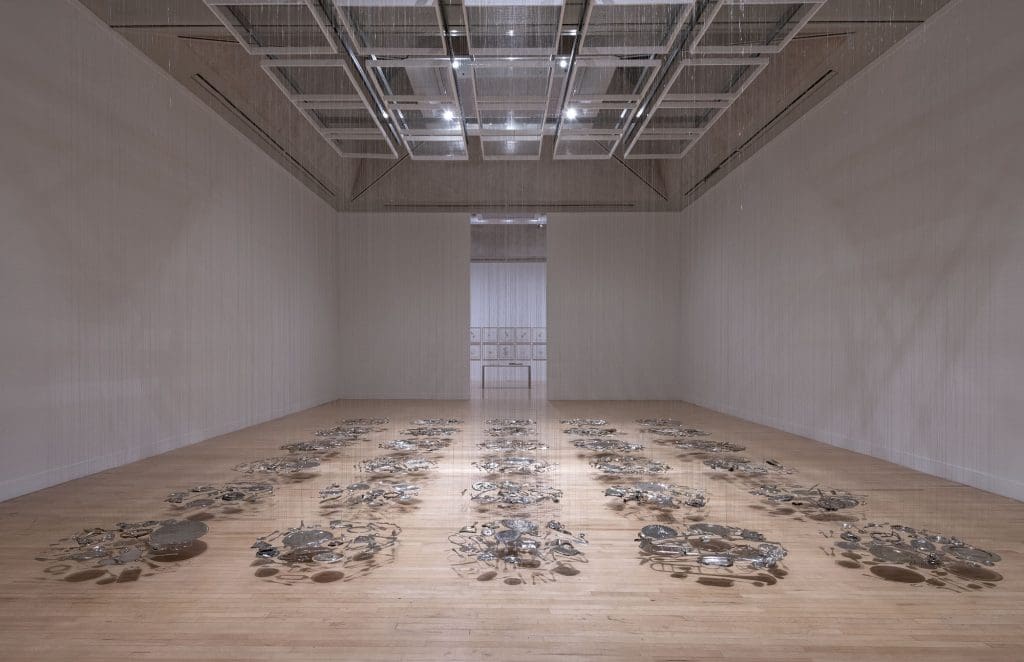 She can be mischievous, but she takes art very seriously. She believes that "this is the time we all need to politically engage. We need art more than ever because it's like a digestive system, a way of processing."
The smashing and processing are simultaneously to the fore in the new Tate Britain exhibition Cornelia Parker which presents dramatic works from her 30 years to- date career. Alongside small-scale abstractions are unforgettable, giant installations.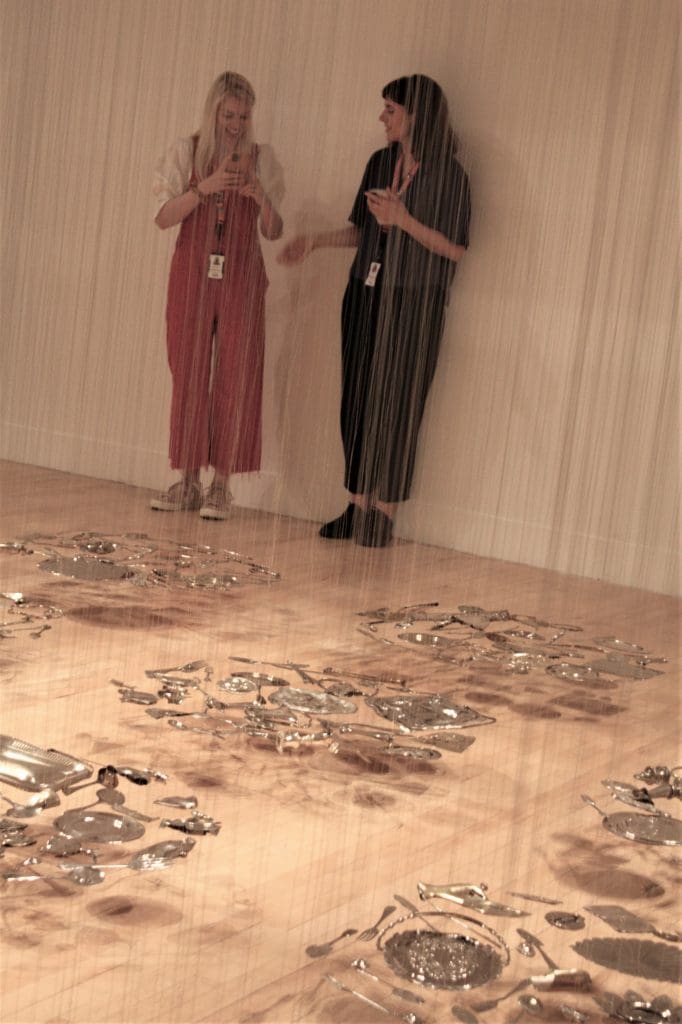 This retrospective of one of Britain's leading contemporary artists is long overdue, says curator Andrea Schlieker, who is director of exhibitions and displays at Tate Britain, and highlights the variety of media she uses. It is the first major survey in London of her works.
We get up-close to the personality of this artist who dislikes having barriers between her artworks and the public – a bell sounds if people get too close. The organisation is a delight: light rooms are followed by dark rooms. Everything evinces her total honesty of expression.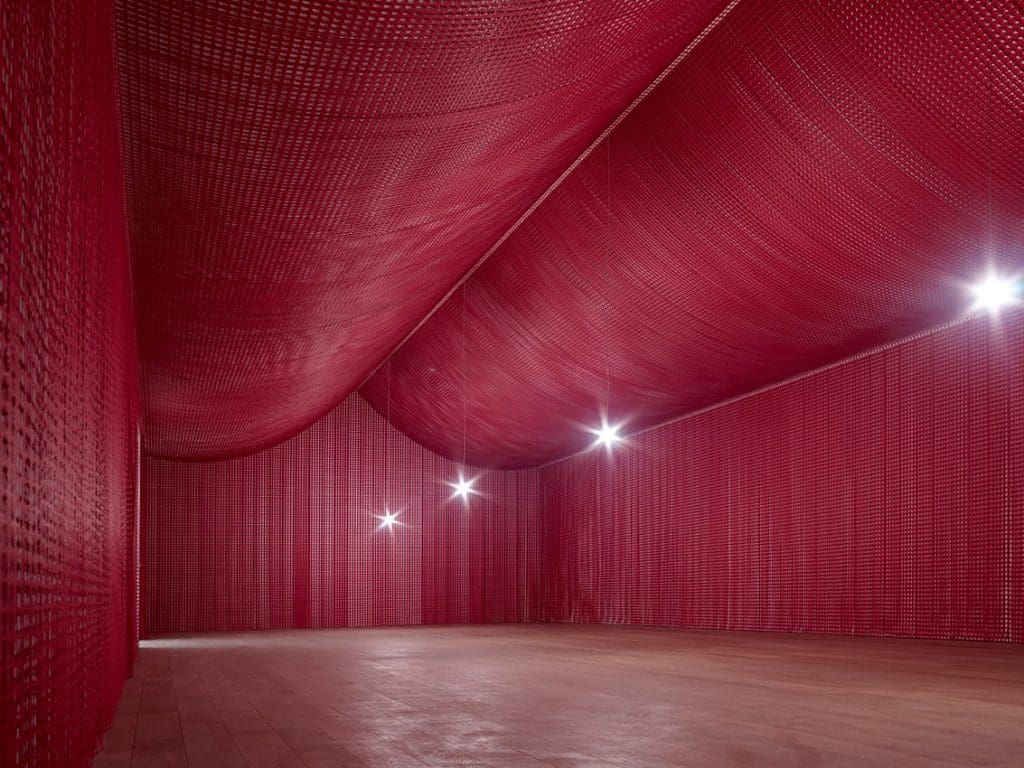 To engage with important issues of our time, whether violence, ecology, or human rights, Cornelia Parker specialises in capturing a fleeting moment and the associated feelings. Even in pieces made long ago, the impact of violence seems current: the exhibition opened as the horrific destruction of swathes of Ukraine, and the gun-crazy elements of American society, were uppermost in the minds of all sensitive people.
The artist deals in what might be called "everyday" savagery but seeks to revive objects that have been killed off. This contradiction led her in 1991 to make the pivotal piece of her career, a monumental creation filled with tension, disjointedness, and instability. Somehow, she persuaded the British Army School of Ammunition to detonate a bomb under a garden shed, after which with the help of a group of soldiers she collected the scattered, charred debris: wood, metal, plastic, ceramics, paper, textiles, and wire bits. She arranged the pieces to show how they would have shattered in mid-explosion and suspended them from an art gallery ceiling,
The result is a 4x5x5 metre installation in which the whole has a new life: she calls it Cold Dark Matter: An Exploded View. Its section of the gallery becomes a sculptural environment. She explains the title – she has written all the exhibition's wall labels – by saying that cold dark matter is something that has yet to be measured. (It theoretically comprises slow-moving particles that may have contributed to the creation of galaxies). Has Cornelia's explosion been akin to the Big Bang that created the universe? What one sees here has also become like an exploded diagram in a user manual for a domestic appliance.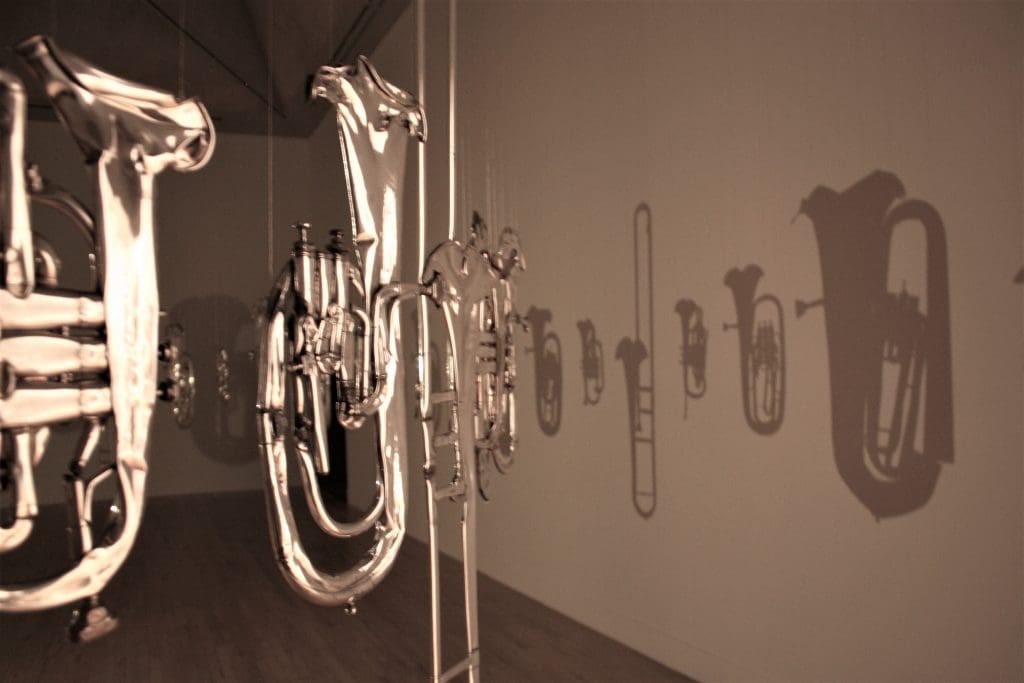 She says: "We watch explosions daily, in action films, documentaries and on the news in never-ending reports of conflict. I wanted to create a real explosion, not a representation. I chose the garden shed because it's the place where you store things you can't quite throw away." Of the fateful blast: "We used Semtex, a plastic explosive popular with terrorists. I pressed the plunger that blew the shed skywards."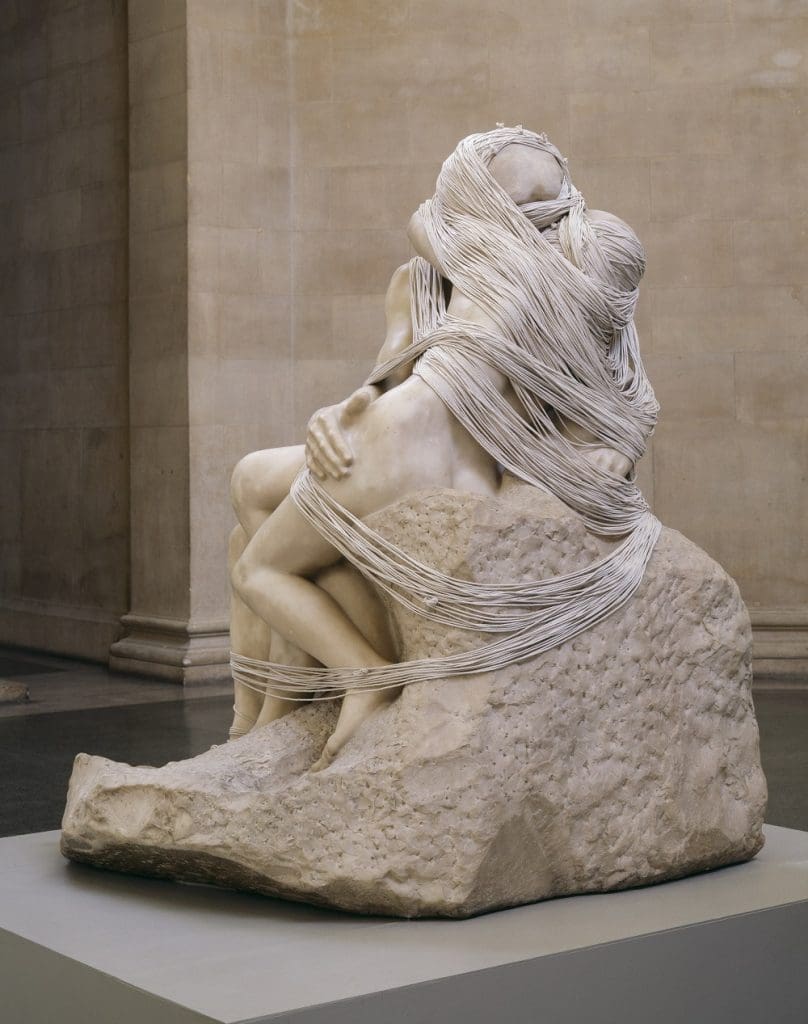 The illumination of the resulting "symbols of transience and fragility" throws intriguing shadows onto the walls and floor of the gallery (as in a separate piece, Perpetual Canon, where flattened brass instruments superimpose their shadow shapes around the room). "I operate very often in these 'frozen moments' where there's been lots of action, but this is a sort of quiet corner of that," says the artist.
Cold Dark Matter is the number one example of how she transforms the nature of an object or material through extreme force, to question our relationship with the world. She has crushed, stretched, and exploded numerous objects, enlisting the help in addition to Army of other unlikely collaborators.
In another of her reconfiguring works suspended in the air, Thirty Pieces of Silver from 1988–9, she had more than 1,000 silver objects at her request flattened by a steamroller. The pieces include teapots, candlesticks, plates, spoons, trophies, cigarette cases, and trombones, collected from charity shops and car boot sales. After they were ceremoniously crushed, she put them into 30 disc-shaped groups each some 90 cm in diameter, in rows suspended 30 cm above the floor by hundreds of fine wires. In this way she "resurrected" them and replaced their lost volume.
The title refers to the biblical story of the betrayal of Jesus by Judas Iscariot in return for thirty pieces of silver: that is, to money, treachery, death, and resurrection. When the work was in the Hayward Gallery's British Art Show in 1990, she commented in the exhibition catalogue: "Silver is commemorative, the objects are landmarks in people's lives. I wanted to change their meaning, their visibility, their worth, that is why I flattened them, consigning them all to the same fate… Thirty Pieces of Silver is about materiality and then about anti-matter."
Suspended in mid-air in Perpetual Canon are 60 compressed silver-plated trumpets, cornets, tubas, and other instruments. They are silenced but continue in canon (a musical term for a melody played and imitated after a short delay). The mouthpieces of the brass, hung upright around a central light bulb in an upright position, face the same direction, with the gap between each piece drawing attention to the absence of the musicians who once played them. The shadows of the instruments, lit by a single bulb, replace the sound.
The old instruments had experienced thousands of breaths circulating through them in their lifetime, says Cornelia, but were still marching despite having "had their last breath squeezed out of them when they were squashed flat." The installation was created for an exhibition in the Northeast of England, which has a strong brass band tradition.
More recent large works, include from 2015 War Room which looks like a luxurious red tent until one learns that it has a grim significance: it was created from reams of left-over perforated red paper where the poppies were punched out at the British Legion factory at Richmond-on-Thames. "The fact that the poppies are absent is poignant, because obviously a lot of people didn't come back from the war and others since. In this room there is something like 300,000 holes and there are many more lives lost than that… It is based on the magnificent tent which Henry VIII had made for a peace summit with the French king in 1520, known as the Field of the Cloth of Gold. About a year later, they were at war again."
Underlining that collaboration is central to her working process, in 2015 Cornelia asked 250 public figures, human rights lawyers, politicians, and prisoners, to participate in a 13-metre-long hand-sewn embroidery based on a Wikipedia page. For Magna Carta (An Embroidery) each person stitched different key words. Baroness Doreen Lawrence stitched the words 'justice' 'denial' and 'delay', Wikipedia founder Jimmy Wales stitched 'user's manual', and Edward Snowden stitched 'liberty.'
The Distance (A Kiss with String Attached) is her 2003 unorthodox homage to Rodin's classic depiction of passionate and idealistic love The Kiss. It greets visitors who arrive at Tate's Millbank entrance. The marble original was made in Paris in 1900-1904 and its sensuality outraged the British public when they saw it on show in 1914. Cornelia has wrapped the lovers (Dante consigned the slain Paolo and Francesca da Rimini to hell for their secret passion) in twine in an even more intense, erotic embrace. Her gesture evokes Marcel Duchamp's festooning of skeins of twine everywhere at the provocative Manhattan 1942 surrealist show, an act which some interpreted as an encouragement to focus on the exhibits rather than a means of distracting from them, and that seems to be Cornelia's intention too.
In a work just completed, Island, she has painted a greenhouse with dashes of chalk from the White Cliffs of Dover, "like chalking time." On the floor of the structure are faded tiles removed from the Palace of Westminster during restoration. "The glasshouse becomes enclosed, inward looking, a vulnerable domain, a little England with a cliff-face veil," she explains. "The Island in question is our own. In our time of Brexit, alienated from Europe, Britain is emptied out of Europeans just when we need them most. The spectre of the climate crisis is looming large: with crumbling coastlines and rising sea levels, things seem very precarious."
To her, everything is a 'found object' and there is history in that object: the denied, repressed, and neglected such as the backs, underbellies, or tarnished surface of things. For Luck Runs Out (1995) she shot dice into a dictionary. That was part of a series called Avoided Objects.
Shared Fate (Oliver) is a doll, Oliver Twist from the Charles Dickens novel, cut in half by the guillotine that chopped off the head of Marie Antoinette. "My little tweak of history caused a fictional character to share the same fate as a real queen." The guillotine is in the Chamber of Horrors at the waxwork museum set up by Madame Tussaud.
In 1999 she asked the Imperial War Museum if she could use the camera that belonged to Rudolf Höss, the commandant of Auschwitz. "He used it to photograph his family. Who knows if it recorded the horrors of the prison camp too? I was allowed to take the camera outside the museum and photograph the sky. Capturing clouds somehow seemed appropriate. It was a way of averting my mind from the fact I was looking through the same aperture as a mass murderer."
When she works with abstract forms, she fills them with narrative content. Each of the abstract works on display tells a human story of an incident or chance encounter, with often that element of violence.
Here is an instance of bringing her inner life into harmony with her mode of creation: "Playing hopscotch with my daughter on the way to school rekindled an obsession with pavement cracks, dormant since my childhood. I poured liquid rubber into some of the cracks in a path in Bunhill Fields, a small London cemetery where artist William Blake (1757-1827) and writer Daniel Defoe (c 1660-1731) are buried. When the rubber dried, I could lift up the geography of the city. I cast the captured cracks in bronze, then placed them on steel pins so that they seem to hover just above the floor." The resulting work is Black Path (Bunhill Fields) from 2013.
Cheshire-born Cornelia Parker who lives and works in London was elected to the Royal Academy of Arts in 2009 and made an OBE the following year. In 2017 she was the first woman to be appointed official artist for the UK General Election, meeting politicians, campaigners and voters and producing artworks in response. Several films made during this time are shown in a cinema room in the exhibition, including one filmed in 2018 by a drone at night in the House of Common, with permission of the then Speaker, John Bercow. and Election Abstract 2018, her observations during the campaign, posted on her Instagram account.
Cornelia Parker is curated by Andrea Schlieker, with Nathan Ladd, assistant curator of contemporary British art at the gallery.
Captions in full:
Cold Dark Matter: An Exploded View. 1991. Tate. © Cornelia Parker.
Thirty Pieces of Silver, installation view at Tate Britain. © Tate Photography, Oli Cowling.
War Room. 2015. Image © The Whitworth, University of Manchester. Photograph by Michael Pollard.
Perpetual Canon. 2004. Collection of Contemporary Art Fundación "la Caixa", Barcelona. © Cornelia Parker.
The Distance (A Kiss with String Attached). 2003. Auguste Rodin's The Kiss 1901–4 wrapped in a mile of string. © Tate Photography.
Shared Fate (Oliver). Courtesy the artist and Frith Street Gallery.
Cornelia Parker, the exhibition is at Tate Britain until October 16,2022.