With all stars favourably aligned and taking the advantage of the last longest day of the year, following the Summer Solstice, assisted by an exceptional English weather – the Met's advice was more than accurate, over 100 members and friends of the Hellenic Engineers' Society of Great Britain gathered in West London's Trailfinders Sports grounds.
After three long years, given the despicable Covid pandemia effects affecting almost everything in our lives, it was more than a get back to life and "paraphrasing" the late John Lennon's song, Starting Over, the event's theme was "Let's Start Over Again"!
The quartet – Antonis, Demetris, Marina and Kostas, played excellently with Marina's voice making the big difference; bravo to all four – a good choice by the HESGB events committee.
The Food, finger-lickin' good… I guess this time, given that most of us went twice at the buffet, tells you of a real and well prepared Greek BBQ!
Even before 12:30 members and their guests gathered to the New Pavillion and its adjacent open space yard with tables and umbrellas!!!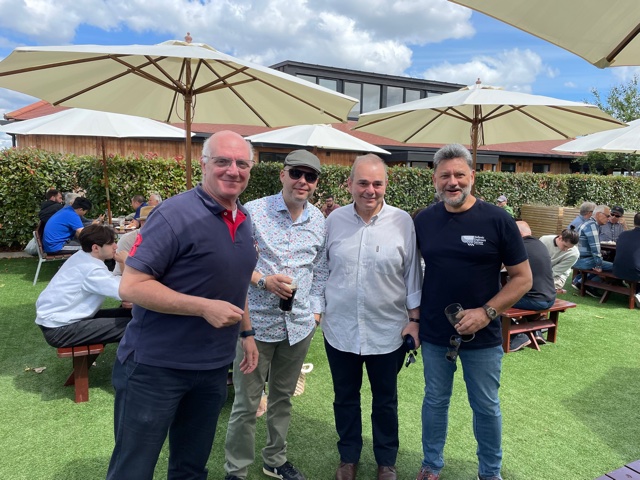 Good too see not only many members, but also their children joining this exceptional BBQ. A great event with networking, discussions on Posidonia 2022, the Freight Markets, the Ukrainian mess, the summer holidays and eventual trips to Greece as well as the ongoing Covid effects, still affecting humanity.
Mentioning Posidonia, businesswise, we met many members of HESGB at Posidonia 2022 becoming the biggest group by far making their presence felt both in person as well as with company stands, needless to mention receptions and parties; well done!
Let us hope that with discipline and responsibility we shall see Covid going away…
See for forthcoming events by logging on to www.hesgb.com