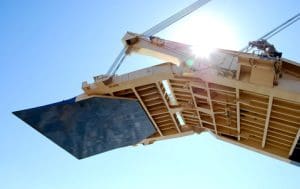 MOL's new generation of 'eco-friendly' efficient PCTCs are entering service; they feature MacGregor RoRo access outfits from Cargotec and are the world's first car carriers to have all of their RoRo equipment electrically-driven
Cargotec's growing electric-drive RoRo reference portfolio now includes the first vessel to have all-electrically-driven RoRo access equipment entering service. The 4, 000-unit pure car truck carrier (PCTC), Iris Ace, is owned and operated by Japanese company, Mitsui O.S.K. Lines Ltd (MOL) and features an electrically-driven MacGregor stern quarter ramp/door, side ramps and two movable ramps from Cargotec.
Iris Ace was delivered from Japanese shipbuilder, Shin Kurushima Toyohashi Shipbuilding Co Ltd earlier this year and was followed into operation by a pair of 6, 400-unit PCCs, Cattleya Ace and Carnation Ace, from the same builder. Each of these two ships features an electrically-driven MacGregor stern quarter ramp/door, a centre ramp/door and six movable ramps. All equipment is operated by electric winches and actuators, eliminating the use of hydraulic oil in the operating system.
"Shin-Kurushima, MOL and Cargotec are all committed to clean seas, " says Magnus Sjöberg, Sales Director for RoRo ships at Cargotec. "The cooperation between the companies has resulted in these exceptionally efficient, environmentally-friendly vessels. Our collaboration was an essential part of this technology's development; and we are seeing a steadily growing demand for it."
"On average, electric drives consume less energy than their hydraulic equivalents, therefore, their introduction into MOL's recent newbuilds was a natural progression in the company's environmental initiatives, " says Mr Sjöberg.
"When you replace hydraulically-powered deck machinery with electric versions, one of the greatest environmental benefits that you gain is the elimination of potential hydraulic oil leaks. These cause pollution and can also damage cargo. It was the high incidence of cargo damage that was a primary concern for car manufacturers, who ultimately put pressure on shipowners to come up with a solution to the problem."
Last year Cargotec and the Shin-Kurushima Dockyard group also signed further agreements for four pure car carriers (PCCs) to be fitted with fully electrically-driven RoRo access equipment. "This means that five car carriers and two RoRos now have all of their RoRo equipment electrically-driven."