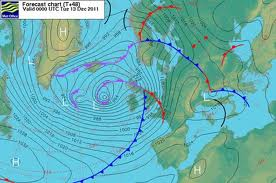 More bad weather alert to UK transport operators
Mike Weir from ifw writes:|
Wed, 4 Jan 2012 – Forecasters warn of more severe weather tonight
Freight carriers in the UK should brace themselves for another night of severe weather following Tuesday evening's lethal storm which toppled containers, closed railways and battered shipping.
Tonight's conditions are unlikely to exceed yesterday's, but high winds are still forecast.
Speaking earlier today, MeteoGroup forecaster Billy Payne said: "There's going to be a brief respite this morning, but winds will pick up later."
"There will be maximum gusts of 75mph, mainly in exposed parts of western Scotland. But even across northern England and eastern and central parts of Scotland we're looking at gusts of 65mph to 75mph in exposed places.
"It's going to be windy in Wales and much of England, with many places seeing gusts of 50mph. "The strongest winds will be overnight and into tomorrow morning before they subside into the afternoon."
Payne added that "heavy and persistent" rain in the north of the country will move south overnight.
The Met Office has issued "yellow" severe weather warnings for rain across much of Scotland, Northern Ireland, Wales, north-west England and Yorkshire and Humber from 9am today with affected areas receding by Thursday.
A crew member of a tanker was killed when the vessel was struck by a large wave during force-nine winds off Devon coast. The unconscious seaman was airlifted by a Royal Navy helicopter from RNAS Culdrose in Cornwall but died in hospital in Plymouth.
High seas and rocky swells also buffeted cross-channel ferries causing the Port of Dover to close during the day.
Tuesday night's storm saw rail services cancelled as trees and branches blocked train lines while a van driver was killed in Tunbridge Wells, Kent, when a tree fell on his vehicle.
Scotland took the brunt of yesterday's 100mph winds with roofs ripped from homes, trees felled and stacked shipping containers in Greenock docks tossed "like dominos". The Met Office recorded a top wind speed of 102mph in Edinburgh.