Helsinki-based Navis Engineering Oy has received MED-B type approval for its latest generation AP4000 autopilot from classification society Det Norske Veritas (DNV).
Issued for a five-year period, the MED-B certificate provides assurance that the product complies with all the relevant international standards imposed on marine equipment of this type. The approval covers equipment delivery to newbuildings or existing vessels for retrofit.
Since its recent launch, uptake for the AP4000 has been rapid, with notable contracts including a series of 10 SPP 17 type PSVs being built for Bourbon Offshore in China. The orders build on the extensive reference list established for the AP3000, the AP4000's predecessor, which has been installed on more than 200 vessels of different types worldwide. These include Hetairos-II, the largest carbon-fibre hull yacht in the world, and the survey vessels Franklin and Icebeam.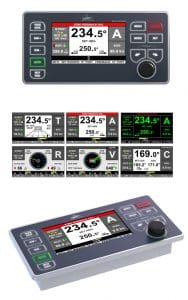 The IP67 level protection of the front panel and the high-contrast anti-glare colour display are in line with the contemporary look devised for the AP4000, while the unit also benefits from additional functionality. One of its new features is the fully self-adjusting Auto Tune algorithm that facilitates the adaption of the autopilot's performance to the hydrodynamic parameters of any yacht, irrespective of its displacement and dimensions, in a prompt manner.
The AP4000 is one of the few autopilots on the market that has a configuration for two independent rudders. In addition, it is designed to allow for an interface with bow thrusters, making it possible to keep the vessel's heading at low speeds.
About Navis Engineering: Navis Engineering Oy, founded in 1992, is a privately owned Finnish manufacturer of dynamic positioning and ship automation systems. Production takes place in Helsinki, where the company has its headquarters, while it also has a R&D Centre in St Petersburg, Russia.