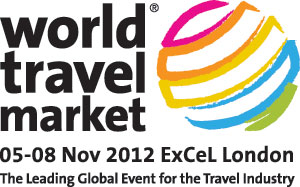 World Travel Market, the leading global event for the travel industry, is proud to announce a total of 157 new exhibitors at the event for WTM 2012.
Tourist boards, technology companies, hotel chains, attractions and tour operators are all hosting their own stands for the first time from November 5-8 at ExCeL – London.
Europe leads the way in new exhibitors with a massive 41 exhibitors making their début as Main Stand Holders. They include tourism boards and offices from as far apart as San Marino, Lille and Belarus – as well as the Economic Development Ministry of the Republic of Komi, in North Western Russia. Hoteliers taking their first exhibition stands include Palladium Hotel Group of Spain, and Germany's Steigenberger Hotels.
Technology and Online Travel region has the second highest number of new exhibitors, with 36 technology companies taking their own stands. The continued growth in the technology section reflects the burgeoning importance of hi-tech and web developments in travel. Companies making their débuts come from a wide range of disciplines, and include well-known names such as online travel agency Travel Republic and e-learning specialist Online Travel Training. Software firms are represented by the likes of Hotelogix and Intuitive, while the rise of social media and mobile is reflected in the appearance of specialists such as Revinate and Voiamo Group. Other suppliers to the sector exhibiting for the first time include payment firm Worldpay and technology services company Wizie.
The Global Village region will see 18 exhibitors from all parts of the industry appearing for the first time, representing the unrivalled diversity of suppliers at World Travel Market. They include the K+K boutique hotels chain, wholesaler Adonis, Autorent Car Rental and Chic Outlet Shopping in Europe.
Meanwhile, Asia offers a total of 13 first-time exhibitors at this year's World Travel Market, which demonstrates the growth in China's travel industry – such as China Southern Airlines – and the emergence of newer destinations such as Vietnam, Uzbekistan and Kyrgyzstan, represented by the likes of Victoria Vietnam Group, Saigontourist, Uzbektourism and the Kyrgyz Association of Tour Operators.
India has its own dedicated stand-alone region at WTM 2012, with 12 new exhibitors including; Brys Hotels, Inbound Tour Operator Council (ITOC) – West Bengal, hotel company ITC Limited and Odisha Tourism.
The UK also has 12 exhibitors to make their first appearance, hoping to capitalise on an unprecedented year for the country after the Diamond Jubilee and Olympics. New exhibitors include household names such as English Heritage and the National Trust, plus London attractions such as The View From the Shard and Ripley's Believe It Or Not.
A further ten new exhibitors will attend the show in the Africa region highlighting the continued development of African tourism, especially as the continent emerges from last year's Arab Spring. Those making their débuts include the Libyan Export Promotion Center and Airkenya Express.
The Americas and Caribbean will welcome eight new exhibitors to the event including Cuba Direct, Cuba Select Travel, Harlequin Hotels and Resorts, the Falkland Islands Tourist Board and Discover Ecuador.
The Middle East welcomes seven new main stand holders including Iraqi Tourism Board and Marta Consulting.
Reed Travel Exhibitions Director World Travel Market Simon Press said: "World Travel Market is delighted to welcome 157 new exhibitors for WTM 2012. The number of new exhibitors at this year's event demonstrates the importance of WTM for generating business for exhibitors. WTM 2011 generated a massive £1, 653 million of travel industry contracts with even more business expected to be conducted in at WTM 2012."
About World Travel Market
World Travel Market, the leading global event for the travel industry, is the must-attend four-day business-to-business exhibition for the worldwide travel and tourism industry.
Almost 48, 000 senior travel industry professionals, government ministers and international press, embark on ExCeL – London every November to network, negotiate and discover the latest industry opinion and trends at WTM.
WTM, now in its 33rd year, is the event where the travel industry conducts and concludes its deals.
WTM 2011 will generate £1, 653 million of travel industry contracts, revealed independent research by Fusion Communications.
WTM is owned by the world's leading events organiser Reed Exhibitions (RE), which organises a portfolio of other travel industry events including Arabian Travel Market and International Luxury Travel Market.
In 2010, RE held more than 460 events in 36 countries bringing together more than seven million people from around the world generating billions of dollars in business.
About Reed Travel Exhibitions
Reed Travel Exhibitions (RTE) is the world's leading provider of exhibitions in the travel and tourism industry. Its wide-ranging portfolio of events around the globe covers leisure travel, luxury travel, business travel and the meetings and incentives industry.
In 2011 RTE 13 events were the catalyst for £2, 807 million worth of travel and tourism business deals.
The 13 events are; World Travel Market (WTM), Arabian Travel Market (ATM), International French Travel Market (IFTM), La Cumbre, International Golf Travel Market (IGTM), International Luxury Travel Market (ILTM), International Luxury Travel Market Asia (ILTMA), Asia-Pacific Incentives & Meetings Expo (AIME) (owned by Melbourne Convention + Visitors Bureau), Global Exhibition for Incentive, Business Travel, and Meetings (EIBTM), Gulf Incentive, Business Travel and Meetings (GIBTM), Americas Incentive, Business Travel and Meetings (AIBTM), China Incentive, Business Travel and Meetings (CIBTM) and Business Travel Market.
April 2013 will see RTE launch World Travel Market Latin America in São Paulo.
RTE is a business unit of Reed Exhibitions. In 2011, six million participants attended RE's 500 events in 39 countries covering 44 industry sectors from aerospace and aviation to beauty and cosmetics to sports and recreation.
Reed Exhibitions is owned by Reed Elsevier, the world's leading provider of professional information and online workflow solutions.
About Reed Exhibitions
Reed Exhibitions is the world's leading events organizer, with over 500 events in 39 countries. In 2011 Reed brought together six million active event participants from around the world, generating billions of dollars in business. Today Reed events are held throughout the Americas, Europe, the Middle East, Asia Pacific and Africa and organized by 33 fully staffed offices. Reed Exhibitions serves 44 industry sectors with trade and consumer events and is part of the Reed Elsevier Group plc, a world-leading publisher and information provider and a FTSE 100 company.www.reedexpo.com