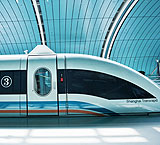 As new UK high speed rail routes are unveiled, we look at opportunities for insurers underground.
In 1863 the world's first underground railway, the Metropolitan Railway, opened in London. 150 years on underground railways are proving as popular as ever.  
There are now almost 190 metro systems – a combination of underground and elevated trains – in the world carrying over 112 million passengers every day, and the numbers are still growing.
High growth  
While the first metro systems were built in Europe and the US, today they are increasingly being built in emerging markets. Three of the five most recently opened systems are in China, while lines have also opened recently in Dubai, Mecca, Algiers and Lima.
There has been a surge of interest in metro systems worldwide, but particularly in Asia, says Andrew Foulkes of Lloyd's Register, which provides risk management and safety surveys to major transport projects:   "China remains the world's largest market for metro systems. There are already 1, 400 km of metro lines in service across mainland cities, but there is much more to come. China is expected to have almost half of the world's metro track within its borders by 2020."
"Many of the world's fastest growing urban areas still lack an underground system – and there is plenty of demand. Some 28 Chinese cities have recently won official approval to begin constructing their own local systems, " says Foulkes.
Going underground  
Over the last five years there has been a steady increase in the development of metro rail projects globally, says Brian Denney, Senior Vice President in the Construction Practice at Marsh. He says the reasons for this vary from the expansion of cities and urbanisation in emerging markets, to solving traffic congestion in expanding Western cities.
Often there is little option in crowded cities other than to go underground, says Patrick Bravery, construction underwriter at Lloyd's insurer Talbot Underwriting. He adds that he believes that the growth in tunnelling presents a significant opportunity for Lloyd's, given its experience and knowledge of large construction risks.
Tunnelling teething problems  
The first underground line built in 1860 linked three of London's main-line stations with the City. It was built using the 'cut and cover' construction method. More than 2000 navvies dug out a shallow cutting  to take the tracks and then roofed it over to form a tunnel.   Early London Underground lines were constructed in densely populated parts of the city and disruption to everyday life was considerable.  Although tracks were laid along the path of existing roads to save money, there were still risks to the surrounding buildings, along with much unavoidable demolition. Many people apparently made claims against the Metropolitan Railway Company, says a spokesperson for the London Transport Museum.
Metro risks  
Today, underground rail projects are often constructed in congested urban areas and in difficult ground conditions, says Brian Denney at Marsh. The main risks include unforeseen hydrogeological conditions, the use of innovative construction methods, natural hazards and archaeology, he says.
Poorly mapped underground utilities – like water, gas, communications and sewage systems – are also a significant challenge, especially in older cities like London, says Patrick Bravery of Talbot Underwriting. "Robust risk management systems are essential whatever the ground conditions."
Risk management improvements  
Risk management is an important aspect of underground construction, as highlighted by the tunnel collapse during the construction of the Heathrow Express in 1994, says Darrell Corner of Jardine Lloyd Thompson, which has brokered the insurance for metro construction projects in Singapore, Hong Kong and Kuala Lumpur.
The 1994 collapse prompted the insurance and tunnelling industries to produce a joint best practices code, which has helped raise risk management standards and improve the risk, says Corner.
Insurance cover  
The insurance and risk management advice provided by insurers and brokers is essential because the cost of dealing with a failure is far higher than the original construction, according to Corner.
Typically insurers provide property damage cover against losses incurred by contractors, their clients and sub-contractors, says Corner. Insurance is also usually purchased for third party liabilities, such as the risk of damage to surrounding buildings and utilities, he says.
Insurance is placed with both local and foreign insurers, including those at Lloyd's, says Corner. "London has a reputation as a centre of excellence for construction insurance and is considered by some to be among the most professional markets for such risks."
(source: Lloyd's of London)