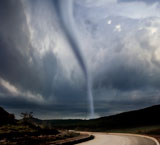 As the 2013 tornado season begins, a new report published by Lloyd's highlights the growing vulnerability of Tornado Alley's mobile home park communities.
Every year, an average of 1, 200 tornadoes kill at least 60 people, injure 1500 more and cause over $400m in damage across the world. 2011 was a particularly destructive year for natural catastrophes and US tornado season was no exception.
Seven individual tornadoes and weather outbreaks killed 551 people – the highest number in a single year since records began in 1949 – and caused $28bn in property damage.
Tornadoes: a rising risk? indicates that the growing density of mobile home parks in the states of Texas, Oklahoma, Kansas and Nebraska – known as 'Tornado Alley' – is placing a greater risk on lives and homes.
Since 1975, the US National Weather Service has broken down tornado fatalities based on type of location. Between 1976 and 2000, the percentage of deaths in mobile homes more than doubled, from 24% in 1976 to 50% in 2000.
One third of all tornado deaths now happen in mobile homes. The federal National Oceanic and Atmospheric Administration estimates that people living in them are 23 times more likely to be killed than those living in permanent homes.
There is no evidence that tornadoes themselves are increasing in either frequency or severity. What is irrefutable, however, is the ten-fold rise of mobile home dwellers between 1950 and 1990 according to Census Bureau data.
The factors which make tornadoes so deadly are magnified in mobile home parks: their disproportionate occurrence in the southeastern US, which has seen a growth in mobile home communities; the fact that most tornadoes form overnight, when early warning alerts are more difficult,   and, the relative lack of wind resistance of the structure of mobile homes themselves.
When these factors coincide, the results can be devastating. In April 1991, a tornado with a 46 mile path hit the town of Andova in Kansas. While 84 homes and 14 businesses were destroyed, there were no fatalities and only minor injuries. Yet when the tornado continued its journey through a mobile home park, over 80% of the homes there were destroyed and 13 people lost their lives.
Despite recent improvements in satellite and radar technology, the speed with which tornadoes form means that early forecasting is still a work in progress. Mitigation measures, such as mandatory shelters in mobile home parks, have now been adopted in some states. Every extra minute of warning that technology can give offers extra time to alert potential victims of the tornadoes.
In the meantime, aggregate losses from tornadoes increase each year as the number and value of exposed property grow. Between 1980 and 2011, 43% of windstorm losses were attributable to severe thunderstorms compared with 50% for tropical cyclones. While some insurers may have previously treated severe storm losses as an inevitable part of doing business, many are now employing sophisticated modelling techniques to provide a more detailed view of the risks involved and products needed.
Gary Mountford, Senior Class Underwriter at Catlin, explains that role of mitigation is also becoming a greater priority for underwriters:
"For us, mobile home insurance is a mix of art and science, combining risk management and working only with specialist coverholders who know the business inside out. We insist on homes being tied and skirted, which improves the wind speed resistance of each unit. We also pay attention to the age of units insured as mobile homes depreciate in value year on year.
It is not surprising that, given the level of devastation, following a major tornado, it is usually a mobile home park that features on the front page of the next day's newspapers."
Read a blog by graduate Hannah Greenwood, author of Tornadoes: a rising risk? about her work in Exposure Management and risks ahead in 2013.
(source: Lloyd's of London)