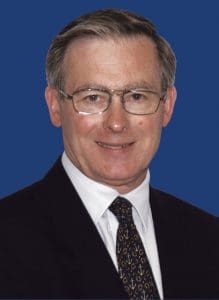 • IMarEST aims to double in size by 2017
In a matter of days the term of office of the 110th President of the Institute of Marine Engineering, Science and Technology (IMarEST) will come to an end, when Malcolm Vincent CEng CMarEng FIMarEST hands over the reins of office to his successor, Andreas Chrysostomou, the 111th President on 21 March 2013
He looks back with pleasure at his packed and rewarding year saying: "It has truly been an honour and a privilege but, above all, a pleasure to serve as IMarEST's President. I look forward to watching the Institute develop and go from strength to strength for many years to come and very much hope that I can continue to play my part as my 55th year of membership draws near."
Looking back over his time in office "If there has been a consistent theme throughout my time in office, both as President and before that President Elect, it has been the laying of the essential groundwork to provide a solid foundation for the future, " writes Malcolm Vincent in the Institute's Annual Review.
"I strongly believe that the Institute and what it has to offer marine engineers, scientists and technologists from across all marine disciplines and at every stage of their careers remains vitally important in the fast-paced global environment in which all marine professionals now operate. Professional recognition, technical excellence, professional development and access to both information and networking opportunities are the cornerstones of any learned society and professional membership organisation and we are no exception.
Set to double in size by 2017 "Our Corporate Plan provides a clear commitment to ambitious development and the implementation of lean methodology, both vital in our drive for financial sustainability. Major components include introducing increased Marine Partnership opportunities for significant organisations across the marine engineering, science and technology spectrum, targeting expansion in key marine locations globally, increasing services designed to meet the specific needs of early career marine professionals and doubling the size of the Institute by 2017.
"Of equal importance to the long-term future of our professions and our Institute is our commitment to working to encourage all students, but especially females, to study STEM subjects in school. The West Midlands Branch deserves special mention for its stellar work with the Imagineering programme over many years."
New branches likely Looking back at his Presidential year, Malcolm Vincent explains: "One of the highlights of my term in office was the opportunity for my wife Linda and me to meet so many members at branch and other events across the UK and further afield. Their tireless dedication to, and enthusiasm for, their Institute is one of our great strengths and truly inspirational.
"We have found that branches themselves have a life cycle that follows the changing patterns of our industry; many of the largest, in major marine centres, flourish with several hundred or a thousand plus members and a vibrant programme while others, in areas with a shrinking marine presence, are rationalising or looking to merge with their neighbours.
"New branches are likely to be established during the forthcoming year in Johor Bahru, Malaysia, and, in New Zealand, Tauranga (likely to be the first branch focussing specifically on the marine scientist community) and possibly Napier. I wish them great success."
Full information on IMarEST, its Marine Partner scheme and individual membership is at www.imarest.org.
About the Institute of Engineering, Science and Technology (IMarEST) The IMarEST is the leading international membership body and learned society for all marine professionals. It is the first Institute to bring together marine engineers, scientists and technologists into one multi-disciplinary professional body. With 15, 000 international members based in over 100 countries, it is the largest marine organisation of its kind.       Working with the global marine community, the IMarEST promotes the scientific development of marine engineering, science and technology, providing opportunities for the exchange of ideas and practices and upholding the status, standards and expertise of marine professionals worldwide.
The IMarEST is a respected authority in every maritime country. It is a Non-Governmental Organisation at the UN International Maritime Organization (IMO), has special consultative status with the Economic and Social Council of the United Nations (ECOSOC) and is a nominated and licensed body of the Engineering Council (UK), a member of the Science Council and has significant links with many other maritime organisations worldwide.
IMarEST also run a series of industry leading events and conferences as well as publishing internationally recognised titles: Marine Engineers Review (MER); Shipping World & Shipbuilder; Maritime IT and Electronics; Marine Scientist; and Offshore Technology.