Wärtsilä is the market leader in topside direct electrical heating systems, being involved in 85 per cent of all contracted systems to date. This latest valuable order for Wärtsilä DEH technology provides further evidence of the benefits of the proven technology for West African installations. On the Norwegian continental shelf it has been used already for more than 10 years.
Wärtsilä, the marine industry's leading solutions and services provider, has been contracted to supply its Direct Electric Heating (DEH) system for Chevron Overseas Congo Limited's Lianzi offshore development project, located off the Republic of Congo and Angolan coasts.
The 9000kW system will be used to heat the 43 km long subsea production pipeline between the Lianzi field and the Benguela Belize Lobito Tomboco (BBLT) platform. The Lianzi field lies approximately 100 km off the coast of the Republic of Congo, and the BBLT platform is located in Angola. The pipeline lies in some 900 metres of water. DEH is a flow assurance tool used to avoid ice-like structures called hydrate plugs and the appearance of wax in production flow lines.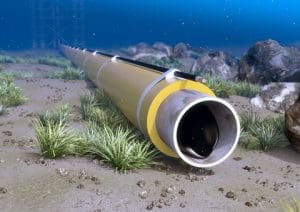 "The Wärtsilä DEH technology is proven and has been used already for more than 10 years on the Norwegian continental shelf. It is also being used in West African installations, as evidenced by this latest valuable order. It is cost effective with considerable environmental benefits, and not surprisingly, there is increasing interest from Oil & Gas industry operators around the world. We envisage that demand for this technology will grow rapidly, " says Juhani Hupli, Vice President Electrical & Automation, Wärtsilä Ship Power.
One of Wärtsilä's core competences is the ability to design and tune the DEH system according to the pipe and heating cable needed for the subsea conditions. A special power system analysis to ensure the unit's integrity with the platform system is included with every delivery.
Wärtsilä in brief
Wärtsilä is a global leader in complete lifecycle power solutions for the marine and energy markets. By emphasising technological innovation and total efficiency, Wärtsilä maximises the environmental and economic performance of the vessels and power plants of its customers. In 2012, Wärtsilä's net sales totalled EUR 4.7 billion with approximately 18, 900 employees. The company has operations in nearly 170 locations in 70 countries around the world. Wärtsilä is listed on the NASDAQ OMX Helsinki, Finland.