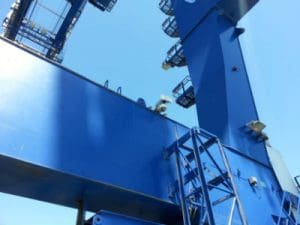 New CraneOCR system uses advanced technology to automatically identify freight containers while in motion during vessel loading and unloading operations
10.06.2013, Valencia, SPAIN – Process control and artificial vision technology specialist Orbita Ingenieria has launched a new optical character recognition (OCR) system to automate freight container identification and damage inspection during vessel loading and unloading at port terminals.
The Orbita CraneOCR system provides real-time ISO code recognition for 20ft, 40ft, 45ft and twin-20ft containers as they are moved to and from multiple lanes under and behind ship-to-shore (STS) gantry cranes. The company says that acquiring OCR data 'on the fly' in this way allows terminal operators to automate container identification on the quayside with minimal infrastructure – as few as 4 cameras are required – and no impact on STS crane cycle times. In-motion data capture is made possible by the use of the latest pan, tilt and zoom (PTZ) cameras, combined with advanced software algorithms to locate and follow the container in movement. CraneOCR works at accuracy levels of 95% and above, says Orbita.
As well as allowing users to identify container numbers, CraneOCR integrates with STS crane programmable logic controllers (PLCs) to record other key information such as container size and weight, plus spreader and twistlock position. The system also captures still images and videos for damage inspection and control. Additional functions, including automatic detection of door direction, are planned for the near future.
Due to be officially unveiled at the TOC Europe 2013 exhibition later this month, CraneOCR joins Orbita's GateSuite family of products for the automation of port and terminal access operations. The new system communicates through Orbita's GateOS operating system, integrating with third-party terminal operating systems (TOS) and other business software using standard interfaces such as XML and Web Services to provide 100% remote handling of manifest validations, exceptions and events. Users can also view images, videos and performance reports in the Orbita GateViewer software, allowing land gate and sea gate statistics to be collated for advanced management analysis.
Just as with the use of OCR technology to automate container land gate operations, adoption of crane OCR is gathering pace as a means for terminal operators to improve the accuracy, speed and safety of the vessel handling process. Automating container identification at the quayside eliminates human data entry errors, removes ground personnel from the hazardous berth area and ensures robust integration of data into TOS and other control systems.
"With the launch of CraneOCR, we close the circle by providing integrated tracking of container movements both at the land and sea gates, " said Francisco Grau Cavanillas, Account Manager Ports and Terminals at Orbita. "The system is now working successfully in live operational tests at Valencia, the Mediterranean's largest container port, and we're gathering critical data every day to continuously refine the product. Now, our offer to terminals is more powerful in terms of container process control, along with other engineering services that we can provide."
About Orbita Ingenieria
Órbita Ingeniería is an automation technology and engineering company specialising in process control and artificial vision, with a significant presence in the container port and terminal market, as well as in other industrial sectors including automotive, food and beverage and utilities.
In the ports and terminals sector, Orbita's modular GateSuite range of products, including the GateOCR solution, helps clients gain new business efficiencies by automating the tracking and traceability of containers and trucks at key access points. By dramatically improving land and sea gate performance and reducing logistical errors in container identification and location, GateSuite ensures a rapid return on investment.
Based in Valencia, Spain, Orbita also provides bespoke consulting, engineering design and IT integration services for clients' unique process control and automation needs. Orbita is a Siemens solution partner for industry automation and an HMI (SCADA) certified specialist. The company also holds the national contract for maintenance of radiation detection and spectrometric portals currently deployed at the five main Spanish ports as part of the US SLD Megaports initiative.
www.orbitaingenieria.es
www.gatesuite.com
About GateSuite
Based on standard, maximum quality components, GateSuite modules can be implemented independently or as a fully integrated line:
GateOCR uses advanced IP cameras, megapixel sensors and neural network processing for highly accurate reading of container numbers and truck license plates at access points, plus damage control images and video
CraneOCR uses the latest pan, tilt and zoom cameras, plus state-of-the-art control algorithms, to accurately capture container ID numbers, images and other key data during vessel handling operationss
GateOS gate operating software enables remote management and automated operation of access control points, including robust integration with TOS software
GateKIOSK is a customisable control cabinet with various driver interfaces for efficient administration of facility admission and exit functions
GateTRAFFIC combines software and hardware for fully automated traffic management at access points, improving the flow of vehicles and reinforcing gate security measures
GateVIEWER is a web-based application including a searchable archive of images and videos, plus key historical data, for easy performance analysis and reporting
GateLPR provides automatic vehicle license plate recognition for access control in parking areas, tolls and restricted zones