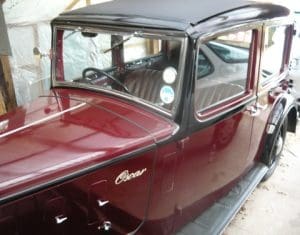 Tue 09 July 2013 – Interest in classic cars has been growing around the world, and so have their values. But with higher prices comes the need for expert insurance, especially when these works of art take to the road. (source:Lloyd's of London)
Like the fine art market, interest in acquiring classic cars has been growing. Demand has been rising in Latin America and China, as well as the more established markets in North America and Europe.
Many celebrities are avid collectors, including US comedian Jerry Seinfeld, chat show host Jay Leno, fashion designer Ralph Lauren, and British TV and radio presenter Chris Evans.
"We are seeing more and more people get into the classic car market, and so prices have been rising, " says Marcus Atkinson of Hagerty International Limited, a Lloyd's coverholder specialising in classic car insurance.
"There are global investors out there that are looking to buy a piece of motoring history, but unlike stocks and shares, you can drive classic cars and get pleasure from your investment, as well as a good return, " he adds.
Top prices paid
Records are expected to be broken in coming months as a number of unique cars are put-up for sale at major auctions. At the Goodwood Festival of Speed in July, auction house Bonhams will be selling a number of unique high value classic cars, including a rare Formula 1 Grand Prix-winning Mercedes-Benz W196 and a Ferrari owned by Beatles singer songwriter John Lennon.
Another major event, the US Pebble Beach Concours d'Elegance auction in August, will see a rare 1948 Alfa Romeo race car – estimated value of $2.8m-$3.5m – also go under the hammer, along with two 1960s Ferraris valued at between $1.7m -$2.5m.
Ferraris remain hugely popular and tend to fetch the highest prices, according to Steve Morse, Head of Motor at Hiscox, which underwrites modern high-value high-power prestige cars as well as classic vehicles. "Ferrari 250 GTOs can sell for as much as £30m, although the provenance of a famous driver like Juan Manuel Fangio can take a car to the next level, " he says.
The Mercedes-Benz W196 – part of the famed Silver Arrow race team (their name deriving from the distinctive polished aluminium finish) – was driven by Fangio to win the 1954 German and Swiss Grand Prix. The car is expected to fetch £10m-£12m, but some speculate it could be the first to break the £40m mark.
"Having won famous races or the association with a driver like Fangio can add millions to a vehicle's value. While damage can be repaired, much of the value is in the provenance – rarity, condition and originality are everything in the classic car market, " says Morse.
Art on wheels
While values are close to those of fine art, classic cars can also be driven, presenting an unusual risk for insurers.
Some owners of classic cars place them in specialist storage or keep them as part of collections, but many people can't resist taking them out on the road. Classic cars, even those valued in the millions, are regularly used for historic races and rallies – like the London to Brighton run for vintage cars or the Goodwood Festival of Speed – or are just taken out for a quick spin on a sunny day.
Most cars are insured under specialist motor policies, which cover the high values and third party liability required to drive on public roads. There is increased exposure if cars are raced against each other or against the clock – and on-track cover is available from Lloyd's underwriters – but generally insurance will cover most classic car shows and events without additional premium.
Valuation is everything
Getting the valuation right is key as most polices are based on an agreed value, and as prices rise, it is important to reassess the value and have it reflected in insurance, says Morse.
"Classic cars require a specialist insurance policy and need to be underwritten by an insurer that understands you and your vehicle. We look to underwrite the client first before we even look at the risk – and that is particularly true of classic vehicles. Most classic car owners are a good risk and will treat their car like a work of art, " he says.
From tanks to Golf GTI
Not all classic car buyers have deep pockets. The majority of classic cars cost between a few thousand and £15, 000 to £20, 000, according to Neil Manvell active underwriter for Canopius Syndicate 260, a specialist Lloyd's motor insurer which offers cover from classic cars to small tanks.
"Values across the market have increased in recent years. Pre-war vehicles have seen good increases while modern classics – like the VW Golf GTI – have also become more desirable to younger classic car drivers, " he says.
"Classic car owners tend to be good drivers, and vehicles are often a luxury vehicle, driven in good weather for a limited number of miles per year, and are garaged.
"The older the vehicle the better the risk, " he continues. "Claims costs can be higher, but this is more than offset by lower frequency. Classic cars spend less time on the road and this greatly reduces the frequency of accidents."