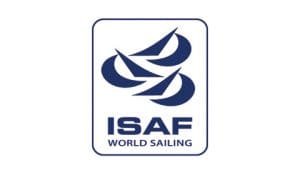 Thursday 17 October 2013 – Sailors focus and fitness were tested on the fourth day of racing at ISAF Sailing World Cup Qingdao as a teasing light southerly breeze played its way across the race tracks.
Qingdao has showcased a whole host of conditions taking the 131 sailors from 24 nations from extreme big breeze to patient light wind tests.
Coming in at 5 knots the southerly breeze at an average current of 1.5 knots made Thursday 17 October a testing race day.
Women's RS:X
Conditions on the RS:X race track were light with pumping aplenty across the Men's and Women's fleets.
Demonstrating the right amount of sailing know how and physical ability in the Women's RS:X was Great Britain's Bryony Shaw who bounced back from a slow start to the regatta.
"Today I had a good day, " exclaimed Shaw. "I won the first race and second in the second race. It was an on-shore wind that I think was a little bit steadier so I felt like I could control my day. The other days when it was offshore I felt quite lost and felt like I wasn't in control of my day."
Shaw's best result prior was a third in the opening race and with a DNF, an OCS and a 12th on her scorecard she was in unknown territory near the foot of the leader board. Controlling the day Shaw moves up to sixth, 17 points off Jiahui Wu in third.
The key to success on the fourth day, "Power and endurance, " said Shaw. "Power off the start line, maintaining that power and using it at the right time. Tactically if you hit a gust you know you've still got something spare in the tank."
Power and endurance doesn't come overnight and Shaw works hard both on and off the water, "I do a lot of my fitness for light winds on the water. We do tailored intervals on the water, really trying to push the body to its limit in some situations like an extended interval or keeping the interval really short and really explosive and really good technique. A lot of that on the water and then the endurance I'll get from road biking and time in the gym."
Maintaining and extending her lead in the Women's RS:X is China's Peina Chen who was able to open up a nine point deficit over Maayan Davidovich (ISR). The Israeli was unable to find the form she had earlier in the week whilst Chen's light frame helped her clinch the Race 8 victory.
Men's RS:X
Shahar Zubari (ISR) picked up his fourth victory out of eight races in the Men's RS:X and leads Hong Kong's Michael Cheng by nine points.
Seasoned Olympic campaigners Ricardo Santos (BRA) and David Mier y Teran (MEX) did not enjoy the day and by their high standards were somewhat off the pace.
An 11th and seventh from Santos was fortunately enough to keep third overall whilst Teran popped up with a ninth and 11th and is seventh.
"It's a strange feeling when you are much faster than the Chinese guys in planing conditions, but they're much faster than me in this kind of wind, " said Santos.
On the strength needed for a light wind day Santos said, "I feel strong, I'm working hard at home so I don't feel tired it's just this week my decisions aren't very good. Every time I choose a side everybody chooses the other and it's just much better."
Teran added, "It plays a critical part of the regatta but if you don't have the knowledge, tactics and view on the water then it's good for nothing.
"You need to understand and have the tactics right in order to get it right."
Men's 470
Lucas Calabrese and Juan de la Fuente (ARG) took the lead off of Croatia's Sime Fantela and Igor Marenic with a strong double bullet day mixed in with a last race fourth. The Argentineans lead only stands at a solitary point making for a tantalising finale in Qingdao.
Paul Snow Hansen and Dan Wilcox (NZL) lost out on a point to China's Hao Lan and Chao Wang in the pursuit for third but a second place in the final race of the day brought a couple of Kiwi smiles ashore, "The breeze was pretty tricky today, we had a lot of tide, " said Snow Hansen. "Just to get through the start line was a challenge. We sailed quite well. We've got the potential to do well and we had a good last race but feel like we could do better.
"The balance of a pretty tricky breeze and a lot of tide made the decisions a lot more complicated than usual. Fun though and it's cool to have another element."
Lan and Wang are third on 23 points with the Kiwis three behind on 26 points.
Women's 470
Jo Aleh and Olivia Powrie (NZL) made it six race wins in a row and lead Hui Feng and Lizhu Huang by eight points.
Whilst the Kiwis are the runaway leaders a fight for the final podium spots looks on with just three points separating Feng and Huang in second, Qian Fu and Liyun Liu (CHN) in third and Nan Shanghai and Xue Li (CHN) in fourth.
Laser Radial
China's Dong Zheng had a perfect day taking three race wins in the Laser Radial. The Chinese sailor was near faultless racing in her favourite conditions to take her race win tally up to five from eight races.
Although she holds five race wins the Chinese sailor hasn't run away with proceedings and is only seven points ahead of World #1 Tatiana Drozdovskaya (BLR) who struggled in the lighter breeze taking a 5-8-8 scoreline into the penultimate day.
Ashley Stoddart (AUS) is third followed by Mathilde de Kerangat (FRA).
Laser
Reading the situation well once again was Croatia's Tonci Stipanovic. Whilst he was unable to match Radial sailor Zheng's perfection, he came pretty close taking a third and two bullets in the light breeze.
Stipanovic discards an OCS but has a healthy 16 point advantage over Pavlos Kontides (CYP) who had an up and down day with a discarded 11th, a second and third.
Dropping out of the last podium spot was New Zealand's Thomas Saunders as Kacper Zieminski (POL) sneaked through. The race for third has been a roller coaster ride with daily shuffling of places and just three points separates third to sixth.
Saunders has been making the most of the week, taking in the range of breeze Qingdao has offered, "A good start is pretty key and then it's more about positioning on the race course. I got that right and wrong today, it's pretty hard to get it right all the time but that's sailing.
"There's a lot of planning ahead, that was pretty important today. It's been really good racing and awesome to race some of the World #10 ahead of the Worlds."
Racing resumes at 12:00 local time on Friday 18 October with three races scheduled in the Men's and Women's 470 fleets.
The Laser, Laser Radial and RS:X fleets get going at 13:00 local time. The Lasers will race two whilst the RS:X will sail three.
Results
Full results from ISAF Sailing World Cup Qingdao are available here :
http://www.sailing.org/worldcup/results/index.php .