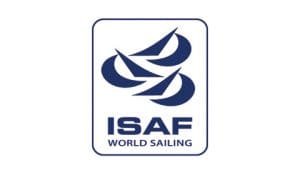 Sunday 8 December 2013 – Five Medal Races wrapped up the action at ISAF Sailing World Cup Melbourne with two nations dominating proceedings.
Australia dominated the multihull and skiff fleets whilst China locked out the opposition to take all six podium places in the RS:X.
A strong northerly breeze met athletes at Sandringham Yacht Club for the final day of ISAF Sailing World Cup Melbourne. With gusts over 20 knots there were thrills and spills aplenty on the Stadium course as fans gathered on the Yacht Club balcony to enjoy the spectacle.
Nacra17
Overnight leaders Darren Bundock and Nina Curtis (AUS) sailed a conservative race and secured the gold medal in their first regatta together.
"Today was the windiest conditions we have sailed in, " said Bundock. "It was very windy, 25knots, breeze straight off the land, so the conditions were quite extreme. We had to beat Euan McNicol and Lucinda Whitty and in the last lap we were ahead of them so we started to sail very conservatively. The two boats in front of us were still pushing quite hard, but they capsized and left it open for us to win. We are very pleased and happy we didn't capsize."
"So far I think this is a great combination and I'm really happy sailing with Nina. She has very good feel in the boat and great strength and I think this was a promising start. We had all kinds of conditions this week, learnt a lot, which has been ideal. I think there's a lot more potential for us for sure."
London 2012 match racing silver medallist Nina Curtis, switched to the Nacra 17 after trying the 49erFX and 470W class last year, was of the same opinion.
"We still have a lot to work on as a combination, but there's a lot of positive things we take away from here. I'm loving every second of this and am very excited to go into the next year and season ahead, " added Curtis.
Euan McNicol and Lucinda Whitty (AUS) finished second overall with Jason Waterhouse and Lisa Darmanin (AUS) climbing onto the final spot of the podium for bronze.
Women's RS:X
There was never any doubt that China would win all three medals in the Women's RS:X event and Manjia Zheng made certain the gold was hers after posting her ninth race win of the regatta.
"The wind was good over the past six days but today it was strong, " she said. "I am better in the light, so I was a little scared at the start. It felt good to do well and to win overall."
Qiaoshan Weng finished a solid second and secured the silver medal whilst Qingdao gold medallist Peina Chen could not quite match her team mates and finished third overall despite sailing her worst race of the regatta.
Men's RS:X
The men's fleet was also dominated by the Chinese athletes with only one sailor in with a chance to challenge for a medal. That sailor was Patrick Vos from Australia who did all he could, taking the Medal Race win and the minimum points available. But the Chinese were too far ahead and a third place finish for Zhennan Fang was enough for him to hold on to the bronze medal. Chunzhuang Liu also did enough to protect his silver medal position.
The gold was safe in the hands of Chuankun Shi and he was thrilled after racing. "I feel so happy to have won here in Australia, " said Shi. "I enjoy sailing here and I sailed well. The wind is great in Australia, so it makes for great sailing conditions, it's good fun."
49erFX
In the 49erFX the points table was the tightest of all the classes with four crews separated by just seven points.
With her former match racing teammate, Nina Curtis, winning gold in the Nacra17, Olivia Price was not to be outdone in the 49erFX. Going into the day in second position, Price and crew Eliza Solly were clear winners of the Medal Race and with other teams struggling in the gusty conditions they made gold theirs.
"Today was really fun, I like the wind and the shifty stuff, " said Price. "The trick was to keep it fast through all the pressure and keep it upright. It's really good to win a World Cup and to win it on home soil is really quite special" said Price after the race."
"It has definitely been a steep learning curve. We are going a lot quicker and I'm starting to feel more comfortable. It's been a lot of fun so far and we keep learning new things every day."
Haylee Outteridge and Ella Clark (AUS) were second overall with Norwegian twins Ragna and Maia Agerup finishing the Medal Race third to take bronze.
49er
London 2012 Olympic gold medallists Nathan Outteridge and Iain Jensen wrapped up a successful day for the Australian Sailing Team by taking the win in the 49er.
Going into the Medal Race with a healthy 15-point lead they confirmed that they are back on track for another Olympic campaign.
"It's nice to be back in the boat and to be back in what we know to do best, " commented Nathan. "The real message to the rest of the fleet will probably come when we head to Europe next year and continue doing what we've been doing over the last four years."
"It's always tough to defend something, for example, if it's a World Title it's hard to defend it at the next World Champs. But to defend an Olympic gold medal is a lot harder, you have to keep it up for four years. We will have to campaign the same way we did last time, while assuming that everyone has become better. That's what we are looking forward to doing."
David Gilmour and Sam Phillips (AUS) held onto their silver medal position whilst Will Phillips and Rhys Mara (AUS) snatched the bronze from British team of Stevie Morrison and Chris Grube.
ISAF Sailing World Cup Melbourne
ISAF Sailing World Cup on YouTube
Tracking
2D and 3D tracking were available throughout ISAF Sailing World Cup Melbourne.
Click here to view the tracking.
Video
Big Breeze And Close Shaves – Nacra 17 Highlights
URL – http://youtu.be/dy05PO67QmI
Embed – <iframe width="640″ height="480″ src="//www.youtube.com/embed/dy05PO67QmI" frameborder="0″ allowfullscreen></iframe>
Outteridge And Jensen Come Back Flying – 49er Highlights
URL – http://youtu.be/tuh5r1JMvQo
Embed – <iframe width="640″ height="480″ src="//www.youtube.com/embed/tuh5r1JMvQo" frameborder="0″ allowfullscreen></iframe>
Perfect Partners, Price And Solly Strike Gold – 49erFX Highlights
URL – http://youtu.be/cmdSgMJPxn0
Embed – <iframe width="640″ height="480″ src="//www.youtube.com/embed/cmdSgMJPxn0″ frameborder="0″ allowfullscreen></iframe>
Chinese Women's RS:X Team Dominate – Women's RS:X Highlights
URL – http://youtu.be/xTWrLKZ3Vzc
Embed – <iframe width="640″ height="480″ src="//www.youtube.com/embed/xTWrLKZ3Vzc" frameborder="0″ allowfullscreen></iframe>
Chuankun Shi Near Perfect – Men's RS:X Highlights
URL – http://youtu.be/MzC2impVL1E
Embed – <iframe width="640″ height="480″ src="//www.youtube.com/embed/MzC2impVL1E" frameborder="0″ allowfullscreen></iframe>
News feeds containing interviews and b-roll of sailing action will be available from Friday 6 December through to Sunday 8 December on the ISAF FTP. A log Sheet will be attached.
In addition, fully-produced highlight packages will be available from 6-8 December. These will contain interviews, action and results, including event graphics. These will be available to view on the ISAF YouTube Channel – http://www.youtube.com/SailingWorldCup
For FTP login details, specific requests and native language interviews please contact the ISAF Communications Department or using the details below.