At its new premises on the sixth floor at 5 Aetolikou Street at the heart of Piraeus Passenger's Ship Terminal – so that all its surveyors can …overlook their clients ships given the great percentage RINA controls in the Greek market, Spyros Zolotas RINA's area Manager for Greece and Cyprus region and his team hosted their annual Christmas event for clients and friends of the society.
An early lot of 100 faithful enjoyed the lovely early afternoon weather from the terrace balcony overlooking the tranquille port of Piraeus with drinks and dips, mostly traditional Italian ones and Greek wines, whilst inside over 200 where exchanging wishes and networking.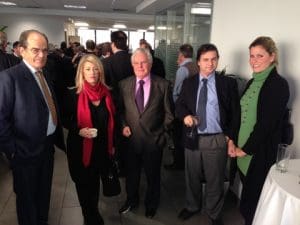 A good place to see many good old friends and supporters of www.allaboutshipping.co.uk  Naval Architect Demetris Economou was there with his daughter Sara Economou, an upcoming and coming yacht designer, TEMNE's Odysseas Benetatos, Studio Navale's Alex N. Kouros and George Fintikides, Golden Unions Captain Michael E. Veniamis with Chrstophoros Andreadis and Antonis Pitsilos, KCL's Manager Kalliope Lyrintzis and Vice Adm HN (rt) George Dimitriades, CST's Alexander Kostalas, George Vozikis from the Association of Hellenic Shortsea Shipowners, George Maghioros from Shipcare Marine Services, Euromarine's Dimitris Vounassos and George Cotrell, Theta's Maritime Tassos Eleftheriou, Hellenic Welding's Association Dr. Yiannis Kordatos, friend form the past – Hellenic Shipyards and many many others…
As always the technical staff from Attica's based offices supported and or… backed by administrative and managerial personnel where the majority of …revellers.
We managed to get a quickie interview from Spyros Zolotas on the Society's progress, targets and new year; log on herebelow to listen: