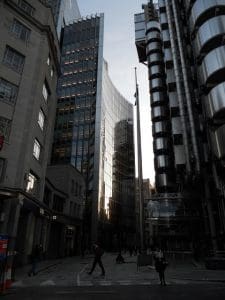 The Queen and The Duke of Edinburgh visit Lloyd's to unveil a plaque commemorating the market's 325th anniversary. (source: Lloyd's of London)
Lloyd's staff, underwriters, brokers and members gathered in the Underwriting Room to greet Her Majesty with a resounding cheer. Lloyd's chairman John Nelson and Chief Executive Inga Beale led the Royal Party into the Room, and Lloyd's famous Lutine Bell was rung twice to mark the occasion.
Traditionally the Lutine Bell, has been rung to herald important announcements – it was last rung to mark the birth of baby Prince George.
The Royal Party met people from the London market, as well as people who have benefited from Lloyd's many community and charity programmes.
Following the visit, the Royal Party attended a private luncheon with the Council and Franchise Board.
John Nelson said:  "What a great day it has been for Lloyd's to welcome HM The Queen and  HRH The Duke of Edinburgh. There was a wonderful turnout in the Room – I am so pleased that so many people had an opportunity to see or meet the Queen and the Duke. The Royal Family have been great supporters of Lloyd's throughout our history."
Watch
Lloyd's has had a long association with the British royal family. Watch our short video which showcases just a few of the most significant moments.