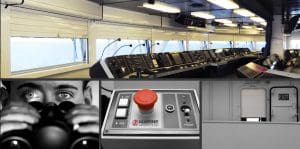 Following on from the continued success of the product, Marine Armor System are excited to announce its global launch and updated website.
MAS is an innovative non-lethal  vessel protection system based on ballistic blinds, protecting the vessel or rig against pirate attacks and other potential threats such as armed robbery, terrorism and acts of sabotage.  The system includes anti pirate blockades, bunkers and armored citadels or safe rooms onboard, protecting crew with a bulletproof barrier in case of pirate boarding, in line with IMO recommendations.
MAS is part of the Collbaix group, which has over 40 years' experience in the production, distribution and installation of high security blinds (architectural shielding). Using this extensive experience in providing secure access solutions to both commercial and residential properties, MAS was formed as a solution against naval piracy.
Edurne del Río of Marine Amour System says "Following on from its significant success in Spain we are very proud to be launching MAS globally as a passive solution against the threat of piracy; providing protection to the lives of crew and the assets onboard ship. In the event of a pirate attack response times onboard must be rapid. This is why we have developed a new automatic system which is designed to protect the whole vessel within ten seconds; at the push of a button."
MAS is manufactured using kriptonia, a patented high-quality material stronger than steel, bullet proof and certified with an FB6 ballistic level (to stop military weapons), designed to protect the most vulnerable areas in any vessel or platform. MAS manufacture, supply and install security hardening systems worldwide onshore or offshore. The system is hidden when not in use, requiring no storage space onboard.