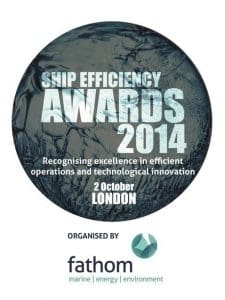 LONDON: 12th May, 2014: Fathom, the maritime eco-efficiency specialists, have announced the launch of the inaugural Ship Efficiency Awards, to be held in October alongside Fathom's annual conference 'Ship Efficiency: The Event'.
These awards will be dedicated to recognising excellence in efficient operations, technological innovation and energy efficiency within the maritime industry.
The awards will be judged by an internationally reputed panel, including Martin Stopford, President, Clarksons Research Services (CRS), Craig Eason, Technical Editor, Lloyds List, and Peter Hinchliffe, Secretary General of the International Chamber of Shipping (ICS) & Shipping Federation (ISF), amongst others.
The Ship Efficiency Awards will acknowledge and celebrate outstanding industry trailblazers through six different categories; the Energy Efficiency Solution Award, the Environmental Technology Award, Initiative of the Year, Sustainable Ship Operator of the Year, The One to Watch and the Outstanding Contribution to Ship Efficiency Award (to be judged via public vote). These awards put the spotlight on those individuals and companies that are making a real difference to advancing leaner and more efficient shipping operations, and will recognise those who are shaping a sustainable future for our industry.
"Efficiency, in all its guises, is truly one of the biggest challenges we are facing today as an industry. It is important that we properly celebrate and promote those furthering the knowledge and possibilities for the wider industry so that all can benefit." Alison Jarabo, Director at Fathom Shipping, commented.
Despite the number of awards schemes within the shipping industry, there are none that are specifically dedicated to maritime efficiency. These awards have been founded in order to address this and ensure that the industry leaders are prominently identified." Jarabo affirmed.
The official awards ceremony will be held on 2nd October 2014 at the Queen Elizabeth II Conference Centre in Westminster, London, as part of the wider programme of events for Fathom's Ship Efficiency: The Event 2014.
The fourth annual'Ship Efficiency: The Event 2014', held in association with Inmarsat, promises to be one of Autumn's highlights for shipping companies, regulators, technology companies, environmental companies and all related stakeholders.
The awards are now open for nominations with the deadline for entries the 1st August 2014.The shortlisted nominees for each category will be announced at the beginning of September and the winners announced at the awards ceremony on 2nd October 2014.
The judging process will be transparent and rigorous, rewarding excellence in efficiency and environmental performance in the maritime industry. Only work or achievements taking place in the last 12 months (2013-2014) will be eligible for the 2014 awards and each award has a specified criterion that entries must meet and demonstrate in order to be eligible.
More details on how to nominate your company or an individual, criteria, and rules and conditions can be found at www.fathomshippingevents.com/ship-efficiency-the-event.
"Jo"