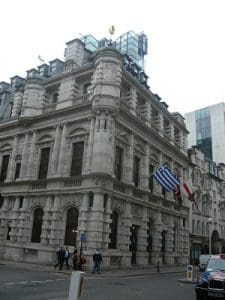 'Best' in Paris MoU rankings reflects the breadth of LR's drive to continually help improve safety and operational performance in shipping
The European port state control organisation, the Paris MoU, yesterday confirmed that Lloyd's Register (LR) was the highest performing Recognised Organisation (RO) in the European port state control area for the rolling three-year period 2011-2013.
During this period 11, 405 inspections were carried out on LR classed ships and 10 ships were detained for what are known as 'class related' factors. In official correspondence to all ROs, Richard W.J. Schiferli, Secretary General of the Paris MOU, wrote: "The best performing Recognised Organisation is Lloyd's Register."
Commenting on the ranking LR's Marine Director Tom Boardley said, "This is a significant achievement, as the ranking system is encouraging all ROs to continuously improve their performance. In 2009 LR was in 8th position and we realised this was unsatisfactory, not just for our own reputation but particularly for our clients who had put their faith in our ability to keep their vessels trading without the disruption of detentions. We set out to improve our position with the initial aim of attaining a top three position and then remaining there."
"We began a concentrated effort to improve fleet quality and help owners, managers and ships' crews to avoid detentions. This activity aligns with our mission to promote safety and to improve the operational performance of the fleets we serve."
There were a number of key activities reinforced and initiatives undertaken by LR. These included:
Additional training of LR surveyors, promoting awareness of the need to communicate what needs to be done by ships not just to pass surveys but to stay at the right level to pass port state control inspections for the whole year after a class visit.
The publication of the series of convenient Pocket Guide Checklists to help seafarers' awareness of safety and port state control requirements – these have been highly popular and not just on LR classed ships.
The introduction of the first smartphone app for ILO/MLC compliance, followed swiftly by an ISM/ISPS app, which were both well received by the industry and helped promote awareness.
The creation of a Fleet Quality Programme (FQP) in 2009 to help owners who were in danger of slipping below required safety standards between surveys. LR amended its classification Rules to permit LR surveyors to inspect ships between scheduled surveys where there was cause for concern in any classed ships.
Publicising LR's concentrated survey campaigns through Class News to owners and managers to raise awareness of port state control requirements.
Joanna Townsend, Global Head, Fleet Services, Lloyd's Register added: "We recognise the importance of identifying ships that are at a high risk of falling below the standards required in the classification rules and statutory requirements as well as the need for awareness of managers and seafarers and better communications with port state control authorities. Our surveyors cannot be on ships all the time. But we can promote safety by working with owners and managers to help them improve compliance with the classification and statutory requirements before they become either at risk or fall below required standards."
Lloyd's Register (LR) is a global engineering, technical and business services organisation wholly owned by the Lloyd's Register Foundation, a UK charity dedicated to research and education in science and engineering. Founded in 1760 as a marine classification society, LR now operates across many industry sectors, with over 9, 000 employees in 78 countries.
LR has a long-standing reputation for integrity, impartiality and technical excellence. Our compliance, risk and technical consultancy services give clients confidence that their assets and businesses are safe, sustainable and dependable. Through our global technology centres and research network, LR is at the forefront of understanding the application of new science and technology to future-proof our clients' businesses.