A full house at London's Hellenic Centre witnessed one of the greatest evenings since its opening 20 plus years ago, with Professor Roderick Beaton being awarded the Runciman Award for his book Byron's War Romantic Rebellion Greek Revolution!  John Faraclas was there with his camera:
The event organised by the Anglo-Hellenic League was generously sponsored by the National Bank of Greece,  and attracted many Britons and Greeks from the London Diaspora and beyond, particularly academics, members of the shipping fraternity, arts, academia, diplomacy, finance and industry.
The very eloquent Sir David Dain took the podium to introduce the event – his words food for thought, but equally important was the speech of Dr. Angeliki Lymberopoulou, which viewers can see herebelow and which refers to all intents and purposes, as we say in shipping, for the event, its background et al!
Here she goes:
"Your Grace, Your Excellencies, Ladies and Gentlemen,
It is a great honour to chair this year's Runciman Award, in memory of an exceptional scholar, who held Byzantine studies very close to his heart (I hope you understand that, as a Byzantinist, I find it impossible not to mention this).
I had the honour and the privilege of meeting the great Sir Steven at the exhibition curated by Dr David Buckton and hosted at the British Museum in 1994 entitled Byzantium. Treasures of Byzantine Art and Culture. Back then, I was a young(ish) student and when I realised who that tall, thin man wandering around the exhibition was, I approached him timidly and introduced myself. My plan was to let him know how much I admired him and his work, to praise him for all his contributions to scholarship. But Sir Steven was having none of that; instead he raised his hand and pointed at one of the exhibits stating (rather than asking) 'Is it not beautiful'. To which of course I agreed, and we ended up discussing the object, with me admiring his passion, still fresh after all the years of research, and his ability to detect inspiring beauty in every object.
His book The Fall of Constantinople 1453 (Cambridge University Press, 1965) is one of my very favourite books. I did, actually, read it like a novel, deep into the night since I was unable to put it down. And being from Crete myself, could not help but feeling a little bit proud when reading the narrative of the stubborn Cretan sailors who kept fighting when everything was already lost, and winning the admiration of the Ottomans in the process (I believe that you will all run to your copies to read this incident once you are back at your homes tonight – make a note, page 143!).
I would like to thank all three of my fellow judges, Tony Spawforth, Emeritus Professor of Ancient History of Newcastle University, and last year's chair whose rather large shoes I am called to fill today; Dr Chris Burnand, Head of Classics at Abington School and next year's chair; and Mr Dionysios Kapsalis, Director of the Cultural Foundation of the National Bank of Greece, the only permanent member of the panel, whose presence provides an aspect of continuity. Their insightful input, invaluable contribution, support and wisdom have been irreplaceable. It has been a great pleasure and an enriching experience to have worked, shared discussions and exchanged ideas and opinions with them. We would all like to thank the National Bank of Greece, represented by Ms Vassiliki Campbell, the Chief Executive Officer in the London Branch, for continuing to support so generously this wonderful prize and for their undiminished and untethered commitment to research, scholarship and dissemination of knowledge in the field of the arts. We would also like to thank The Open University for facilitating and catering for our (rather long) shortlisting meeting; the Anglo-Hellenic League for organising the Award; and the Hellenic Centre for hosting it. The help and sharpness of the Anglo-Hellenic League's Treasurer, Mr Yannis Carras, who has very kindly volunteered to oversee the organisation of the Runciman Award this year, has been instrumental in this process. Mr Carras was always available to answer questions, to clarify issues and to confirm procedures, all vital elements for the smooth running of the Award. Mr Paul Warkins, the League's vice-Chair and Editor of the Anglo-Hellenic Review, has also been very kind and generous with his time.
This is the last year that Prof. Spawforth and myself are part of the Runciman Award judges' panel; we will be replaced by Thomas Harrison, Professor of Ancient History at the University of Liverpool, and Dr Dionysios Stathakopoulos, Lecturer in Byzantine Studies at King's College London, respectively. Dennis is a long-standing friend and colleague with whom we have been literally through hell together, as part of our Leverhulme-funded International Networks  research project, examining representations of hell (at least now we have a better idea on how to avoid it or – if unavoidable – what to expect! As I mentioned above, the two new members will join Mr Dionysios Kapsalis and Dr Chris Burnand for the 2015 Runciman Award with Dr Burnand the acting chair.
This year a total of 46 books were submitted of which 3 were technically ineligible and therefore had to be excluded. Hence the judges considered a total of 43 books, from no less than twenty different publishers, based either in the United Kingdom or the United States and including both trade and academic imprints. The Award covers books on all aspects of Greece; as such the number of entries and the variety of topics they cover confirm that Greek culture and civilization year after year continue to be a source of inspiration – clearly this is not all 'Greek' (or 'Byzantine' for that matter) to the English speaking research, scholarship and audience. While the majority of books dealt with ancient Greek themes, this year saw also a selection of Byzantine related topics – some lavishly illustrated, such as Antony Eastmond's The Glory of Byzantium, published by Phaidon Press – as well as very strong submissions addressing intriguing aspects of Greece's modern history from the Enlightenment and the War of Independence.
The competition for this year's Runciman Award was equally strong as it has been in previous years. The panel came up with a shortlist of five books, having in the process eliminated a number of other interesting contributions. While far from unanimous on a number of the submissions, it was clear that we all benefited from the opportunity to read and assess these entries.
Let me start with highlighting some of the excellent entries that did not make it to the shortlist – a selection the quality of which should make the shortlisted authors extra proud.
Thus, from the books addressing issues of the ancient world, Johannes Haubold, Greece and Mesopotamia Dialogues in Literature, published by Cambridge University Press, takes a comparative approach to the study of ancient Greek and Mesopotamian literature ranging from Homer to the Babylonian-Greek author Berossos and invites a debate through a fresh look into the interaction between Greeks and 'barbarians'. Maria Fragoulaki's, Kinship in Thucydides Intercommunal Ties and Historical Narrative, published by Oxford University Press, offers a new interpretation to Thucydides' unique contribution to historiography through new readings of the History and his engagement with Herodotos. James Robson's, Sex and Sexuality in Classical Athens, published by Edinburgh University Press, raises many open-ended questions concerning a topic which never ceases to stimulate interest though a rich selection of sources, presented in an accessible manner, without compromising its scholarly standards.   David Studdard, Parthenon Power and Politics on the Acropolis, published by the British Museum is a pleasant, accessible easy read for the general audience wishing to get acquainted with the complicated issues of ancient Greek politics.
Moving onto the Byzantine world, a world for which I have an enormous soft spot, Judith Herrin's Unrivalled Influence and Margins and Metropolis, twin volumes published by Princeton University Press, although reworking older material, offer updated contributions to important topics and will form points of reference for Byzantine students and scholars of the next generations. Stratis Papaioannou's, Michael Psellos Rhetoric Authorship and Byzantium, published by Cambridge University Press, is a thorough examination of an extremely interesting – and highly controversial – eleventh-century Byzantine persona, that of Michael Psellos, a monk, writer, philosopher, politician and historian. Papaioannou's approach to examine Psellos within his own time and his own historic and social context in order to fully understand and unravel his personality, is certainly one I subscribe to.
From the more recent times, Alexander Tzonis' and Alcestis Rodi's, Greece (Modern Architectures in History), published by Reaction Books, is a refreshing reminder that Greece is not and should not be only about its ancient and Byzantine past; however it is, perhaps, too narrowly focused for the more encompassing and broader coverage of the Runciman Award.
Finally, from the beautiful domain of literature, Louis de Berniéres' Imagining Alexandria, published by Harvill Secker, presents poems in memory of and inspired by the great Greek poet (and one of my personal favourites), Constantinos Cavafis (Cavafy), while Peter Stothard's Alexandria The Last Nights of Cleopatra, published by Granta, provides a reflective, moving and complex  narrative.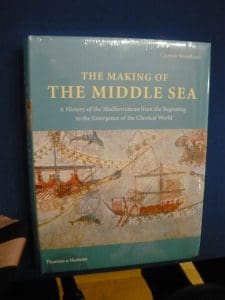 I will now present the five shortlisted entries in a chronological order starting with the book that addresses the very distant past and moving closer to the modern era. Hence Cyprian Broodbank's The Making of the Middle Sea, A History of the Mediterranean from the Beginning to the Emergence of the Classical World (Thames & Hudson, London, 2013, £34.95 hardback), is an impressive exploration of the Mediterranean basin which takes us back to 1.8 million years ago and concludes in c. 480 BC with the sea-battle at Salamis. It is ambitious in its scope with an intriguing perspective and approach. It brings to the foreground the all-important notion that nothing is created in a vacuum. Hence it demonstrates the ways in which the ancient Greek and Roman civilizations adopted and adapted to pre-existing cultural advances in the area in order to emerge within a given environment. They were supported by developments rather than taking over the cultural landscape. In other words, the history of the development of the Mediterranean is presented as a continuum that reaches a climax rather than as fragmented pieces of history with intermittent pinnacles of superior achievement.
Kostas Vlassopoulos' Greeks and Barbarians (Cambridge University Press, Cambridge 2013, £24.99 paperback) almost picks up from where Broodbank's exploration leaves us. The author navigates through the archaic, classical and Hellenistic periods and succeeds in presenting a multi-angled and creative account of the interaction between Greeks and non-Greeks in the Mediterranean and Near Eastern World. As such it addresses topics that are extremely relevant to our present life and world– those of cross-culturalism and globalization. Its emphasis is placed on fusion and reception of influences rather than on conflict and friction. From the point of view of my present research, I would like to note that I found the conclusions of this book particularly intriguing, since I have come to support a similar approach in my exploration of the interaction between the native population and the colonists of Venetian Crete between the thirteenth and the seventieth centuries.
Third in this chronological order comes Anthony Kaldellis' Ethnography After Antiquity Foreign Lands and People in Byzantine Literature (University of Pennsylvania Press, Philadelphia, 2013, £49, hardback). This is a very engaging study of the accounts the Byzantines wrote about foreign people. The subject picks up the baton some centuries down the line from Vlassopoulos and carries it into the middle and later Byzantine periods, broadly speaking from ca. the seventh to the mid-fourteenth centuries. Literature takes central stage here and the evidence and insight it provides are used as tools in deciphering the Byzantines' approach to 'otherness'. It emerges that the Byzantines used accounts of foreign cultures as disguised critique of their own state and affairs and demonstrates that their perceived Roman identity was a pivotal distinction between them and societies they considered 'barbaric' and 'heretic'.
Paschalis Kitromilides' Enlightenment and Revolution The Making of Modern Greece (Harvard University Press, Cambridge Mass., 2013, £40.95, hardback), is a masterly overview and survey of the Greek Enlightenment, a topic, which tends to live in the long shadow cast by ancient Greek and (by now also) Byzantine studies. Kitromilides' commitment and painstaking examination of the subject, primarily through Greek sources, are therefore commendable. He manages to present a complicated topic in an accessible manner to the general audience without ever compromising the level of scholarship. Kitromilides demonstrates the decisive role the political ideas of the key-figures of the Greek Enlightenment played in shaping the emergence of modern Greece. In this – his – process he manages to examine and to present with equal attention to detail both the obscure as well as the eminent, an admittedly far from easy task.
Last, but by no means least among the five shortlisted entries is Roderick Beaton's Byron's War Romantic Rebellion Greek Revolution (Cambridge University Press, Cambridge, 2013, £30, hardback). Beaton presents an iconic figure of the nineteenth-century Greek War of Independence, a Greco-phile who has often been assigned saintly status in Greek school books for his role in the Greek revolution. For people like me, familiar with Lord Byron's radiant status within my culture, reading (and in fact re-reading) Beaton's book was an eye-opener. At the turn of each page emerges a vulnerable Lord Byron, carrying more than a fair share of human shortcomings. Beaton weaves Byron's intriguing development of his complex personality by presenting to his audience the protagonist through his poetry, friendships, parental, sexual, casual and political relationships. Beaton strips Byron of his 'Greek revolution superman cape', but at the same time he argues for a central role for Byron in shaping the westward looking Greek state.
These are the five shortlisted books for this year's Runciman Award. Each one presents a wonderful contribution to scholarship in its own field. As it happens, together they present the bigger picture of a socio-historic-economic development in the Mediterranean basin with a specific focus on the area centred around Modern Greece. It proved difficult for the judges to pick the winner. In the end, we reached the decision that Roderick Beaton's original presentation of Lord Byron, his approach and examination of a complicated subject, which engages the general reader and specialist alike and manages to hold their attention, is this year's winner.
Ladies and Gentlemen, please welcome the winner of the 2014 Runciman Award, Professor Roderick Beaton."
You can imagine what happened at the great hall of the Hellenic Centre the moment Dr. Lymberopoulou announced the winner; a standing ovations and applause for Proefessor Beaton, seating immediately next to me with his wife!
The award was given to the winner by Ms Vassiliki Campbell, the CEO of the National Bank of Greece London Branch. Professor Beaton gave an extraordinary performance in telling us/speaking his mind about his book, a unique if I may say so confession, bluntly but honest and yes, he deserves it!
The event was concluded by Sir  David  Dain and a nice reception followed. Good to see  His Eminence Archbishop Gregorios, The Greek Ambassador and Mrs. K. Bikas, Former UK Ambassador to Greece Sir Michael Llewellyn-Smith, Varvara Kambouridou – Educational Attaché, Antonis Katepodis, the Commercial attaché, the Greek Defence Attaché Captain (HN) Apostolos Trivlidis and many others from the Greek Consulate.
Members of the Hellenic Center's Secretariat headed by Mrs. Agatha Kalisperas,  the iconic Tryfon Kedros and his son, Mrs. Edme Leventis, Gallerist Maria Antypas, Dr. Angelika Kavouni, Antigoni Vlisidou, Yiannis Carras and members of the Anglo-Hellenic League as well as executive officers fom the National Bank of Greece; Gerald Cadogan and his wife,  Dr Michael Sharp, from The Cambridge University Press, publishers of the winners book was there too, the team from the Hellenic Bookservice where there to and many others.
See you next year and do participate in this coming year's Runciman Awards competition!