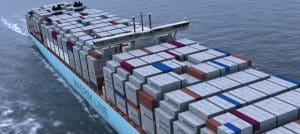 03.07.2014 – Maersk Line has started the implementation of DNV GL's ShipManager software, with pilot testing on five vessels. The installation of ShipManager on their self-owned fleet of 250 vessels is scheduled for next year. Simon Adams writes:
Maersk has chosen DNV GLs ShipManager system after a comprehensive selection process with 26 other shipmanagement software vendors globally. The world's largest container shipping company will gain from the leading off-the-shelf ship management system by increased process efficiency and improved access to and analysis of information.
"The implementation of ShipManager on the pilot vessels is a major milestone in the project, " says Are Føllesdal Tjønn, Managing Director at DNV GL – Software. "We have a full dedicated team working with Maersk Line on the implementation. All the configurations and settings have been agreed upon, " he says.
"The feedback we have received so far from Ebba Maersk, a 15, 500 TEU Container Ship, has been very positive. The application is performing well, and the users have praised the application for its user-friendliness and the self-explanatory nature of the modules, " says Sebastiaan Van den Wijngaert, Senior Project Manager at Maersk Line IT.
Maersk Line, with headquarters in Copenhagen, Denmark, has 33, 000 employees worldwide, including seafarers, and registers 35, 000 port calls every year. DNV GL won the tender for the ship management software, initially competing with 26 other vendors.
"ShipManager will replace nine applications we use currently with one integrated, easier to learn, user-friendly and technically up-to-date application, " says Van den Wijngaert. "This will make the on-boarding of new people a lot easier, " he says.
Maersk Line will be using six integrated ShipManager modules: Technical, Procurement, Project, Crewing, QHSE and Analyzer. With ShipManager Analyzer, it is possible to extract data from all of the modules for analysis. "This will give our fleet managers a transparency they never had before, " says Van den Wijngaert.
The tender process of Maersk Line was extensive, and included interviews with current ShipManager users, who gave feedback on the functionality of the software, the capabilities and support of DNV GL, best practices and the technical strength of the software, including replication, backward compatibility and minimal technical setup onshore and onboard. During the process, DNV GL completed Maersk Line's request for proposal, containing 400 questions. Subsequently, the finalists were invited to present the software in person.
"We are very proud that our investments in our ship management software portfolio over the last five years stand up to the highest industry requirements, " says Tjønn. "The Maersk Line team is extremely professional and effective, and there is a lot of excitement about this project on both sides."
About ShipManagerTM
ShipManager maritime software offers ship management solutions supporting management of vessels and fleets in all technical, commercial and compliance aspects.
About Maersk Line
Maersk Line, founded in 1928, is the global container division of Maersk, a Danish conglomerate. Maersk Line is the largest container shipping company in the world and employs approximately 33, 000 people. It operates more than 600 vessels and owns approximately 250 vessels.
About DNV GL – Software
DNV GL is the world-leading provider of software for a safer, smarter and greener future in the energy, design and engineering, risk assessment, asset integrity and optimization, QHSE, and ship management. Our worldwide presence facilitates a strong customer focus and efficient sharing of industry best practice and standards.
About DNV GL
Driven by our purpose of safeguarding life, property and the environment, DNV GL enables organizations to advance the safety and sustainability of their business. We provide classification and technical assurance along with software and independent expert advisory services to the maritime, oil and gas, and energy industries. We also provide certification services to customers across a wide range of industries. Operating in more than 100 countries, our 16, 000 professionals are dedicated to helping our customers make the world safer, smarter and greener.