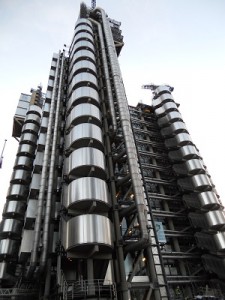 Monday 29 September 2014 – Deandra Major is the first female broker from the Bahamas to work in the Lloyd's market. We discuss her career, walking into the underwriting room for the first time and living with London weather. (source: Lloyd's of London)
What attracted you to a career in insurance?
My career in insurance started as a temporary summer job after graduating high school and it evolved from there. I fell into it really – at the start I didn't really think about it as a career, but over the years I fell in love with it.
What made you want to work at Lloyd's?
Whilst I was studying for my CII exams there was a lot of material related to Lloyd's and the London market, which I found very interesting. I mentioned it to my boss at the time who suggested I should try for an internship with a company at Lloyd's, called Endeavour Insurance Services. They offered me an internship position and sponsored me through the whole process, which made a big difference.
Ultimately they offered me a permanent position – an opportunity I couldn't refuse. I moved to London in July last year after working in the Bahamian insurance industry for five years.
Tell us a bit about your current role.
My current role with Endeavour is with the Property team. We broke open market facultative and line-slip referral risk from our North American clients. As a surplus lines market broker we use our open market capabilities to assist our coverholder clients and help them in the placement of 'difficult to place business'. We also work with new clients to develop their portfolios and work towards binding authority status.
The majority of the risks that we place into Lloyd's are those where clients are looking for more bespoke products and the risks are more 'difficult to place' domestically. There's no other market like Lloyd's, and London is the insurance capital that attracts business from all over the world from reinsurance to insurance products.
What were your first impressions of Lloyd's?
I was really excited about moving to London. When I first walked into Lloyd's I thought this is it, this is where I need to be. There was such a buzz about the place.
Since I've been at Lloyd's I've met so many new people and all of the underwriters have been so nice, accommodating and very helpful. It's a really friendly place to work and I love being here.
What could the industry do to make it more attractive to diverse talent?
If businesses want to attract international talent they should create internships. I got into Lloyd's through an internship and I think the industry should make more opportunities like that to attract young people. It would be great if Lloyd's could facilitate matching interns with companies that are willing to take them on when they come from other countries.
It is quite a male-dominated industry but I've never felt any prejudice against me as a woman. The team at Endeavour has fully accepted me and I know they judge me on merit and on what I can bring to the company.
Where do you see yourself in ten years' time?
Ten years is a long way away so there are lots of possibilities!
But there are two options I hope for; the first is developing and growing a portfolio of US and Bahamian and Caribbean business here in London. The second is to return to the Bahamas, US or Caribbean and use the experience that I've gained in London there in the local industry. Either way, I definitely see my future as being in insurance.
How are you enjoying life in London?
I absolutely love it! Every time I meet someone new and they find out I'm from the Bahamas they say, what are you doing here? Why would you want to live in London? But London life is fantastic. The only thing is, the weather takes a bit of getting used to. Coming from 90 degree weather to London is a bit of a change, to say the least!
One of my favourite things to do at the weekends is to go down and wander around Spitalfields or Borough Market. I've fallen in love with the London markets and all the great food.
If you didn't work in insurance what would you do?
Insurance is what I've done my whole adult life so it's hard to say. I think I would have ended up in banking or some other part of financial services if I hadn't found insurance.