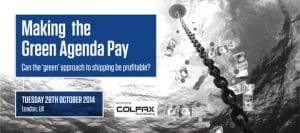 21/10/2014  –  A recent survey carried out by the Institute of Marine Engineering, Science and Technology (IMarEST) together with Colfax Fluid Handing, a leader in pumps, systems and Smart Technology solutions for the marine industry, has highlighted that 88% of the industry agrees that the 'Green Agenda' is good for the global maritime industry, but less than 46% say it actually offers good value for money.
With around 200 responses, the survey also claims that 75% of respondents think the 'Green Agenda' can impact business and could act as a success factor, with 78% agreeing that more options need to be made available to encourage companies to invest in green initiatives.
"The survey results are really interesting and clearly highlight that the industry as a whole could use a best-practice guide or a set of options that are clearly available" said John Barnes of the IMarEST. "There are a number of initiatives available to shipping companies, but it is difficult to work out which solutions work, and for whom, when there are so many out there.
One respondent to the survey suggested that "companies are not going to invest [in green initiatives] unless forced to or there is an attractive financial incentive".
The IMarEST and Colfax Fluid Handling are holding a roundtable discussion which is set to create an industry debate to address what the sector needs to do and discuss going forward.
Ben Martin, Director of Global Marketing at Colfax Fluid Handling added: "Suppliers to the shipping industry have a responsibility to listen to industry leaders, hear what they have to say and then respond to their needs. That's why Colfax Fluid Handling feels it's critical to partner with IMarEST on such an important discussion. Our goal is to support the global commercial marine industry and help its leaders secure the best return from investing in green initiatives."
The 'Making the Green Agenda Pay', invitation-only roundtable will take place on 28th October. Chaired by Richard Vie, Vice President of Technical Development and Quality Assurance, Corporate Shipbuilding, at Carnival Corporation & plc and the current President of IMarEST, it has attracted representatives of key organisations who between them cover ship owners and operators, classification societies, cruise lines, industry associations and bodies, academia and suppliers.
A white paper following the event will be produced and distributed. If you would like to be added to the distribution list, please email your name, company, email and address to events@imarest.org.
About the Institute of Engineering, Science and Technology (IMarEST)
The IMarEST is an international membership body and learned society for all marine professionals. It is the first Institute to bring together marine engineers, marine scientists and marine technologists into one international multi-disciplinary professional body. It is the largest marine organisation of its kind with a worldwide membership of over 15, 000 based in over 100 countries.
Working with the global marine community, the IMarEST promotes the scientific development of marine engineering, science and technology, providing opportunities for the exchange of ideas and practices and upholding the status, standards and expertise of marine professionals worldwide.
The IMarEST has a growing network of Corporate Marine Partners who benefit from a tailored programme to support each global organisation's specific requirements. Packages provide companies with a competitive edge by investing in staff and supporting Initial and Continuous Professional Development, supporting local, national, or international promotional programmes, providing specialised recruitment solutions, accrediting training courses, creating exclusive online networking and collaborative working, developing bespoke networking events and providing company employees with access to one of the largest online knowledge resources – the IMarEST's extensive Virtual Library.
The IMarEST is a respected authority in every maritime country. It is a Non-Governmental Organisation with consultative status at the International Maritime Organization (IMO), observer status at the Intergovernmental Oceanographic Commission and International Hydrographic Organization (IHO), and it has special consultative status with the Economic and Social Council of the United Nations (ECOSOC), which facilitates its access to other international  intergovernmental meetings where its specialized marine expertise is of particular use, e.g., the United Nations meetings on Areas Beyond National Jurisdiction, the Intergovernmental Panel on Climate Change (IPCC) and the work of the International Seabed Authority on marine mining. It is a nominated and licensed body of the Engineering Council (UK), a member of the Science Council and has significant links with many other maritime organisations worldwide.
IMarEST runs a series of industry leading and technically excellent events and conferences as well as publishing the internationally recognised publication, The Marine Professional.
About Colfax Fluid Handling
Colfax Fluid Handling, a business of Colfax Corporation (NYSE: CFX), is a global leader in critical fluid handling and transfer solutions for the commercial marine, defense, energy, industrial and reliability services markets, including the new Smart Technology CM-1000 Series intelligent controller to reduce energy and maintenance costs for sea water cooling systems.
With a broad portfolio of technologies, products, systems and services and a deep base of application and engineering expertise, Colfax Fluid Handling specialists work with customers to understand and focus on their toughest business challenges. As a result, Colfax can find and deliver the best customer solutions that provide the highest levels of reliability, efficiency and longevity with the lowest total cost of ownership. Colfax Fluid Handling encompasses the trusted product brands Allweiler®, Clarus®, COT-PURITECHSM, Houttuin™, Imo®, LSCSM, Rosscor®, Sicelub®, Total Lubrication ManagementSM, Tushaco®, Warren® and Zenith®. Additional information about Colfax Fluid Handling can be found at www.colfaxfluidhandling.com