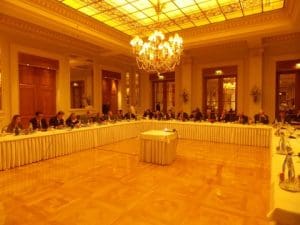 Technology focus & innovation, Common Structural Rules and the N/B market in China were key themes at Lloyd's Register's (LR) Hellenic Advisory Committee, as the succession to Apostolos Poulovassilis as LR Marine Manager in Piraeus is confirmed
Piraeus, 29 October – Lloyd's Register's Hellenic Advisory Committee met on Tuesday 21 October 2014 at the Grand Bretagne Hotel, Athens.
In his opening comments, Richard Sadler Lloyd's Register CEO summarised a good year of LR Group activity – which has seen turnover exceed £1Bn for the first time in the Group's history, representing a significant milestone towards future growth plans. Underpinning a commitment to lead technology research and innovation, Mr. Sadler confirmed that the move to the new Marine Global Technology Centre in the UK is now underway, which also represents a ground-breaking research & educational collaboration with the University of Southampton. "I am proud to say that Lloyd's Register has taken a leading position in establishing such a reputable collaboration, which I am sure will serve as a model for others to follow" – he commented to members. It was noted that the LR Foundation, now established as the LR Group parent charity for industry research & development, is now the largest registered charity in the UK in terms of assets & income.
Advancing the theme of new technology & innovation, Tom Boardley LR Marine Director provided an insight to new LR initiatives set squarely to address challenges now being faced by the shipping industry – with particular reference to environmental & safety regulation, global marine fuel trends, the potential expansion of LNG-fuelled shipping & bunkering demand, and the structural integrity of ever larger container ships. Noting also the on-going balance of advancing regulation & innovation against commercial pressures, Mr. Boardley was pleased to report Lloyd's Register's position as the top-performing recognised organisation (RO) at the Paris MoU for 2011-13 from figures recently published.  From 11, 405 inspections in this period on LR classed ships, only 10 were detained for classed-related factors. "From a position of 8th in the MoU ranking in 2009, this represents a concerted effort to  improve quality and to work with owners, managers and crews to improve operational performance and avoid detentions" he said.
Lloyd's Register's Global Technology Leader for Hull Structures, Peter Thompson, gave the Committee an update on the evolving Common Structural Rules for bulk carriers & oil tankers – noting progress towards the entry into force date 01 July 2015 and new 2014 change proposals aimed to clarify any previously generalised parameters that were open to interpretation.  Committee Chairman, Theodore Veniamis, noted the high level of input to these rule developments coming from the Greek marine community, and highlighted "the importance both of common software to effectively implement these rules and the need for just one common notation – avoiding any two-tier notation approach from IACS members". He called upon continuing LR support to this approach.
Nikos Skaribas, Lloyd's Register's Greater China Marine Operations Manager, provided an overview of the latest Chinese shipbuilding capacity and capability. Noting LR's leading position for new orders placed in China during 2013/14, Mr. Skaribas commented that the number of Greek client orders in China is still influenced by a process of building trust.  Members called for more clarity on understanding which shipyards are on the Government approved "White List" and with available fund guarantees – so as to avoid building delays. Initiatives by the Government to fund schooling and education centred around the industry were noted to improve future levels of full time employees and thereby personnel retention & quality.
Attending his last meeting of the Hellenic Advisory Committee in the capacity of Lloyd's Register's Regional Marine Manager with responsibility for Greece, Apostolos Poulovassilis provided an overview of the marine market – with particular reference to the evolution of the total Greek owned fleet 2008-2014. Against a turbulent economic background during this period, highlights included an annual average fleet growth of 5.8% (DWT), a 28% reduction in average ship age from 18.4 to 13.3 years, consolidated investment in bulk carrier / tanker orders but also new sectors such as LNG/LPG, and maintenance of the largest global fleet by nationality (GRT). Lloyd's Register remains proud to class a leading 26% of the Greek owned existing fleet (GRT) and 24% of the newbuilding orderbook (GRT).
Members noted that Mr. Poulovassilis has resigned from the services of Lloyd's Register after a career spanning 25 years to pursue a new opportunity in the Greek marine market. On behalf of the Committee both Richard Sadler and Theodore Veniamis paid tribute to the personal contribution made by Apostolos in the development of LR Piraeus as a key Area Hub office and in his tireless support of and dedication to the Greek maritime community. They were also pleased to announce that Theodosis Stamatellos, a member of the LR Piraeus office for 8 years, will now succeed Apostolos as Lloyd's Register's Area Marine Manager with responsibility for Greece.
The Committee also reviewed the workings of Lloyd's Register's Hellenic Technical Committee and Environmental Subcommittee during 2014, covering a wide range of rule developments and efficiency solutions – including CSR, ratification of the convention for ballast water management, the draft IGF Code for alternative fuels and biofouling management.
These presentations were well received and provoked active and productive discussions.
Published data sources courtesy of Petrofin Research and IHS Fairplay.
Present at the meeting as a guest was Mr. George Gratsos, President of the Hellenic Chamber of Shipping.
About Lloyd's Register
Lloyd's Register (LR) is a global engineering, technical and business services organisation wholly owned by the Lloyd's Register Foundation, a UK charity dedicated to research and education in science and engineering. Founded in 1760 as a marine classification society, LR now operates across many industry sectors, with over 9, 000 employees in 78 countries.
LR has a long-standing reputation for integrity, impartiality and technical excellence. Our compliance, risk and technical consultancy services give clients confidence that their assets and businesses are safe, sustainable and dependable. Through our global technology centres and research network, LR is at the forefront of understanding the application of new science and technology to future-proof our clients' businesses.
Lloyd's Register and variants of it are trading names of Lloyd's Register Group Limited, its subsidiaries and affiliates.Lloyd's Register Group Services Limited (Reg. no. 6193893) is a limited company registered in England and Wales. Registered office: 71 Fenchurch Street, London, EC3M 4BS, UK. A member of the Lloyd's Register group.