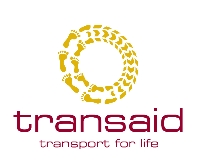 Transaid's Br@king News
                                          January 2015
Professional Driver Training in Tanzania – watch the video

Road crashes kill an estimated 1.24 million people each year. In Sub-Saharan Africa, road deaths are the third biggest killer following HIV/AIDS and malaria. Watch Transaid's new video to find out more about our professional driver training initiatives improving road safety in Africa. 

Click here to watch. 

Impact Handling joins as Transaid's new corporate member

The firm has made a new year's resolution to help improve forklift truck safety and efficiency in Africa, after becoming the first materials handling company to sign-up as a corporate member. The company will initially focus on supporting training initiatives in Zambia as well as UK based activities. Find out more here.

Over £160, 000 raised thanks to transport industry support

2014 was another successful year for our fundraising initiatives raising over £160, 000 through a cycle challenge, our Christmas Appeal and individual challenges. Raffles and auctions held at the industry events contributed further £70, 000 towards this fantastic total.Find out more 

here. 

 Three Day Celtic Challenge launched! Sign up now.

Join us for this long-weekend, 350km, ride of fantastic cycling, starting beside the Brecon Beacons and finishing in Dublin. Our forth European ride takes place between 18 and 21 September 2015 and promises to be the most spectacular ever! Places are limited, sign up today. Find out more 

here.
Transaid is an international development charity. We identify,
champion, implement and share local transport solutions
to improve access to basic services and economic opportunity
for people in Africa and in developing countries. Transaid was
founded by Save the Children and The Chartered Institute of
Logistics and Transport and our Patron is HRH The Princess Royal. Registered charity no. 1072105.
Patron: HRH The Princess Royal.

Copyright © *2013* *Transaid*, All rights reserved.

If you would like to make a donation to Transaid please click here!