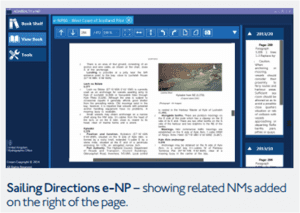 Expanded range of e-NPs launched by UKHO and a further Flag State approval for the use of e-NPs in place of paper equivalents
Eight more ADMIRALTY Nautical Publications from the UKHO to be available as e- books; Sierra Leone approves ADP and e-NPs as SOLAS-compliant
In the week that Sierra Leone has joined the growing ranks of Flag States to approve ADP and e-NPs as SOLAS carriage-compliant, the United Kingdom Hydrographic Office (UKHO) has published an expanded range of ADMIRALTY e-Nautical Publications (e-NPs).
e-NPs are official ADMIRALTY Nautical Publications in a convenient electronic format, bringing improved efficiency, accuracy and access to information that bridge crews need. Containing the same certified data as their paper counterparts, e-NPs are devised to meet SOLAS carriage requirements, can therefore be used in place of their paper equivalents and are approved by the Flag States of 80% of ships trading internationally.
The ADMIRALTY e-NP portfolio has been significantly expanded, with eight more official nautical publications newly available in the e-book format in the first quarter of 2015. This range includes Sailing Directions (74 volumes), Mariners Handbook (NP100), Ocean Passages of the World (NP136), The Nautical Almanac (NP314), Guide to ECDIS Implementation (NP231), Policy and Procedures (NP232) and more.
Building on the success of e-NP Version 1.0, UKHO has also issued Version 1.2 which contains several substantial improvements, including the saving and printing of the e-NP Certificate and Snapshot improvements allowing users to print pages and Notice to Mariners (NMs) in one easy function. This permits bridge crews to select specific e-NP pages to reinforce passage planning, as well as aiding port inspections by clearly showing when an e-NP was last updated with weekly NMs. All e-NPs can be read using the ADMIRALTY e-Reader software, which is supplied at no extra cost.
Christine Trickett, Senior Product Manager – Publications, at the UKHO commented:
"We have worked hard to further expand and improve our range of e-NPs whilst retaining the same familiar look as all ADMIRALTY Nautical Publications. With the recent addition of Sierra Leone, the Flag States of 80% of ships trading internationally have now approved the use of e-NPs in place of their paper equivalents, meaning that the vast majority of bridge crews can have easier access to an even wider range of essential navigation information in electronic format. For example, weekly Notices to Mariners can be added in seconds."
Captain Hailwood, a renowned expert on ECDIS and integrated bridge procedures, has delivered the UKHO ECDIS seminars for the past three years. Captain Hailwood's recent blog highlights that Paris Memorandum of Understanding data shows that 'deficiencies in nautical publications' are the second most common reason for the detention of ships. Captain Hailwood explains that mariners using e-NPs can help avoid such circumstances by using the NMs application, which can be downloaded and applied to electronic publications immediately with a quick certificate display. This program makes it easy to check and demonstrate an update status to the necessary authorities during an inspection, proving that a vessel'spublications are up-to-date.
Further details on the full range of ADMIRALTY e-NPs can be found here
About the United Kingdom Hydrographic Office
UKHO produces a worldwide series of some 3, 500 paper nautical charts, 200 publications under the ADMIRALTY Nautical Products & Services brand and Electronic Navigational Charts (ENCs). The ADMIRALTY Nautical Products & Services portfolio is sold globally and used by over 90% of the ships trading internationally.
UKHO, an Executive Agency of the Ministry of Defence, has been charting the world's oceans for more than 200 years with the primary aim of providing navigational products and services for the Royal Navy and merchant mariners to save and protect lives at sea. In addition it serves small craft and leisure mariners and provides a range of consultancy services.
UKHO also plays a central role, in support of the Maritime and Coastguard Agency, in discharging the navigation element of the UK's Safety of Life at Sea Treaty obligations for waters of UK national responsibility.