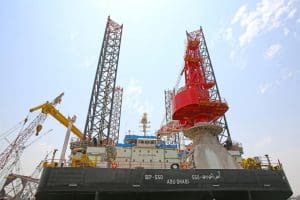 Wärtsilä Corporation,  13 March 2015 at 10 am EET – Two new jack-up barges ordered by the National Petroleum Construction Company (NPCC), based in the United Arab Emirates, will feature fully integrated Wärtsilä power generation and electrical and automation (E&A) solutions. The SEP 650 and SEP 750 vessels are being built at the Shanghai Zhenhua Heavy Industries (ZPMC) shipyard in Chang Xing Island, China. The contract with Wärtsilä was signed in December 2014.
For each vessel Wärtsilä will supply three 8-cylinder Wärtsilä 20 generating sets, an emergency generating set and the full E&A system. The integrated solution from a single source optimises the operating efficiency of the vessels while reducing delivery risks for the yard. The Wärtsilä equipment is scheduled to be delivered in summer 2015.
"Wärtsilä's comprehensive portfolio of solutions enables this kind of integration, which benefits the operation of the vessel in terms of efficiency and helps the yard reduce its scheduling risks. We are pleased to work once again in cooperation with both NPCC and ZPMC in developing world class solutions for the offshore market, " says Mr Hans Laheij, Area Sales Director, Wärtsilä Ship Power.
Wärtsilä has earlier supplied the complete electrical systems, including the generating sets, transformers and full E&A requirements for NPCC's SEP 450 and SEP 550 jack-up barges. This same scope of supply has again been ordered from Wärtsilä for the SEP 650 and SEP 750 vessels.
NPCC is a major provider of engineering, procurement, and construction solutions to both the offshore and onshore oil and gas industries. The new jack-up barges will supplement NPCC's fleet of offshore vessels supporting its shallow and deep water operations.
Wärtsilä in brief:
Wärtsilä is a global leader in complete lifecycle power solutions for the marine and energy markets. By emphasising technological innovation and total efficiency, Wärtsilä maximizes the environmental and economic performance of the vessels and power plants of its customers.
In 2014, Wärtsilä's net sales totalled EUR 4.8 billion with approximately 17, 700 employees. The company has operations in more than 200 locations in nearly 70 countries around the world. Wärtsilä is listed on the NASDAQ OMX Helsinki, Finland.