FSV Group, the Norwegian operator of specialised vehicles for maritime operations, has taken delivery of a customised 41-metre Damen barge which will provide a range of services to the Norwegian aquaculture industry. This sector is currently expanding strongly as demand for farmed fish products continues to grow.
Measuring 41 by 13 metres, the barge has undergone a number of modifications at a local yard since its arrival in Norway. These have included the installation of a ballast system and the addition of an accommodation block for up to four people plus two deck cranes. Further alterations are currently being made. Delivery took place around six weeks after the contract was finalised, with the basic barge already in stock.
"Damen's ability to deliver so quickly was a significant factor in our decision to buy from them, " commented FSV Group CEO Petter Thoresen. "The quality and specification was also just what we wanted. The service was good and we would be happy to do business with them again."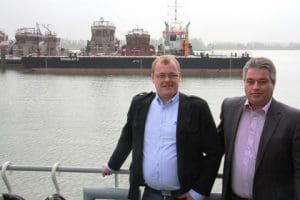 Damen builds a wide range of standardised vessels including tugs, pontoons and crane barges for stock so as to be able to realise ultra-short delivery times. It enables us to offer our clients the best possible service By integrating the most common options into the stock models we are able to install quickly plug-and-play equipment such as pumps or safety railings at the customers' request. The result is that clients can have their fully configured vessels delivered within a few weeks.
Stan Pontoons are designed for carrying heavy loads on deck. They are not only perfect for Ro-Ro and heavy lift-transport, but can also be used as customisable platforms for almost any other maritime project or business similar to FSV Group. Damen congratulates FSV on taking delivery of their brand-new Stan Pontoon!
Damen Shipyards Group
Damen Shipyards Group operates 32 shipbuilding and repair yards, employing 9, 000 people worldwide. Damen has delivered more than 5, 000 vessels in more than 100 countries and delivers some 160 vessels annually to customers worldwide. Based on its unique, standardised ship-design concept Damen is able to guarantee consistent quality.
Damen's focus on standardisation, modular construction and keeping vessels in stock leads to short delivery times, low 'total cost of ownership', high resale values and reliable performance. Furthermore, Damen vessels are based on thorough R&D and proven technology.
Damen offers a wide range of products, including tugs, workboats, naval and patrol vessels, high speed craft, cargo vessels, dredgers, vessels for the offshore industry, ferries, pontoons and superyachts.
For nearly all vessel types Damen offers a broad range of services, including maintenance, spare parts delivery, training and the transfer of (shipbuilding) know-how. Damen also offers a variety of marine components, such as nozzles, rudders, anchors, anchor chains and steel works.
In addition to ship design and shipbuilding, Damen Shiprepair & Conversion has a worldwide network of 15 repair and conversion yards with dry docks ranging up to 420 x 80 metres. Conversion projects range from adapting vessels to today's requirements and regulations to the complete conversion of large offshore structures. DSC completes around 1, 500 repair and maintenance jobs annually.
 "Jo"