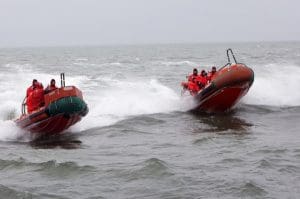 VIKING Saatsea gets flag-state approval for new onboard STCW e-training and certification management system.
Esbjerg, Denmark, 23 June 2015 – VIKING Saatsea has become the first and only provider to achieve flag state approval for its unique STCW on-board training solution with refresher modules according to the new STCW 2010 Manila Amendments for Basic Training.
The approval of the company's 24/7, customizable certification management training (CMT) solutions enables shipowners to keep crew certificates up to date while at sea, cutting the number of days needed for land-based training from as many as nine to just one – a major cost and logistics saving – and ensures instant, automatic certification the moment training has been completed.
Beating other training and certification providers to the punch, VIKING Saatsea received approval from the Danish Maritime Association (DMA), paving the way to other flag-state approvals over the months to come. Granting of the approval is timely, too, as shipowners look for solutions to handle the demands of STCW re-certification under new SOLAS rules for commercial vessels, which come into force on the 1st of January, 2017.
Certification game-changer
VIKING Saatsea's state-of-the-art onboard CMT solution is accessible both online and offline when there is no current connection, making them more practical and convenient than land-based training. They also offer faster, real-time access to up-to-date documentation for administrators. To date, VIKING Saatsea is the only provider to offer such a solution, and DMA's flag-state approval has again raised the bar for providers hoping to match the VIKING Saatsea solution's advantages.
Fewer days on land
Specifically, VIKING Saatsea's solution has received flag-state approval for the STCW courses Personal Survival Techniques (PST) (STCW Reg VI/1 Code A-VI/1 Table A-VI/1-1), and Fire Prevention and Fire Fighting (FPFF) (STCW Reg VI/1 Code A-VI/1 Table A-VI/1-2). These two courses can take several days of onshore training to complete. Now it is possible to complete most of the training onboard.
Another unique advantage of VIKING Saatsea's solution is that the underlying software platform can be used for company specific in-house training and certification applications.
VIKING Saatsea's CEO, Kim Baarsøe, is confident that the recently granted approval will benefit shipowners all over the world. "In the relatively short time our product has been on the market, we have learned a great deal about the key issues and, in particular, about what it takes to build a bestpractice CMT solution. And we see this first flag-state approval as a confirmation that our solution is just what shipowners have been longing for."
About VIKING
VIKING Saatsea is a joint venture with leading marine and fire safety equipment and service provider VIKING Life-Saving Equipment. Its mission is to help ship and rig owners or operators to improve their training capability while avoiding the delays, exposures to liability and financial losses that can result from inefficient, out-dated solutions to the onboard competency management and training problem.
VIKING Life-Saving Equipment A/S is a global market leader in maritime and offshore safety,  providing and servicing safety and fire-fighting equipment for passenger and cargo ships,  offshore installations, fishing vessels, the navy, fire departments and leisure yachts. VIKING is a privately held corporation founded in 1960 with group headquarters in Esbjerg, Denmark. Products are manufactured in Denmark, Norway, Bulgaria and Thailand. VIKING offers a broad range of off-the-shelf and tailored safety solutions and systems certified in accordance with the latest requirements of the IMO, SOLAS, EU and USCG.
The product portfolio includes chute and slide-based marine and offshore evacuation and crew transfer systems, liferafts, lifejackets, immersion suits, fire suits, work suits, pilot suits, helicopter transportation suits, MOB boats, davits, pilot ladders, signs, and other lifesaving appliances. The VIKING Agreements offer uniquely customizable concepts that incorporate safety products,  global servicing, single-source management, and financing in a variety of fixed price structures.
With 2, 000 employees worldwide, the unique VIKING network of branch offices, agents, 270 certified servicing stations and worldwide stock points makes VIKING a truly global provider at convenient locations in all significant markets.
"Jo"