Last June, the Centro de Jefes y Oficiales Maquinistas Navales (Professional Association of Maritime´s Engine Officers), opened its elegant new headquarters in the heart of Buenos Aires, which will operate as a maritime training centre. The centre will be equipped with a modern engine room simulator, training classrooms with seven posts and two full mission simulators, one of which corresponds to a model tanker of 60, 000 tonnes slow two-stroke diesel engine and  the other  to a model of an LNG  ship with a steam turbine propulsion plant.
The modern Transas simulator also includes three models of cold freezing plants, cooling and air conditioning and a model of harbor tug with two semi speed engines.
All simulators allow the basic, advanced and emergency training provided by the international maritime regulations, having the ability to introduce operational needs for each condition of vessels and about a thousand faults that trainees officers and cadets must solve. It also allows to configure the simulated vessels in virtually all conditions of the corresponding merchant ships still be able to play all the common operations that can be performed on a real ship.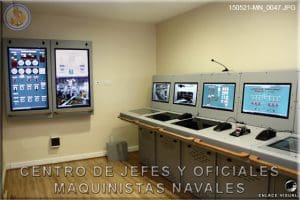 To have a simulation training center with these characteristics will maintain the practical training of maritime engine officers, to comply with international training demands.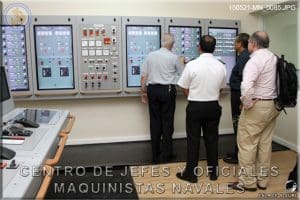 Also, this simulation centre may provide training to other maritime officers in the region and train staff from other industries that require technical training in handling cold-generating power plants, boilers, turbines, and both operations and general maintenance.
Simulators purchased by the Centro de Jefes y Oficiales Maquinistas Navales of Argentina are installed in a magnificent and beautiful mansion in the City of Buenos Aires, made with conventional classrooms, auditorium and rooms suitable for a good organization of the any kind of professional courses.