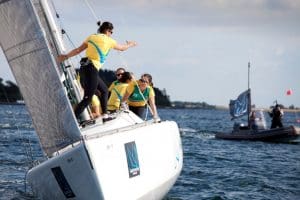 Monday 13 July 2015 – Issued on behalf of ISAF – From 14 to 19 July, Vladivostok, Russia will host an international regatta – the ISAF Nations Cup Grand Final 2015, an ISAF Grade 1 Match Race event.
The regatta in Vladivostok is the largest event in Russia's 2015 calendar with the Seven Feet Yacht Club playing host.
On Tuesday 14 July, 65 strong sailors from Great Britain, USA, Australia, France, Brazil, Singapore, Bahrain, Algeria, Japan and Russia will try the waters of Amur Bay for the first training session on Platu 25 type boats.
Fourteen teams are entered into the event. The strongest participants of the 2015 Regional Finals 2015 and other invitees have started their trip to Russia. Among them are the winners and prize-holders of the Asian Regional Final held in Japan – Kohei Ichikawa (JPN) and Ebrahim Abdulla (BRN) in the Open Division and Jovina Choo (SIN) in the Women's.
The winners of the European Regional Final held in Ireland – Pierre Rhimbault and Pauline Courtois, both from France, will sail in the Open and Women's events and will be joined by European bronze medallist Mark Lees (GBR) and his crew.
Africa is represented by an Algerian team skippered by Tahar Selmane. Two American crews, Russel Silvestri and Nicole Breault were selected following the North American and Caribbean Regional Final.
The winning nations from 2013, Australian and Brazil, will also be heading to Vladistock to fight for the trophies again.
Australia in Open Division will be represented by Evan Walker and Brazil's Women's team is headed by Juliana Sennft.
Last, but not the least, is the representatives of the Host Nation, Russia. World #30 Vladimir Lypavskiy from Vladivostok will sail in the Open division and Ekaterina Ananina will represent the nation in the Women's.
Skipper of the Russian National Youth Team, Vlad Abramov, will also be on the start line.
The water area of Amurskiy Bay and the weather conditions in Vladivostok in July are considered to be perfect for any type of sailing including match racing. Throughout the week, the Nations Cup Grand Final waters will be shared with another 100 young sailors competing in international classes and 400 keelboat fleet racing participants.
An international team of ten umpires from Italy, France, Germany, Ireland, Japan, Korea, Tunisia and Russia will be chaired by Neven Baran from Croatia and will serve the competitors to guarantee the fairness of each match. Anna Deyanova, the Chairman of the Race Official Committee of Russian Yachting Federation, will be the Race Officer and will work with the local race committee team to ensure good races for the competitors.
"Jo"