In Cooperation With

MONDAY, DECEMBER 14, 2015 
7:20 AM – 6:00 PM
Followed by a Networking Cocktail Reception
Venue: The Metropolitan Club
Attendance is free of charge for qualified delegates.Seating is Limited, Please Register Now. 

You can request 1×1 meetings upon registration.
For the 17th year, a major international Forum on Investing in Greece is taking place in New York City on Monday, December 14th, 2015. This Forum is organized in cooperation with the New York Stock Exchange and major global banks. Featuring:
·        Three Greek Government Ministers,
·        Seven global investment banks,
·        Senior representatives from the International Monetary Fund, the European Commission, the European Central Bank and the European Stability Mechanism,
·        Top US investors including Paulson & Co, WL Ross & Co, York Capital, Calamos Investments, and corporate CEOs from Greece and the United States
will discuss the developments and outlook of the Greek Economy and business and investment opportunities in the country. This Forum will provide the audience with a unique blend of informational and networking opportunities.
Greece has been going through a time of unprecedented difficulty and change, as the country restructures its economy and strives to embark on a period of renewed growth and stability. A lot of progress has been achieved, but there are still significant challenges ahead. Developments in Greece have far reaching implications for the European Union and the global economy. 

This December marks the 17 year milestone of Capital Link's commitment to raising awareness about Greece as an investment destination, to a wider investor universe.
The Prime Minister's Message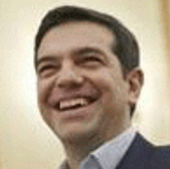 H.E. Alexis Tsipras, Prime Minister of the Hellenic Republic
GREEK GOVERNMENT OFFICIALS
·        Hon. Elena Kountoura,  Alternate Minister of Tourism – Speaker on Tourism & Hospitality
·        Hon. Dimitris Mardas,  Deputy Minister of Foreign Affairs – International Economic Relations & Investments – Luncheon Keynote Speaker
·        Hon. George Stathakis,  Minister of Economy, Development & Tourism – Webcast Speaker on New Investment
GLOBAL BANKS
·        Citi
·        Bank of America Merrill Lynch
·        BNP Paribas,
·        Credit Suisse
·        Deutsche Bank
·        Goldman Sachs
·        UBS Investment Bank

OTHER KEY SPEAKERS
·        Mr. Declan Costello, Director – European Commission, Directorate-General for Economic & Financial Affairs
·        Mr. Nicola Giammarioli, Head of Strategy & Institutional Relations – European Stability Mechanism
·        Mr. Rasmus Rüffer, Head of the Monetary Policy Strategy Division – European Central Bank
·        Mrs. Delia Velculescu, Deputy Unit Chief in the European Department – International Monetary Fund
·        Mr. Charles Dallara, Executive Vice Chairman – Partners Group and former Chairman – International Institute of France
·        Mr. John Calamos Sr., Founder, CEO and Global Co-Chief Investment Officer – Calamos Investments
·        Mr. George Logothetis,  Chairman & CEO – The Libra Group
·        Mr. John Paulson, President – Paulson & Co.
·        Mr. Wilbur Ross, Chairman and Chief Strategy Officer – WL Ross & Co.
·        Mr. William Vrattos, Partner & Portfolio Manager – York Capital Management
·        Mr. Theodore Athanassopoulos,  Head of Wholesale NLP Management – Alpha Bank
·        Mr. Nicholas Karamouzis, Chairman – Eurobank, Ergassias SA & Emeritus Professor – University of Piraeus, Greece
·        Mr. Leonidas Fragiadakis,  CEO – National Bank of Greece
·        Mr. Anthimos Thomopoulos, CEO – Piraeus Bank Group
·        Mr. Theophilos Constantinidis,  Senior Advisor to the CEO, Special Situations Group – Piraeus Bank Group
·        Aegean Airlines & Olympic Air, Aquis Hotels & Resorts, A.S. Papadimitriou & Partners Law Firm, Atlantic Bank, Axia Ventures Group, CarVal Investors, Grivalia Properties, PPC S.A, NBG Pangaea REIC, Energean S.A., EY, HP Inc., First Athens Corporate Finance SA, INTRALOT SA,   International Finance Corporation, Libra Group, Investor Bank, Marathon Asset Management, McKinsey & Company Greece, New York Stock Exchange,   ONEX, OTE Group, Reed Smith, Shearman & Sterling (London) LLP, Τhe Libra Group, Watson Farley & Williams
SHIPPING COMPANIES
·        Danaos Corporation (NYSE:DAC), Dorian Gas Ltd. (NYSE:LPG), Euroseas Ltd. (NASDAQ:ESEA), and Tsakos Energy Navigation (NYSE:TNP)
FORUM AGENDA Topics (Panels & Presentations) 
Greece, Europe & The Global Economy
·        The Global Economy – Europe & Greece Current State & Outlook

The Government Perspective
·        The Prime Minister's Message
·        The New Investment Landscape in Greece

Sector Panels – Opportunities & Challenges
·        The Global Capital Markets & the Case for Greek Debt
·        Greece 10 Years Ahead – Strategy Update
·        Energy Sector: Trends, Developments & Outlook
·        Infrastructure Investing
·        Real Estate Investing
·        Investment Opportunities in Tourism & Hospitality
·        Greece Today
·        Greece – The Way Ahead
·        Putting Greece On The Global Investment Agenda – The International Investor Perspective
·        Greek Banking: Strategy for the Future & Outlook
·        Non-Performing Loans & Loan Restructuring as a Growth Opportunity

Annual Global Shipping Markets Roundtable
·        The Global Shipping Markets – Opportunities & Challenges

Parallel Break Out Session
·        Greek Mid & Small Cap Sector – Private Equity & Venture Capital Investing Opportunities

Target Audience:
Management of Top U.S. Corporations with an active interest or involvement with Greece and The Greater Region · Institutional Investors in Greek Equities & Fixed Income Securities ·  Portfolio Managers & Analysts · Commercial and Investment Bankers · Financial Advisors and Brokers · Financial Media & Press