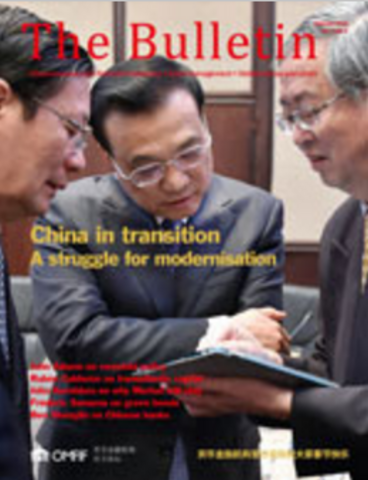 OMFIF Bulletin – February 2016: China in transition
12 February 2016
Click here to read The Bulletin
The February 2016 Bulletin focuses on China and the effects of a series of challenging transitions. The world's second-largest economy is moving towards a more market-driven approach and opening its capital markets at a time of uncertainty over renminbi policy. This coincides with the Communist party's struggle to maintain its hold over an increasingly wealthy, internationally mobile and politically astute population.
The Bulletin include reviews of OMFIF gatherings in the past month. They include Economists Meetings on 25 January and 4 February in Vienna and Frankfurt; a 28 January lecture by Central Bank of Iceland Governor Már Guðmundsson; and meetings with Lord Andrew Adonis, head of the National Infrastructure Commission, on 12 January, Prof. Maurice Obstfeld, chief economist at the International Monetary Fund, and Prof. Jeffry Frieden, professor of government at Harvard University, on 20 January, Takehiko Nakao, Asian Development Bank president, on 26 January, and Jaime Caruana, Bank of International Settlements general manager, on 4 February.
This month's edition assesses the debate on both sides of the Channel on the UK's European Union membership. Brian Reading, a new OMFIF advisory board member, says membership supporters are often guided by bogus assumptions about Britain's imperial legacy. Denis MacShane andJacques Lafitte contend that British attempts to win euro area influence bolster European perceptions of 'perfidious Albion'. In the review section,  William Keegan extols a scholarly work on British prime ministers, while George Hoguet praises former Fed Chairman Ben Bernanke's memoirs.
Other highlights of the February 2016 edition:
• John Kornblum, a former US Ambassador to Germany, says that Germany and Chancellor Angela Merkel can overcome tests on migration and the euro.
• Jonathan Fenby, co-founder of Trusted Sources, explores China's tasks in managing declining growth and introducing structural reforms.
• David Smith, former representative of the UN Secretary-General in the Americas, outlines the diverging economic outlook for Brazil and Argentina.
• Ben Robinson, OMFIF Economist, maintains that fears of a competitive devaluation of the renmimbi and an impending currency war are overstated.
• John Adams, Director of China Financial Services, outlines the contradictions of China's renminbi policy.
• Ben Shenglin, Professor of Banking and Finance at Zhejiang University, assesses Chinese banks' progress towards internationalisation.
• William Middelkoop, co-founder of the Commodity Discovery Fund, says China is well-positioned to play a much more prominent role in global financial institutions.
• Darrell Delamaide, US editor, outlines increasing caution among Federal Open Market Committee members over the pace of future US rate rises.
• Rubén Calderón, Portfolio Manager, Global Asset Allocation at Fidelity Investments, praises underlying stability in capital flows between the US and Europe.
• Frédéric Samama,  Deputy Global Head of Institutional and Sovereign Clients at Amundi Asset Management, assesses growing interest in green investments.
The Bulletin is available to OMFIF members, and to non-members on a subscription basis. To subscribe please contact: membership@omfif.org.