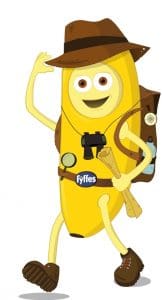 Seafarers UK launches campaign to raise maritime awareness in primary schools – for Seafarers Awareness Week (20-26 June 2016)
Bringing a young, fun element alongside its ongoing annual Seafarers Awareness Week campaigning, the Seafarers UK charity is pleased to partner with Fyffes, the UK's leading importer and distributor of bananas, to launch a primary school educational campaign and competition.
24, 000 schools across the UK are being invited to ask children between the ages of five and seven, How does a banana get to your lunchbox? This engaging campaign will encourage schools and children to think about the maritime world and how 95% of UK imports come by sea – including their favourite fruit – with the UK eating more than five billion bananas per year!
Freddy Fyffes, the loveable banana cartoon character, will star in a free schools activity sheet, for use in the classroom or at home, which shows Freddy's journey from the banana plant, across the sea, to Fyffes Ripening and Distribution Centres and then on to the supermarket shelves. Combined with a colouring and puzzle activity and other materials, it is hoped that even the youngest children will be able to learn about where things come from and the UK's reliance on seafarers and ships.
Nick Harvey, Campaigns Manager, Seafarers UK said: 'During both World Wars it was thanks to brave seafarers that the UK was kept supplied with essential food, fuel and supplies. And as an island nation, the UK remains as dependent on seafarers today as it was all those years ago. From the Merchant Navy that carries cargoes to and from our seaports to the Royal Navy that protects our ships and shores, without skilled seafarers we would be sunk.'
The campaign launching in May, sponsored by Fyffes, will also include a 'non uniform day' competition to coincide with Seafarers Awareness Week (20-26 June), enabling children to dress up in nautically-inspired costumes. All classes taking part will be asked to submit a photo, with the best entry receiving a £500 prize – plus a shipment of bananas for their school!
Supporting Seafarers UK for the first time, Paul Barrett, Brand Manager, Fyffes commented: "We're delighted to be able to support this fantastic initiative. Since 1888 Fyffes has relied upon seafarers to bring our fruit safely across the oceans and it's great that with Seafarers UK we can help to make youngsters more aware of how important the maritime world is to our everyday lives."
More information on this campaign and how to get involved in Seafarers Awareness Week can be found at www.seafarersawarenessweek.org/schools
Seafarers Awareness Week was founded by Seafarers UK in 2010, as an annual campaign to promote the vital role seafarers play in the UK and global economies – an industry employing 1.5 million seafarers worldwide, of which c.70, 000 are from the UK and a sector that supports 240, 000 UK jobs.
Seafarers UK is a charity that helps people in the maritime community, providing vital funding to support seafarers in need and their families by giving money to organisations and projects that make a real difference to people's lives, across the Merchant Navy, Fishing Fleets, Royal Navy and Royal Marines.
www.seafarers.uk
www.seafarersawarenessweek.org
www.fyffes.com