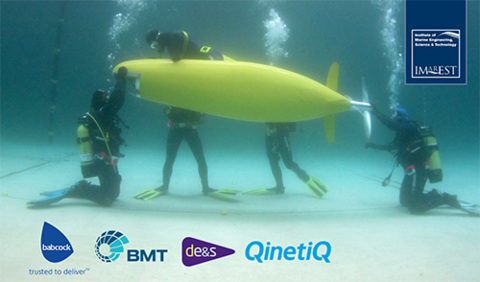 Babcock International Group, a worldwide engineering support services company with a particular presence in the marine sector, and BMT Group, a leading engineering, science and technology consultancy are confirmed as major sponsors of the IMarEST's third biennial European International Submarine Races (eISR 2016). The races, held from 6-15th July 2016 at QinetiQ's Ocean Basin in Gosport, England, will challenge 12 university teams from across the world to design, build and race human-powered submarines.
"We are delighted to confirm two such leading forces within the marine sector as our major sponsors for an initiative that aims to engage engineering students. It's wonderful that we can work together to stoke up excitement about marine engineering and, by doing so, to encourage more young people into the sector." David Loosley, IMarEST Chief Executive.
A Careers' Day will also be held on Saturday 9th July at Hilsea Lido, Gosport, where sponsors will have the chance to talk about the broad range of opportunities within their organisations. The Careers' Day is open to all ages and will include live-demonstrations of the human-powered submarines.
"We're passionate about developing young engineers and these races are an excellent way of raising the awareness of the fact that the marine industry offers tremendous technology and engineering challenges to inspire future engineers. With business activity in the countries of the participating Universities we're delighted to encourage the development of local engineering talent." Jeff Owen, Director, Business Growth, Marine & Technology Division, Babcock International Group.
"The races are an excellent way for students to apply the theory they learn in their undergraduate degrees to a real, tangible machine. It is also a great way to learn to work together as a team in a pressured environment." Catriona Savage, Technical Director at BMT Defence Service
About the teams
There are nine university teams that have now qualified.  Texas A&M, University of Michigan, Rhine Waal University,  Ecole de Technologie Superieure, University of Bath, Delft University of Technology, University of Auckland, University of Warwick and University of Washington.
Bentely Altizer, Captain of the University of Washington team commented, "We have a very unique situation where dozens of people get together and rally around a common goal. It's a really beautiful thing to see a group of people grow to be just as passionate as myself about a project like this. We build submarines for the world to see and we build trust, respect, and teamwork for ourselves."
About the European International Submarine Races
The races are an IMarEST initiative to challenge teams of university students to design, build and race human-powered submarines on an out-and-back course. The concept combines engineering design challenge with technical skill development and sets them in a unique and exciting sporting competition.
The basic rules of the sport are straightforward – teams must design, build and race flooded submarines piloted by a single scuba diver, who must be fully enclosed within the hull of the machine. All propulsion power must be provided by the diver during the race (i.e. no energy storage devices such as flywheels or batteries are allowed), but otherwise the design rules are open to whatever innovation teams decide to use.
The eISR is also about developing real, practical engineering skills. In the funding-constrained university environment, the practical elements of curricula have been replaced with theoretical calculation and computer modelling. A submarine big enough to contain a diver is a real, tangible machine, and the mechanisms have to produce and take real forces. At the same time, the challenge isn't so great that the students can't make the parts themselves – this provides an invaluable learning experience as they see their CAD drawings come to real life.
Finally, the competition is about working as a team in a time-critical, adrenaline-charged atmosphere. During the build-up to the race, the students learn to exploit each other's' strengths, and design into their machines what they think they will need to succeed at the races. In initial testing, they learn where the weaknesses are, and make considered adjustments to their designs. Then, once they arrive on the racecourse, and really put their machines to the test, they invariably find new challenges, and have to bring out their engineering knowledge to find solutions on-the-fly with limited facilities. Such experience is invaluable to them later in their careers, regardless of the direction they take.