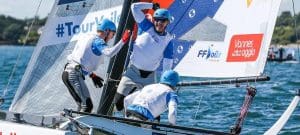 Key points :
. Salomon-Delapierre won Baden coastal race after an impressive comeback
. Trésors de Tahiti and Grandeur Nature Véranda complete podium
. Bad day for Crédit Mutuel de Bretagne and huge loss overall
What a day for Team Lorina Limonade – Golfe du Morbihan ! The young team skippered by Matthieu Salomon and Quentin Delapierre is at home here in Baden for Act 4 of 2016 Tour de France à la Voile. They have learned to sail in local 'Cata School', just a few boat lengths from where the race village has been set for two days. For today's coastal race around the « île aux Moines » in the Gulf of Morbihan, they were of course the standout team.
But when they crossed the start line in last position after a long postponement due to no wind, no one expected them to win this race. « It was incredible ! I think our strength was to stay focused and relaxed despite our bad start and our penalty just after the start. Quentin Ponroy had good tactics and read the course well. It was so tricky with fluky winds and strong currents, but we stayed calm and I really think this serenity took us to victory », said Salomon after racing.
Watching Lorina Limonade sneak in the lead just a few hundred meters from the finish line was tough for Jean-Christophe Mourniac and his crew onboard Grandeur Nature Véranda, who almost led the race from the start. « We lost two places just before the finish by looking behind us instead of doing our own race. We got stuck against the currents, while Lorina and Tahiti passed us. It was terribly frustrating. We are disappointed with our 3rd place, but we sailed a good race around the island », admitted Mourniac
« It was so tricky today », said Trésors de Tahiti skipper Teva Plichart. « Winds were so light that we didn't think we would be able to race. Dimitri Deruelle and Pierre Pennec spent the day avoiding all the course traps and all I had to do was to focus on our boatspeed. At some stage we went far to try and get some fresh air and it paid off. We climbed the whole fleet up to second position. We were even leading for a while. But then in the end Limonade passed us. They sail so well that we almost watched them beating us with admiration ».
Have Lorina Limonade won the Tour on their home waters ? With five more stages to go it is too early to say so, but Crédit Mutuel de Bretagne's 11th place today might help current leader to reach their objective before the end. « It's such a bad day for us », said helmsman Damien Iehl. « We are now 17 points behind the leader overall… We took a penalty at one mark because we were behing Oman Airports who ran aground brutally. We were right behind and could not avoid them so we crashed into them. Luckily the boats were fine, but our penatly turn against the current was very costly »