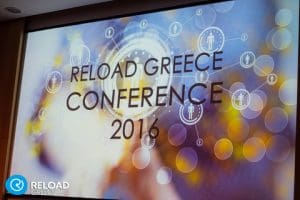 Reload Greece's third annual flagship conference took place on Saturday 24thSeptember, in London. It was run in partnership with the London Business School and SEESOX (South East European Studies at Oxford).
The Reload Greece Conference brought together over 200 top professionals,CEOs, diaspora experts, entrepreneurs, economists and investors from around the world on this exclusive occasion, to hear over 28 renowned speakers, all of which unified over a common cause, to activate members of the diaspora.
The conference featured some of the diaspora's top thought leaders and professionals including:  Vassilis Nikolopoulos, Co-Founder and CEO of Intelen; Conno Christou , Co-founder of Avocarrot, Michael G. Jacobides,Sir Donald Gordon Chair of Entrepreneurship and Innovation and Associate Professor of Strategy and Entrepreneurship, London Business School; Elias Papaioannou, Professor of Economics, London Business School;  Vicky Pryce, Economist, Author and CEBR Board Member, Yannis Palaiologos, Features Reporter Kathimerini, Haris Makryniotis, Managing Director of Endeavor Greece and Tina Mavraki trustee & co-founder of Hellenic Hope.
The first keynote speaker Marina Hatsopoulos, delivered a message of pragmatism regarding start-ups and job creation, and outlined some ways to overcome the hurdles the Greek economy faces. Aristos Doxiadis, delivered a message of optimism over the Greek tech sector "It's up to us to build a community out of which profitable business can emerge, and change the course of our society".
The day was both opened and closed by Effie Kyrtata, the CEO of Reload Greece, who consolidated themes of the day throughout leaving with a final message quoting Huggy Rao 'Some is not a number, soon is not a time'saying 'we need to be a lot and we need to act now' referring to the power the diaspora can have if activated properly prompting the participants to take action.
Reload Greece "Young Entrepreneurs' Programme"…. 
Reload Greece "Young Entrepreneurs' Programme" 
(previous Univeristy Programme) is a 3-step programme designed to inspire, coach & assist aspiring entrepreneurs to develop their early stage ideas from conception to business plan development. The programme will take place in 7 universities across UK universities (University of Bath, University of Warwick, University of Surrey, London Business School, Cambridge University & University of Birmingham).
Cash Prizes
Free Access to our Accelerator Programme
Access to Mentors
Access to internships
Inspiration
Until the next time…….
The RG Team