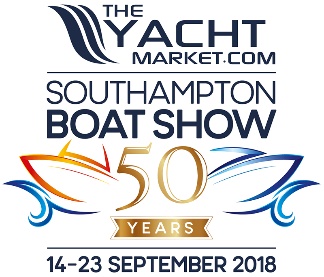 Crewsaver, a world-leading manufacturer of marine safety equipment and clothing for the commercial and leisure marine industries, has been selected as the Official Safety Sponsor of the TheYachtMarket.com Southampton Boat Show 2018.
As champions of the #LifejacketSafe campaign, Crewsaver continues to lead the way in lifejacket safety.  The new sponsorship will provide a great platform for promoting the #LifejacketSafe campaign at integral points around the show.  This will include issue 2 of the popular #LifejacketSafe newspaper which will be available free-of-charge throughout the show.
 In addition, Crewsaver is delighted to provide its brand new Crewfit 180N Pro lifejackets for use by all event staff and celebrities – helping them to keep safe whilst on the water.  Launched at the show, these new lifejackets join Crewsaver's hugely successful Fusion 3D lifejacket range. All of these will be available for visitors to purchase at the show.
Crewsaver offers expert advice and a complete safety product collection including; personal flotation devices, liferafts, performance clothing, distress signals and man overboard essentials – helping you to stay safe on the water and equip you for emergencies.
Carol Taylor, Head of Boat Show Sales & Sponsorship, commented: "We are very excited to be partnering with Crewsaver in this very special year for TheYachtMarket.com Southampton Boat Show as it turns 50. Crewsaver have been a long-term supporter of the Show and we welcome the opportunity to be able to use their expertise and leading products to promote safety on the water."
Hannah Burywood, Marketing Manager at Crewsaver, said: "Enabling watersport enthusiasts to be as safe as possible when on the water is extremely important to us.  We continue to seek ways to promote the #LifejacketSafe message – our new partnership with TheYachtMarket.com Southampton Boat Show provides the perfect opportunity. We encourage visitors to the show to pick up the latest newspaper and join the Crewsaver team for expert product advice and #LifejacketSafe top tips."
Find Crewsaver on selected retailers including Marine Super Store (F006), Andark Diving and Watersports (F001), Force 4 Chandlery (J227) and Marinestore (F016). Visitors will benefit from expert safety advice from the friendly Crewsaver team along with the following exclusive show offers! *
FREE spray hood with all new Crewfit 180N Pro lifejackets *. Worth £30
FREE rearming kit with all automatic ErgoFit lifejackets. Worth up to £36
FREE Ergofit safety knife with all Hammar ErgoFit lifejackets. Worth £18
£100 off your first liferaft service. Plus, a FREE Inshore Flare Pack or shipping with all Crewsaver Mariner liferafts
£100 off your first liferaft service & free shipping with all Crewsaver ISO Ocean liferafts
*Terms and conditions apply. Max 2 per customer. Redeemable at stand of purchase. Spray hood offer applicable to new colourways only (white/red & black/red). Liferafts: £100.00 redeemable against first service at any Survitec Service & Distribution site in the UK. Original paperwork must be shown. Non-transferable from original owner. Service on or before due date only. Free delivery only applicable to a mainland UK address only. E&OE