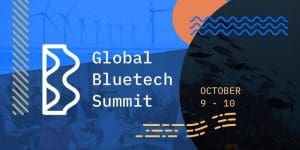 Global BlueTech Summit
SeaAhead's inaugural Global Bluetech Summit
Next Generation Bluetech
aAhead's inaugural Global Bluetech Summit will bring together hundreds of high-level stakeholders from across the marine and maritime ecosystem on October 9th and 10th in New York City for the can't-miss bluetech event of 2019. Taking place in the iconic Williamsburg Bank Building in Brooklyn, the conference will shine a spotlight on the cutting-edge innovation in this dynamic, emerging industry.
This year's theme, " Next Generation Bluetech," will organize the event around forward-looking strategies and new paradigms of innovation where technology meets the ocean. Sessions will feature top executives from some of the largest and most important organizations in the sector to discuss a wide range of urgent topics including the decarbonization of shipping, smart ports and urban waterfronts, advances in aquaculture, enabling technology for offshore wind, maritime cyber-security, solutions to the problem of ocean plastics, and ocean-centric approaches to combating climate change. The event will also include presentations from some of the hottest startups working to solve the industry's thorniest problems, and perspectives from the investment community on financing new ventures and projects.
Vikki Spruill
CEO, New England AquariumVictor Vescovo
Investor and Creator of The Five Deeps Expedition

Ayana Elizabeth Johnson
Founder, Ocean Collectiv

David Benzaquen
CEO, Ocean Hugger Foods

Tero Hottinen
Director of Emerging Business, Cargotec

Mike Doenges
Global Business Development, Cisco

Danielle Joseph
Investment Officer, Closed Loop Partners

Frohman Anderson III
Managing Partner, EverHope Capital

Matt Heider
CEO, Nautilus Labs

Laurent Develle
Attorney-at-Law, Froriep

Rolando Morillo
SVP Equity and ESG Management, Rockefeller Capital Management

John Konrad
CEO, gCaptain

Wenche Grønbrekk
Senior Advisor, Sustainable Ocean Business, UN Global Compact

Use code SHIPPINGInsight to receive 20% off
Who should attend: C-level executives, innovators, and business development teams from companies working at the intersection of technology and the oceans; venture capital and private equity investors, ocean and innovation-focused foundations; bluetech startups of all stripes; organizations focused on ocean sustainability and conservation.

Don't miss out – register now and ensure that your organization has a seat at the table.