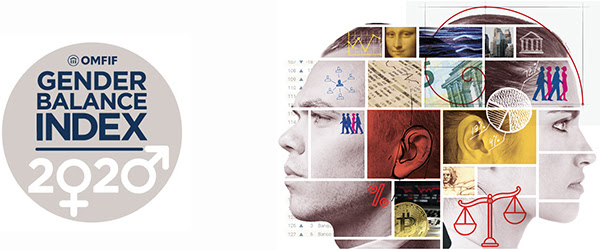 SAVE THE DATE: Gender Balance Index 2020 launch discussion
Gender balance in finance: Promoting diversity and overcoming challenges
OMFIF, in partnership with Barings and Mazars, is launching the seventh annual Gender Balance Index, which tracks the presence of men and women in senior positions at central banks, sovereign funds and public pension funds.
For this year's European launch, OMFIF convenes an evening reception at the French Ambassador's Residence in London. There will be a panel discussion focusing on the need to promote diversity within and beyond the organisation. Topics will include organisational policies for retaining talent in senior positions and reforming corporate culture to ensure successful implementation of gender policy, the issue of gender-influenced bias in investment and decision-making, and promoting gender balance at all stages of investment.
Enhanced research, exclusive findings
This year, for the first time, OMFIF surveyed central banks around the world to investigate internal policies that support the hiring, retention and progression of women. The 2020 report will feature exclusive findings, alongside the latest index update. This highlights relevant changes in the senior ranks of institutions covered, and assesses how different countries and regions perform.
Date: Thursday 5 March 2020
Time: 17:30
Venue: French Ambassador's Residence in London,
11 Kensington Palace Gardens,
W8 4QP

Supported by: