Oslo Børs: Largest monthly drop in share prices since 2011
Largest monthly drop in share prices since 2011
02/03/2020 – We have to go back to August 2011 to find a month with a larger decline in share prices than February 2020. Oil companies' portion of the total market value on Oslo Børs has fallen to record lows.
Oil-related shares contributed most to the Oslo Børs Benchmark Index dropping 9.1 percent in February. Equinor (-14.1%), Subsea 7 (-16.8%), Drill Drilling (-60.0%) and other oil-related shares pulled the Oslo Energy Index back 15 percent. At the same time, the oil price (brent spot) fell 11.5 percent – see figure below.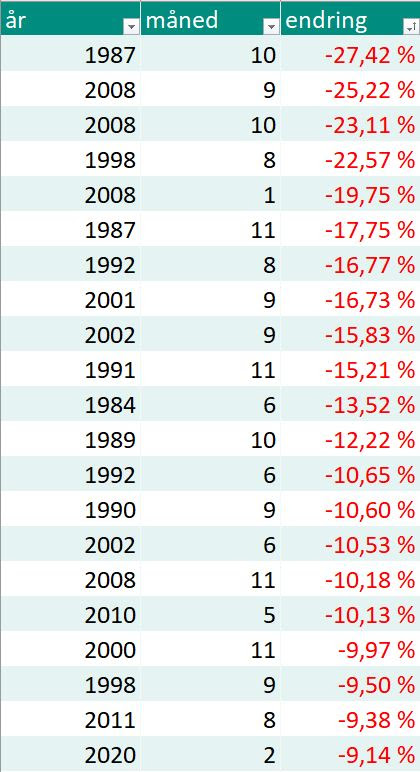 Energy is still the largest sector on Oslo Børs, but in recent years the market has become less oil dependent. For a long time, energy shares accounted for more than 50 percent of the total market capitalisation in Oslo. In February, however, the proportion fell to just 28.9 percent, the lowest number since 2016 – see figure below.
Tomra (+9%), Kongsberg Gruppen (9.9%), Yara (+1.7%) and Fjordkraft (+15.5%) were the shares that slowed the decline most in February. "Green" shares also moved upwards, such as NEL (+5.2%) and Scatec Solar (+2.5%) – see table below.
February has been the busiest month ever. Share turnover measured in number of trades constantly set new records, with 28 February as the busiest day ever (322,000 trades). An average of 166,000 trades were completed each day in February and average turnover measured NOK 6.6 billion, the highest since 2011.