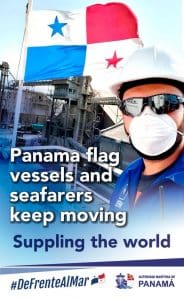 Valuable Panamanian Seafarers work tirelessly to maintain the global supply chain
Panama is a country of noble and hard-working people, center of the world and capital of nations. Through its valuable seafarers, it is helping to mobilize the world's maritime cargo since without trained merchant seafarers, goods cannot be transported between continents and one of the main links in the supply chain would break.
Seafarers navigate under rigorous working conditions, including being away from the mainland or from their families for a long time, a situation that increases its depth when we are experiencing a pandemic caused by the coronavirus (COVID-19).
The Panama Maritime Authority (PMA), through the Directorate-General of Seafarers (DGS) continues working 24/7. We remain vigilant of the working conditions of seafarers and ready to provide all our support as we have always done, in addition to being in constant communication with shipowners, ship operators and placement companies.
Our contributions have made the country recognized internationally for the humanitarian support provided to the Zaandam and Rotterdam cruise ship, showing the world our great logistical capacity, through which it was possible to afford concrete solutions that saved the lives of passengers and the crew, which comprises nationals from different parts of the world.
In these moments when we must practice solidarity, we are working on proposals such as the outreach to shipowners, operators and seafarer welfare organizations, so that communications and the internet can be accessed and are optimal on ships and port facilities, so that seafarers can communicate more easily with their relatives and in this way ease a little the emotional burden of being away from home.
We reaffirm our commitment to ensure compliance with the Maritime Labour Convention, 2006, as amended, of which Panama is a signatory, as well as with national labor standards through the Department of Maritime Labor Affairs of the DGS, which continues to receive and manage labor complaints filed by seafarers who work aboard Panamanian-flagged ships of national and international service, to ensure that they enjoy decent living and working conditions that guarantee their well-being facing the COVID-19 pandemic.