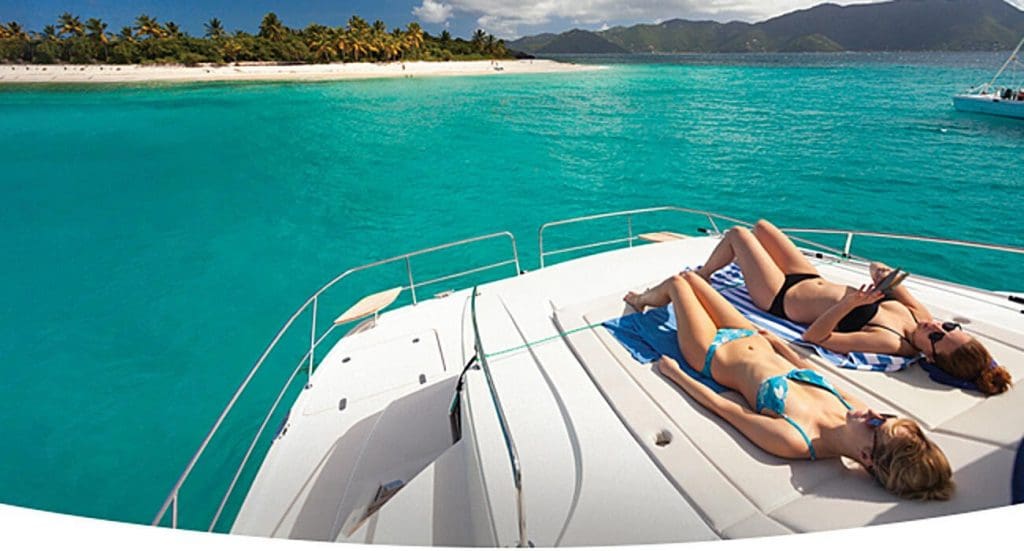 Your January Update from MarineMax Vacations
As you dream about your next vacation, consider a private MarineMax Vacations charter, which not only creates an opportunity to build lifelong memories in a stress-free and safe boating environment but also offers peace of mind for family and friends. Your safety and satisfaction remain our number one priority.
Learn More
Aqua GlampingWhy limit yourself to just land-based adventures? The world is 75% water,
so take to the sea! The MarineMax 443 delivers comfort and performance
with upgraded amenities perfect for your unique 'Aqua Glamping' adventure.
No tent required.Plan Your Adventure
Island Spotlight—North SoundThe North Sound of Virgin Gorda in the British Virgin Islands makes for a beautiful one to two-day stop on your charter adventure itinerary. Whether you prefer anchoring, swimming, or relaxing on the beach, this location is well protected and makes for a good provisioning and fueling destination.Explore More
You Have Questions? We Have Answers!Don't let your unfamiliarity with chartering a yacht deter you from enjoying the vacation of your dreams. Tammy Worthing, MarineMax Vacations Charter
Sales Consultant, answers your most frequently asked questions about chartering the perfect boat for your next vacation.Get Answers
Photo of the MonthWe have exciting news! We recently welcomed back our first charter guests to the stunning British Virgin Islands. Following protocols, this couple boarded their vessel—cleaned, serviced, and provisioned in advance of their arrival.
Share your memories with #MarineMaxVacations for a chance to be featured.You Could Be Next
Charter Through CanadaExploring the Pacific Northwest aboard an Aquila Power Catamaran is easier than you think! With the click of a button, connect with a travel planner who can help design a weeklong itinerary with the opportunity for both outdoor adventure and artistic culture as you delight in the rugged beauty of the Pacific Northwest.View Sample Itinerary
Offering you the industry's newest, most luxurious fleet from the world's most experienced boating company.