Hot Port News from GAC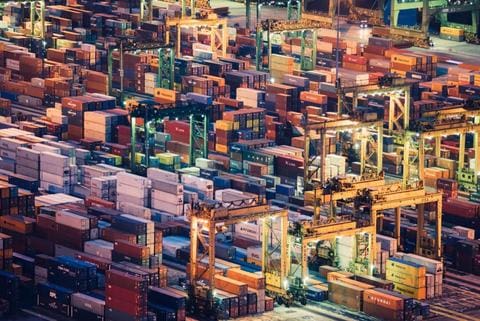 29-Jan-2021
OPENING HOURS DURING CHINESE NEW YEAR HOLIDAYS
Hong Kong
MARINE WORKS AT MA TAU KOK
Hong Kong
PORTS MONITORING TROPICAL LOW
North West Australia
OVERSEAS PASSENGER TERMINAL IMPROVEMENT PROJECT
Sydney, Australia
CANAL HELPS SAVE THE PLANET MORE THAN 13 MILLION TONS OF CO2 IN 2020
Panama Canal, Panama
Opening hours during Chinese New Year Holidays
Friday, January 29, 2021, Hong Kong
The Central Marine Office ("CMO"), located at 3/F, Harbour Building, 38 Pier Road, Central, Hong Kong, will open from 0900 hours to 1100 hours on 14 February 2021 (Sunday) for processing arrival and port clearance of all vessels.
All Public Cargo Working Areas ("PCWA") will be closed from 1700 hours on 11 February 2021 (Thursday) until 1200 hours on 14 February 2021 (Sunday).
(For information about operations in Hong Kong, contact GAC Hong Kong at shipping.hongkong@gac.com)
Source: Government of The Hong Kong SAR Marine Department Notice No.20/2021
Marine works at Ma Tau Kok
Friday, January 29, 2021, Hong Kong
For approximately 24 months, marine works involving construction of temporary reclamation, reinstatement and dredging of seabed, removal of pipeline and construction of tunnel will be carried out within the area bounded by straight lines joining the following co-ordinates (WGS 84 Datum) (A) to (D), (E) to (G) with the adjacent shorelines:
(A) 22° 19.120'N 114° 11.902'E
(B) 22° 19.060'N 114° 11.826'E
(C) 22° 19.027'N 114° 11.733'E
(D) 22° 19.048'N 114° 11.631'E
(E) 22° 19.128'N 114° 11.671'E
(F) 22° 19.206'N 114° 11.734'E
(G) 22° 19.230'N 114° 11.779'E
The works will be carried out by a flotilla of vessels including six dumb lighters, one hopper barge, one flat-top barge, two tugboats and one work boat. The number of vessels engaged in the works will change from time to time to suit operational requirements.
A working area of approximately 50 metres around each lighter and barge will be established. Yellow marker buoys fitted with yellow flashing lights will be laid to mark the positions of the anchors extending from the lighters and barges.
A silt curtain, extending from the sea surface to the seabed, will be established within the works area. The silt curtain is a large piece of netting used to contain mud and sediments. Yellow marker buoys fitted with yellow flashing lights will be laid to mark the extent of the silt curtain.
The hours of work will be from 0700 to 1900 hours. No works will be carried out on Sundays and public holidays. Vessels employed for the works will stay in the works area outside the hours of work.
Diving operations will be carried out from time to time during the hours of work.
Vessels engaged in the works will display signals as prescribed in international and local regulations.
Vessels navigating in the vicinity should proceed with caution and keep clear of the works area at slow speed, bearing in mind there are divers working in the works area.
(For information about operations in Hong Kong, contact GAC Hong Kong at shipping.hongkong@gac.com)
Source: Government of The Hong Kong SAR Marine Department Notice No.22/2021
Ports monitoring tropical low
Friday, January 29, 2021, North West Australia
More ports are now at Cyclone Alert Stage 1 – Monitor due to the developing Tropical Low 12U affecting the North West Australian coast. This stage involves monitoring the weather system and assessing its likely path and potential impact.
In addition to Port Hedland and Dampier, Yampi Sound, Port Walcott, Varanus Island, Barrow Island, Cape Preston, Onslow and Carnarvon have all declared at 'Monitor' stage.
All port facility operators should enact their Cyclone Contingency Plans if not already done so and should ensure that they are in a position to safely vacate ships from their facilities at short notice.
All vessels and Port users should monitor all weather forecasts.
All vessels, port users and port facilities should make themselves familiar with their cyclone response plan and be prepared to fully implement them.
Port terminals and facilities should ensure they are operating within current and expected weather parameters for their facility for the expected weather event, ensuring that vessels are suitably loaded/discharged and vacant from the berths to ensure safe operations in a timely manner.
There is a possibility that cyclone response may include instruction for the port(s) to be "cleared" or "closed" at the direction of the Harbour Master. Vessels should be prepared to either depart the port or head directly to their designated cyclone pen/mooring/berth.
At 1400 hours local time yesterday (28 January), Tropical Low 12U was located over the northern Kimberly in position 15.6S 126.3E, and is predicted to track south westerly and then west south westerly (WSW) from tomorrow, moving offshore from the Kimberly Coast near Broome by Sunday.
The Bureau of Meteorology has indicated that his system has the potential to significantly impact sites through the Pilbara offshore waters and Pilbara coast as a severe tropical cyclone.
For information about operations in Australia, contact GAC Australia at shipping.australia@gac.com
Overseas Passenger Terminal improvement project
Friday, January 29, 2021, Sydney, Australia
Sydney's Overseas Passenger Terminal (OPT) is undergoing a major improvement project to protect and support the wharf and surrounding seabed.
Port Authority of New South Wales has begun work to prevent the ongoing movement of sediment around OPT, clear accumulated material from the berthing area and protect the seawall from future erosion. The Port Authority's Berthing Infrastructure Project is scheduled for completion in July 2021.
The works will take place in two stages: the first installing an underwater retaining wall from a barge close to the terminal and the second removing the build-up of sand and sediment and installing concrete 'mattresses' to protect the OPT wharf from erosion.
The terminal wharf and restaurants at the OPT will remain open during the works. During the stage 1 works, Ferry Wharf 6 (West), Commissioners Steps and Harbour Masters Steps will be closed, and ferries and water taxis will use alternative wharfs.
For information about operations in Australia, contact GAC Australia at shipping.australia@gac.com
Canal helps save the planet more than 13 million tons of CO2 in 2020
Friday, January 29, 2021, Panama Canal, Panama
By offering a shorter route for ships, the Panama Canal contributed to a reduction of more than 13 million tons of carbon dioxide (CO2) equivalent emissions in 2020, in comparison to the most likely alternative routes.
These savings are equivalent to the greenhouse gas emissions of 2.8 million passenger vehicles driven for a year or the carbon sequestered by 217 million tree seedlings grown for 10 years.
Helping inform how the maritime industry adopts initiatives to reduce the carbon footprint and to mark the anniversary of IMO 2020 sulphur reduction implementation, the Panama Canal announced today the launch of a CO2 Emissions Dashboard, through which it will publish monthly data on the CO2 emissions saved by vessels that chose to transit the Panama Canal over the most likely alternative route. The dashboard will allow users to compare CO2 emissions reductions by route, segment and customer, with data updated each month. The dashboard currently has the overall 2020 data, but will begin reporting the monthly figures next month…
…The data will be informed by the waterway's Emissions Calculator, which allows shippers to measure their greenhouse gas (GHG) emissions reductions per route, including the amount saved by taking the Panama Canal over other routes. Now using georeferenced data and technology already aboard vessels, the Emissions Calculator takes various factors into consideration – such as vessel type, speed, route, size, capacity, type of fuel, and fuel consumption – to provide the most accurate measurements.
This announcement reaffirms the Panama Canal's commitments to global efforts to reduce emissions, including the IMO's initial GHG strategy, IMO 2020 and the UN Sustainable Development Goal 13 (SDG), which calls for urgent action to combat climate change and its impact.
(For information about operations, contact GAC Panama at operations.panama@gac.com)
Source: Extract from Panama Canal Authority (www.pancanal.com) press release dated 27 January 2021