Dr Aleka Mandaraka-Sheppard* on Legal Shipping Challenges: an interview with John Faraclas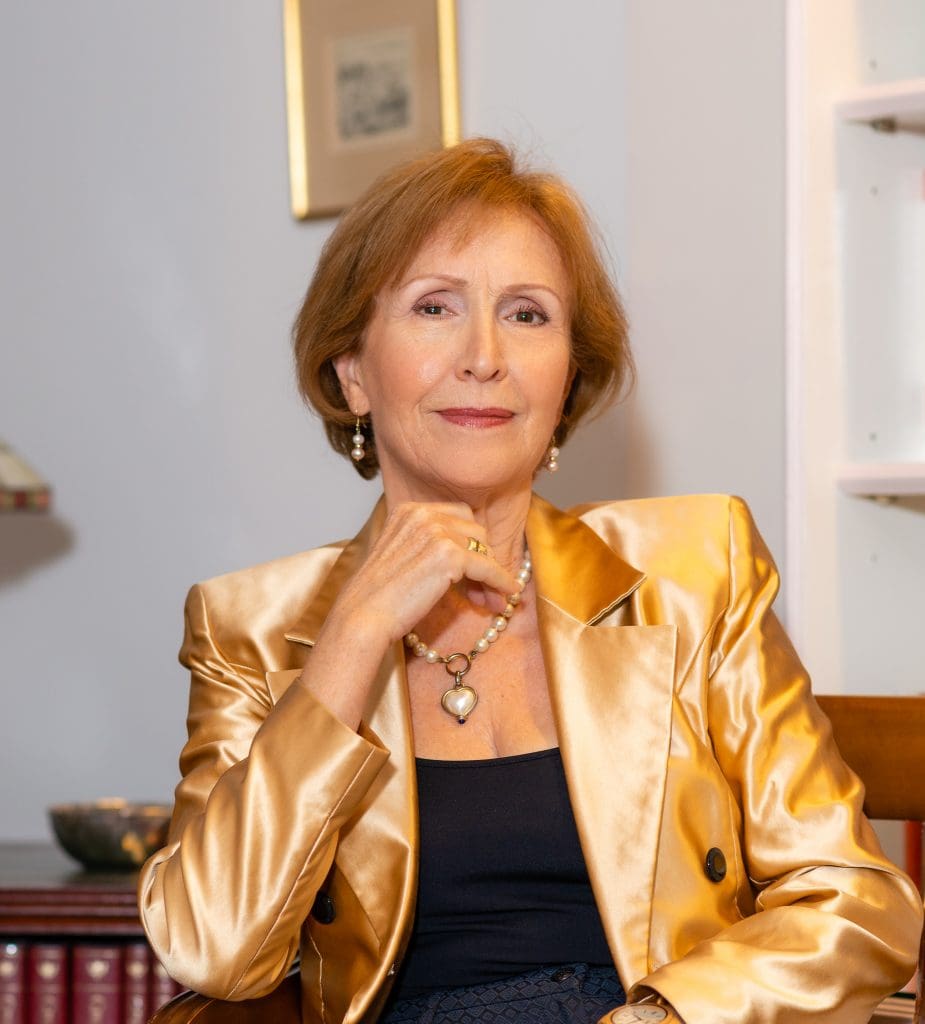 I was more than privileged twenty years ago to receive a copy of her Modern Admiralty Law** in her UCL office, an unforgettable day – it happened to be her birthday! – when I got to learn more about this formidable sea-maiden dealing with the Laws of the Waves. Lady Luck was all the way with me as I have been able to follow closely her distinguished career in founding the London Shipping Law Centre of which she chairs, as an author and in her acclaimed role in mediation and arbitration; and during this ongoing Coronavirus upheaval she accepted to answer our questions in a full-scale interview. Here we go:
Question 1: Faraclas: " The London Shipping Law Centre, which you founded, has been in existence for more than a quarter of a century. Could you please single out a few highlights, or achievements, of which you are most proud?"
Answer: Dr Aleka Mandaraka-Sheppard
The overriding purpose of the London Shipping Law Centre (LSLC) is to assist maritime professionals in raising their awareness of all types of maritime activity, focusing on how legal risks interweave with commercial, technical, scientific and financial ones. We encourage, endorse and promote high quality maritime services for all shipping sectors and facilitate the development of business relationships, promoting the talents of our industry."
That sense of purpose has sustained us for over 26 years as shipping has had to operate within ever tighter regulatory and legislative parameters as well as coping with the risk categories set out above.
Over that period, the Centre has achieved a great deal across the shipping spectrum, highlighting areas of law and regulations in need of reform; bridging the gap between the shipping industry, maritime organisations, academia and the judiciary; and raising awareness about risk management and its application in shipping.
So, the biggest achievement of which I am most proud has been promoting education in risk management. The practice of risk management existed in other industries but came later to shipping, officially from 1996 with the advent of the ISM Code. I incorporated risk management education in my teaching of maritime law to LLM students at University College London from 1993 onwards and in the programmes of seminars, workshops and mock trials of the LSLC. During that period, ship safety regulation was gaining momentum, and the ISM Code enhanced safety issues on ships. Subsequently, more regulations emerged and with the Port State and Flag State Controls serious ship accidents caused by ship's structural or maintenance weaknesses have been substantially reduced.
The strengthening of safety regulations, the tightening of security, the growing role of Port State Control and increased inspection requirements have had a significant effect over the years. All this has provided context and content for the platform offered by LSLC.
Our flagship Cadwallader debates have focused on regulatory law reform, pollution, 'rust buckets,' criminalisation, ship safety, masters' authority, the roles of flag states, port states and classification societies, refuge for ships in distress, corporate social responsibility, terrorism, passenger ship disasters, IMO conventions and regulations and the European Commission's participation in law making for international shipping. These debates have led to follow up action by international bodies.
"Getting the European Commission and the International Maritime Organization on the same Cadwallader platform was an achievement in itself of which I am proud."
There can be scarcely any major maritime issue to which the LSLC has not directed its telescope—and then covered it in over 300 LSLC seminars and workshops, often staged in partnership with law firms and leading industry bodies.
Frequently visited topics include the impact of regulations on shipping and ship safety, shipbuilding, casualties and risk management, piracy, salvage and pollution, insurance, time and voyage charters, bills of lading, construction of contracts, contract drafting and risk management, issues about bunkers' quality, causation and damages, collisions and new regulations, mediation of disputes and arbitration.
All these educational events have provided a fertile ground for our members, and now for all those from around the world who register for our Global Webinar Series; and deliver unparalleled up-to-date information imparted by our speakers, many of whom are world experts on their subjects.
Indeed, another great achievement of the LSLC is the fact that it has brought different professionals, including opponents, together to work on the same project for the LSLC programmes. Considering that a distinguishing aspect of the British character is individualism, one could not imagine at the outset that the LSLC would achieve that. But we did and our members have acknowledged the significance of this to their business and individual career benefit.
"The fourth outstanding achievement of which I am very proud is creating the Young Maritime Professionals Group.
I felt that the young professionals were not getting involved in our events as they had a lot of work to do at the office. Their seniors had not realised sufficiently that, being the future of their firms, they would bring new insights to their work and produce creative initiatives. And indeed, they have. They have shown leadership and developed their skills in public speaking, as well as making connections with other professionals which can only be of great benefit to the future of the firms and to themselves.
Over the past decade, they have arranged talks, visits and social occasions. They have graduated to arranging their own webinars, kicking off with a session on the challenges and issues faced by the industry resulting from lockdown. The YMP now has a branch in Singapore, has established connections with AIDIM in Italy and is linking up with their Greek counterparts.
Right now, things are particularly tough for young professionals. In lockdown conditions, it is hardly surprising that seniors concentrate on the immediate priorities associated with meeting client requirements rather than training. That's why it is so important that our YMP group remains active with its own webinars, providing information and comment on key subjects.
We must continue to educate, encourage and mentor the up-and-coming professionals who will lead tomorrow's shipping industry. With their energy and enthusiasm a lot can be achieved.
Question 2
Faraclas: "How is the LSLC maintaining pace with the rapid change to remote and virtual means of communication?
Answer AMS:
When lockdown first occurred in Spring 2020, I realised that we would have to adapt the LSLC's method of delivering education to changing circumstances. Since 1994, the seminars had been the tried and trusted format for imparting knowledge and delivering information by providing a forum for experts to debate maritime issues. However, the fundamental but unavoidable technical adjustment to delivering the service was unparalleled. Seminars and personal contact were out and webinars and remote contact were in.
Accordingly, LSLC transformed its seminar plans into a series of webinars, our Global Webinar Series. Continuing our co-operation with law firms and professional services organisations, the Centre got to grips with the technical aspects of the medium.
In making the technical and social transition from a live format to a remote one, there has been no loss of focus upon the major issues and subjects high on the agenda in the maritime world. Since the lockdown in March 2020, we have dealt with enforcement of arbitration awards in various jurisdictions; implementing the MARPOL sulphur cap; remote inspections of ships; contract and insolvency issues; anti-suit injunctions; sanctions; the impact of Covid-19 on charter parties; and broader fields such as practical and legal issues in shipbuilding; and the relative roles of good faith in English and overseas courts.
The LSLC's Events & Education Committee continue to focus on subjects and issues which need to be brought to the fore. For example, a webinar on cyber crime has been arranged and many more relevant hot topics.
The most striking consequence of this transformation was the large audiences registering into our webinars from around the world. So although we have not been charging our new comers to join our webinars, I feel gratified that our educational programmes are reaching a real international audience for the benefit of a wider shipping community.
In the early days, many of us wondered if remote communication would be a temporary expediency. However, the on-off nature of lockdowns since then seems likely to continue in some form well into the future. So the new medium and its brave new world is here to stay.
Having run 13 webinars since May and with 13 more scheduled for 2021, the Centre has come to appreciate the advantages, particularly of reaching out to delegates all over the world and within the UK outside London. Registrations and attendance – and the number of overseas delegates – have been significantly greater than for seminars. This is hardly surprising, given that it easier to sit in front of a computer than to take an expensive flight to London. Attendees have totalled nearly 2,300 whereas seminars might just have touched four figures. Further, levels of attendance have increased for the most recent webinars, indicating a growing demand for a burgeoning global webinar series.
Long may it continue but that does not mean we regard the seminar format as obsolete. Far from it. Whenever it becomes feasible, we should return to 'physical' seminars and workshops, as direct personal contact for exchange of views and networking has always been an important part of the LSLC offering. We will look at grafting the remote dimension onto a 'live' session. However, there will still be scope for 'remote-only' events, for example where issues concern particular parts of the world.
As I said at the opening of our first global webinar, we are still here! We are proud that the LSLC has been staying the course and continuing to provide an exemplary service. Our horizons remain undimmed.  Our voyage continues.
Question 3
Faraclas: "How do you see London and the global maritime legal apparatus adapting to those new methods? "
Answer AMS:
As for the London law firms, chambers, courts and the arbitration communities, there has been no problem – we are very adaptable.
Digitalization is permeating so many aspects of legal work and the shipping business. Courts and arbitrations have been embracing video conferencing technology over the past year. We were already becoming used to the technology even before the lockdown.
Civil proceedings and arbitrations have become well versed in taking evidence via video-link. All participants can be seen in close-up, which adds intensity to the examination of witnesses. Team messaging systems between rooms, or via What's App, are an improvement on post-it notes!
As an arbitrator, I have conducted and have taken part in virtual arbitration hearings. The LMAA responded quickly to the new demands by organising training of its members offered by technology experts, IDRC and OPUS 2, who facilitate arbitration services.
More and more ongoing legal work and business transactions are being carried out remotely. This was exemplified by the recent LSLC webinar on remote ship inspection. However, I feel that the industry should heed the perspective of Lord Thomas of Cwmgiedd, the Centre's President, reflecting on the accelerating rate of change in how maritime law is conducted at the 25th anniversary dinner.
He anticipated that court proceedings and arbitrations would increasingly depend on electronic rather than paper files and on video evidence. "I see nothing wrong with it" he said "and we're going to go to distance hearings. But we've got to be careful because we must not dehumanise the law."
I believe very strongly that personal contact – professional, commercial and social – is essential if we are to avoid such a trap, and avoid it as soon as we can.
Question 4 – CYBER CRIME
Faraclas: "How do you think the shipping industry can best cope with the rapidly expanding risk of cyber-crime?
Answer AMS:
Cyber-crime is a relatively recent phenomenon in the shipping industry, but it has grown quickly and is increasing at pace. However, there is mystery surrounding it because of the technical complexities involved while the sharing of information is as yet limited. Cyber-crime has many shades and has caused difficulties not only to shipping companies but to global businesses.
For some time, we have known about the risk of cyber-crime if electronic bills of lading were used. Many shipowners were, and still are, hesitant to use them. Nowadays, cyber-crime has spread broadly to other shipping operations where inevitably computers are used. And there is no business without computers!
Very few people would have thought 20 years ago that their goods might be interfered with at port by hackers sending so called "spear phishing emails" in which a false request is made to send the goods or the payment to a different destination or recipient which appears legitimate.
Whether the aim is theft, smuggling or fraud, ports are particularly attractive to cyber criminals, given the huge volume of assets passing through and the welter of accompanying transactions.
Typically, terminal operating systems software tracks cargo from point of entry to point of departure: loading, unloading, customs, inspections and collection. Wherever the chain can be hacked into, there are rich pickings for the skilled and persistent criminal.
Pirates, before their attack on a ship, employ hackers to infiltrate a shipping company's computer network and find out which of their ships carry the most valuable cargoes.
These financial crimes also damage the reputation of fleet owners. There is even greater concern if there is an attack on the navigational systems of a ship.
BIMCO carried out a survey of 350 people, a fifth of whom reported that they had experienced cybercrime. Most incidents were inside their companies and were related to IT systems rather than operational technologies or navigational systems. More of such research is needed.
The extent of the risk by cyber-crime is mind blowing.
Therefore, companies must be prepared to protect their systems and adopt special cyber security systems and exercise due diligence and stringent risk management procedures. As more functions become digitalised, more vulnerability will probably arise.
However, there is an urgent need for clearing the mist of uncertainty and explaining in simple terms difficult technological terminology, so that businesses and people working in ships understand what they are faced with. They can then turn to staff training and protection via suitable insurance cover.
It is commendable that BIMCO has issued guidelines to help companies minimise the risk of cyber-attacks on ships. Companies should consult these guidelines which explain the cyber threat, how to assess and reduce the risk, and how to develop contingency plans.
The insurance industry is very astute. Shipping and transportation insurers can be expected to scrutinise client systems ever more closely and demand adequate built-in security to avoid high impact losses.
There is clearly a need to develop ongoing risk management techniques on an industrywide and shared basis. Security precautions have to more than match the burgeoning skills of cyber criminals.
The LSLC has scheduled a webinar on cyber fraud and piracy risks issues in shipping on 24 May 2021.
Question 5
Faraclas: " what have been the most striking changes in the London and International maritime legal scene since your days at HFW?
Answer AMS:
I have fond memories of Holman Fenwick and Willan before it was abbreviated to 'hfw'! It was a very good period for lawyers and for me. Besides, HFW was and still is a good school of practice for young maritime professionals.
My generation had great times with clients, enjoying lunches, dinners and even cruises. We got to know the clients, the clients got to know us and good work ensued. I was lucky enough to gain experience in big accident cases of sinking ships, fires on board and even ship scuttling. The service was personal.
We had the telex in the 1980s and later the fax which, I felt, was more user friendly. When I moved to academia in 1993, I had to learn how to use a computer and type my own work as secretaries were shared by six academics! The use of computers in solicitors' offices at that time was only by secretaries – lawyers were, and still some are, dictating their work!
In the 1990s, the introduction of rigorous time keeping by solicitors tended to curb the long lunches with clients. What should be recorded for a late lunch? It was not really regarded as practice development for, at least, the young lawyers!
Perhaps digitalisation with the reduced personal contact it involves, might have a similar effect today: a sort of dehumanisation due to lack of personal contact, losing out on the benefits that such contact brings.
It seems, however, that with the Covid-19 pandemic people have enjoyed working from home: instead of visiting clients they can have zoom meetings. Cutting down travelling time and expenses will perhaps lead to lower legal costs. Further, P&I clubs have become more zealous about controlling lawyers' costs. Cost consciousness is a fine thing but memories of those sumptuous lunches and dinners still cast an occasional wistful spell!
Serious ship accidents have diminished markedly thanks to the advance of a ship safety culture. Although there are still some who attempt to evade their safety responsibilities, shipping lawyers have been searching for new work. Diversification to other fields of legal expertise beyond shipping has occurred rapidly.
Of course, we have had a vast and rapid increase in technological developments in shipping affecting both operations and how lawyers obtain evidence and present it in court. So, we all move forward whether we like it or not as if we are being pushed by a strong current!
I am informed that there is some research looking at developing ships powered by using sustainable energy. For example, wind-powered vessels would use trade winds and ocean currents to carry ships from port to port. They would be constructed from lightweight materials to counter their inevitable slow travel times.
What about constructing automated ships, directed from a central command centre and carrying minimal crew. Such ships should dramatically cut costs, reduce human error and, potentially, be more environmentally friendly.
Furthermore, robotic technology has reached a point where it can be used to do most of goods' selection and processing.
I am concerned about safety issues that might be created by such developments; but I think there will be more work of a different kind for lawyers, courts, and arbitrators; and
I hope that all the above actual and potential developments may encourage some film directors to envisage the future of shipping!
Faraclas: On behalf of all at www.allaboutshipping.co.uk I would like to thank you for this in depth interview. Wish you, family, LSLC and all Good Health above all.
___
Dr Aleka Mandaraka-Sheppard*
DR ALEKA SHEPPARD  (LLB, LLM, PhD) FCIArb, Chartered Arbitrator & Mediator, LMAA Full Member, Founder/Chairman LSLC
After 14 years of legal practice in shipping in the City of London, mostly at HFW, Dr Aleka Sheppard was appointed Director of Maritime Studies at UCL in 1993. At UCL, she set up the shipping law unit and the Cadwallader fund to support teaching and research, founded the London Shipping Law Centre and developed risk management education for shipping companies. She stepped down from her full-time post in 2006 but has remained a Visiting Professor at UCL. Since 2007, she has furthered her career as a maritime arbitrator and mediator and brought the LSLC to the City of London. She has "never looked back" as she likes judging disputes in arbitration and finds being a mediator of disputes very enjoyable, particularly because she uses her knowledge and skills in the psychology of conflict, developed in her doctoral studies and during her training in mediation.
Her work at the LSLC is her voluntary contribution to the shipping industry. "I carry out my services to the LSLC because I believe it is of great value to the shipping community and particularly to the young."
Aleka is an Andriot (born in the island of Andros, Greece) and her early years were influenced "by ferocious sea waves and the dynamism of those ship captains who became shipowners!"
_
**