KPKinanGlass / May News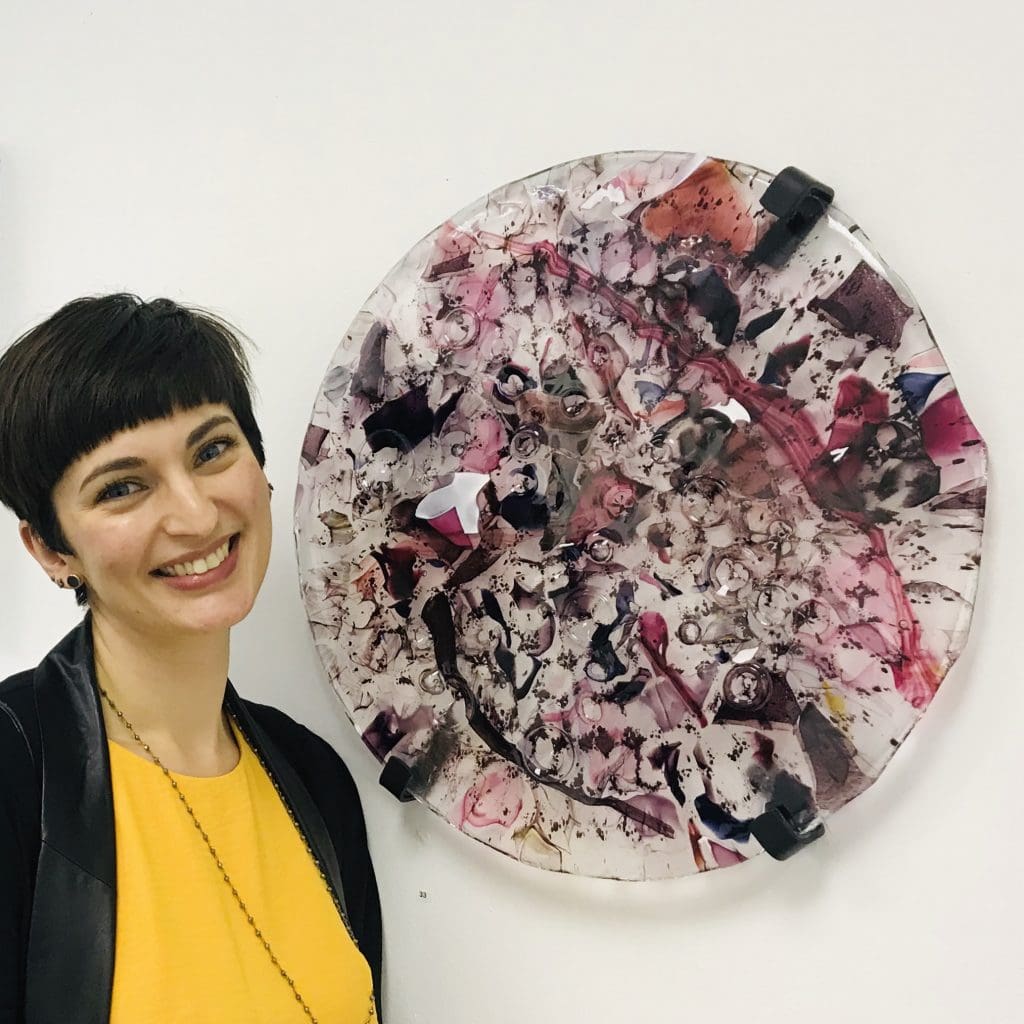 NEW WORK / EXHIBITIONS UPDATE
Mini Constructure in Transparent Yellow, Circle Mini Constructure in Opal Yellow, Circle12 x 12 x 3 cm 12 x 12 x 3 cm£70 (excluding p&p) £70 (excluding p&p)
NEW MINI CONSTRUCTURES SNEAK PEEKS…
I am so happy to share the latest Mini Constructures, this time in circles. It has been a joy to create more colour combinations that bring a splash of colour to any room.

To see more in the series, please follow the link below to my website.
NEW PROJECT…'CASTING AWAY CHALLENGE'
Over the third UK lockdown, the second season of Blown Away was launched. I was inspired to test myself by reinterpreting the weekly challenges using kiln casting, slumping and fusing techniques. And thus the 'CASTING AWAY CHALLENGE' was born. Above are the first three works in the series.  

Project 1
The first project in the Blown Away Series over the last two seasons has asked every artist to make a work that reflects who they are and how they see themselves. I have taken some time to consider this theme. Over the last year we have all had to change how we interact – no more handshakes and for a long time most communication has happened through screens or windows. I wanted to create a screen that attempts to reach out, hopeful that others will also reach back. This piece has also taken on new meaning since November and represents all those that we long to reach for, but they are no longer able to reach back…but they will never be forgotten. 

Project 2
Another project I found inspiring from Blown Away Series was thinking about how we see ourselves and how we think others see us. For the yellow disk above, I initially wanted to express how the outer shell can seem to have order and method (this work was also to be paired with another disk with more fluid spikes). The two works would sit together showing the outer shell and the inner shell. However, after a kiln malfunction this piece cracked right down the middle. This surprisingly smooth break reminds me that whilst the outer exterior might seem put together, there are cracks, breaks and knocks running through. It is also humbling that even after years of experience of working with glass, I am reminded that glass has a mind of its own. And whilst glass doesn't always do what you want it to, it usually does what you need it to. The second disk and the only glass piece to survive the firing, puts me in mind of how important it is to be in balance and flow. It also explores the interconnection that we need to have with our inner selves so our inner beauty is revealed.

To keep up to date with this project I will be posting the work on Instagram and to my website.
More MINIS!
Top Left: Constructure in Opal Yellows
Top Right: Constructure in Transparent Blues
Bottom Left: Constructure in Opal Blues
Bottom Right: Constructure in Transparent Greens

CROSSING THE LIMINAL / ARTCAN GROUP EXHIBITION CROSSING THE LIMINAL is my first in-person exhibition of 2021. I am thrilled, excited and delighted to be taking part in my first in-person exhibition with fellow ArtCan artists. This exhibition has been curated by the very talented Lucy Pinkford and will take place at Hampstead Garden Gallery.


VAA INTERNATIONAL ONLINE SPRING EXPO!
If you haven't had a chance to view this years VAA International Online Spring Expo you can explore the exhibition by following the link below.

And I would really appreciate your vote for the 'People's Choice Awards'
(please click the on the button below to vote)

12th April – 30th June 2021

Mini Constructure in Opal Orange, Circle
12 x 12 x 3 cm
£70 (excluding p&p)

ROY'S ART FAIR / STILL HAPPENING

The Bargehouse, OXO Tower Wharf, Southbank, London

12th – 15th August 2021

I am in the process of uploading new work to my website and you can find the new framed glass work via the click button below : NEW MINI CONSTRUCTURE


WANT TO FIND OUT MORE ABOUT MY EXHIBITIONS?
If you want to read more about my current exhibitions, please follow the link below.


COMMISSIONS
Have you ever wanted an artwork made just for you? Where you can choose the colour, the size, and the technique? I am happy to say that from my London studio I am able to create a unique piece of work, where you have been part of the creative process and leave with an artwork that is truly personal to you. I am known for making individually hand-carved unique glass sculptures and casting each of them using specially selected glass colours. Each work sits perfectly in homes or workspaces and makes for very personalised gifts. If you are interested in starting the process, please click on the link below-


WANT TO KEEP UP TO DATE?
If you want to see my creative process, up to date news, artworks fresh from the kiln, artwork for the Artists Support Pledge or would like artwork to fill your feed, please follow me on Instagram- / @kpkinanglass /
 

TILL THE NEXT ONE…

If you have any questions or would just like to say hello, please get in touch as I would love to hear from you.
Enjoy the sunshine, take care and be safe.