Register to join IBIA's WEBINAR: Bunkering Innovation: Digitalisation and its Legal Landscape (Tuesday, 22 June @ 3pm SST)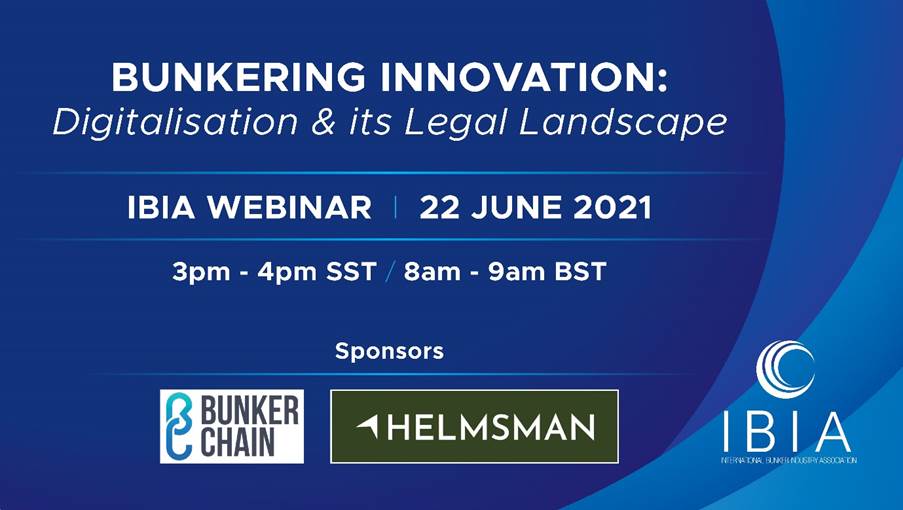 IBIA Asia invites its members and industry colleagues to join its first webinar sponsored by Bunkerchain Pte Ltd and Helmsman LLC.
Gabian Chew, Senior Editor of Singapore bunkering publication Manifold Times, will moderate this session, including discussions regarding the digitalisation of the bunkering experience, trials, and outcomes. The webinar will also cover the legal aspects of using Blockchain for bunker deliveries.
Subject: Bunkering Innovation: Digitalisation and its Legal Landscape
Time: Tuesday 22 June 15.00 SST (08.00 BST) for approximately 60 minutes
Speakers:
1) Mr Loh Sin Yong – Director (Trade), Trade & Connectivity Cluster for Infocomm Media Development Authority
2) Mr Leon Ling- CEO, Bunkerchain Pte Ltd
3) Ms Maureen Poh- Director, Helmsman LLC
Should you wish to register please, register here:
https://teams.microsoft.com/registration/0_cGKUV7qUabFEjWxIQMsg,H3dvanL3oU-eJArDnVTHcQ,ehyya2JYMUOvIqRdrbG8XQ,I50SYZtRFU2rjPbOVS6qeQ,2yDpUGrMIkaYTSSleG5cUA,ThTu6nJk10iig1Gyvonqzw?mode=read&tenantId=2906f7d3-7b45-46a9-9b14-48d6c4840cb2
This webinar will be open to all IBIA members and non-members, free of charge.
The webinar will be conducted under the Chatham House rule, which means the identity or affiliation of speakers and participants must be kept private.
Should any viewer have any queries, please do not hesitate to contact Alex Tang on regionalmanagerasia@ibia.net