TUAS MarISOT research on next generation VR training wins the best paper award is the prestigious AFHE2021 Conference.
The Turku University of Applied Sciences (TUAS) and the research group on Futuristic Interactive Technologies win and other prestigious distinction in the AFHE2021 International conference were more than 3.000 papers presented.
The paper 'Human Computer Interaction opportunities in Hand Tracking and Finger recognition in Ship Engine Room VR Training' written by Prof. Dr. Evangelos Markopoulos, Prof Dr. Mika Luimula, and their team, Werner Ravyse, Jesse Ahtiainen, and Ville Aro-Heinilä, won the best paper award in the 3rd International Conference on Creativity, Innovation and Entrepreneurshipof the 11th International Conference on Applied Human Factors and Ergonomics (AHFE 2022) and the Affiliated Conferences (AHFE w021. July 26-30, 2021).
The research conducted for this paper is an extension of the continuous efforts at the Turku University of applied Sciences to optimize the Maritime Immersive Ocean Technology (MarISOT) by integrating advanced immersive technologies. This paper reports the integration of hand tracking and finger recognition in the ShipSEVR learning episode.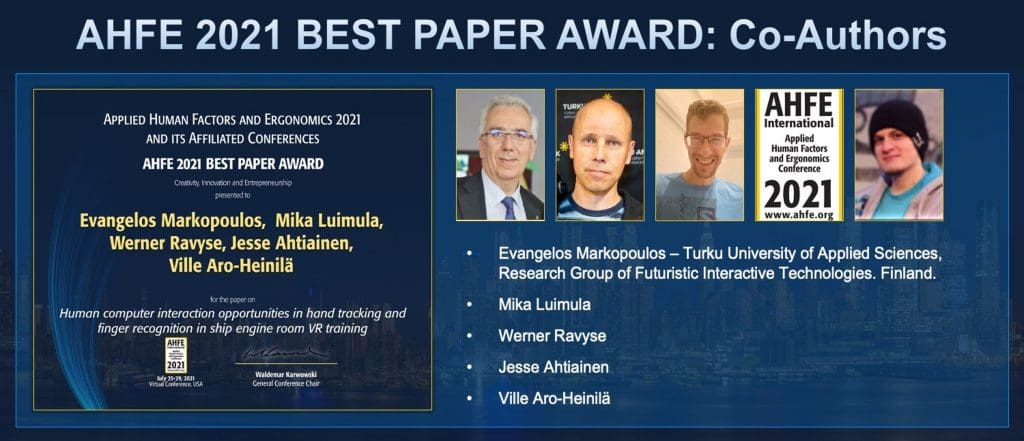 ShipSEVR, part of MarISOT, is a VR Training next generation learning environment focused specifically on ship engines and engine rooms safety procedures. The technology has been designed and developed at Turku University of Applied Sciences for Wärtsilä Land and Sea Academy utilizing latest VR technologies. The delivered learning episode consists of a 3D ship engine room space where trainees are expected to find certain devices and equipment by utilizing the available technical drawings. This enhanced human computer interaction environment reflects to industry requirements the derived after the first version of the technology and its test with industry experts.
This is the 3rd best paper award MarISOT wins in two years, indicating the advanced level or research conducted at TUAS in this project.
*https://allaboutshipping.co.uk/2021/05/29/marisot/