Applications for the Copenhagen MBA 2022 are now open!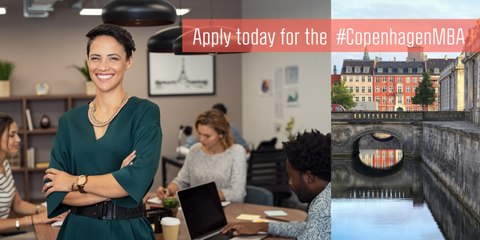 Ready for the next step?
Applications for the 2022 intake of the #CopenhagenMBA are now open! Classes will start on 3 October 2022 and now is the time to get started.
Each year we are dedicated to create a small but diverse class of 35-40 highly qualified professionals from all over the world and bring people with various backgrounds and experience to Copenhagen.
Here is what you should know about the #CopenhagenMBA Experience:
We hold the triple-crown of international accreditations: AMBA, EQUIS, AACSB and operate at the cutting edge of lifelong learning and leadership development.
Copenhagen is known as one of the world's most liveable cities, where sustainable business practices are implemented and innovation is valued. Quality of life is high, green spaces are accessible throughout the city, and work-life balance and self-development are encouraged.
Copenhagen has been voted the easiest place in Europe in which to do business by World Bank. It's a hub for many technology-based companies especially within pharmaceutical, chemical, biochemistry, IT and telecommunications sectors. The greater Copenhagen area also hosts a unique creative cluster, notably within the fields of film and TV production, computer games, design and fashion.
Over 90% of our graduates choose to continue their careers in Copenhagen and excellent post-MBA visa schemes support long-term relocation to Denmark.
The #CopenhagenMBA Eligibility Criteria:
Academically: A Bachelor's degree or higher.
Professionally: At least three years of post-graduation full-time work experience. The class average is 6-7 years of work experience.
Admission Test: min. 600 GMAT score (the class average is 650) or min. 300 GRE score (the class average is 315).
Our admission rounds for the 2022 intake:
Round 1: 10 October 2021
Round 2: 10 January 2022
Round 3: 10 April 2022
Round 4: 10 June 2022 – for non-EU citizens
Round 5: 10 July 2022 – for EU citizens
For more information download our new brochure here.
We offer scholarships for the #CopenhagenMBA which can take up to 40% of the tuition fee. Secure your scholarship now together with your application! 

Take advantage of this opportunity to empower yourself for a better future and submit your application. 

If you have any questions regarding the programme or the admission process, feel free to contact us at info.mba@cbs.dk. 

Best Regards, 
The Copenhagen MBA Team