Southampton's newest cruise terminal officially opened by Minister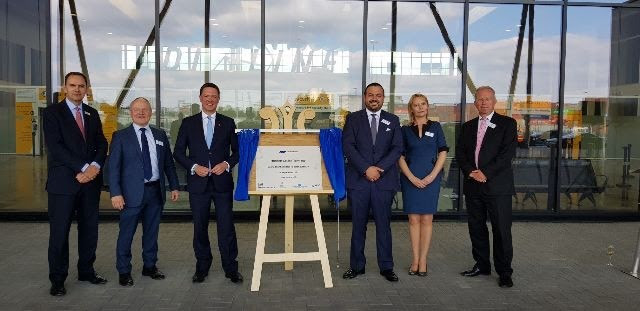 The Port of Southampton's newest cruise terminal was officially opened today by the Maritime Minister during London International Shipping Week.
Robert Courts MP unveiled the plaque, formally naming and opening the £55 million next-generation Horizon Cruise Terminal at an event to celebrate the Port of Southampton's significant investment in the future of cruise. Guests then enjoyed tours of the terminal.
The event was hosted by Alastair Welch, Regional Director at the Port of Southampton, with the terminal's cruise partners, MSC Cruises' Managing Director, Antonio Paradiso, and Regent Seven Seas Cruises' Senior Vice President and Managing Director, EMEA, Graham Sadler.
Joining the plaque unveiling was Anna Chojnacka Liberska, the winner of a public competition which attracted more than 4000 entries to name the terminal.
Alastair Welch, Regional Director at the Port of Southampton, said: "We are incredibly pleased to be officially opening Horizon Cruise Terminal and showing a number of our cruise industry and city partners around the building. This investment represents a huge vote of confidence in the future of the cruise industry and as the return of cruise continues to gather pace, we are proud of the role Horizon will play in support of this key industry now and in the future."
Maritime Minster, Robert Courts, said: "As we look towards a brighter and greener future for the cruise sector, we need to ensure that the infrastructure is in place to support the shift to cleaner ships.
"The Horizon terminal shows how this can be done. Such innovation will help the sector to build back greener and reduce emissions by providing state-of-the-art green shore power connectivity for cruises here in the UK."
Antonio Paradiso, MSC Cruises' Managing Director, UK & Ireland, says: "MSC Cruises is looking forward to bring even more passengers to Southampton in the years ahead and welcome them onboard our modern ships at the next-generation, Horizon Cruise Terminal. We are really proud to invest further in the UK cruise sector with a summer home for our ships in Southampton, which will benefit the British economy."
Eamonn Ferrin, NCLH's VP of International Business, says: "We are thrilled to celebrate the return to cruising with such a magnificent opening, which is a testament to the strength and resilience of our industry and Norwegian Cruise Line Holdings' long-standing partnership with the Port of Southampton", said Eamonn Ferrin, Vice President International Business, Norwegian Cruise Line. "Today marks a significant milestone for the cruise industry in the UK; congratulations again to Associated British Ports on the opening of the Horizon Cruise Terminal."
Horizon Cruise Terminal welcomed its first ship and passengers in July and has welcomed over 75,000 passengers already. The terminal features the UK's first shore power connection of its kind, enabling cruise ships with the right onboard connectivity to 'plug in' to green energy while alongside. Horizon's shore power is expected to be commissioned later this year.

With Europe's leading cruise turnaround port anticipated to double its passenger numbers to 4 million per year over the next 30 years, Horizon Cruise Terminal comfortably expands Southampton's ability to welcome more cruise lines and passengers as the popularity of cruise grows. The open access terminal is Southampton's fifth cruise terminal. ABP was awarded an £8m grant for Horizon Cruise Terminal from the Government's Getting Building Fund, organised through the Solent Local Enterprise Partnership.
Brian Johnson, Chair of the Solent Local Enterprise Partnership, said: "The official opening of this iconic building for the Horizon Cruise Terminal is great news for our region and I'm delighted the Solent LEP has been able to help bring this project to fruition through the Government's Getting Building Fund, supporting the Solent's world-class maritime industry and bringing jobs and investment to our important coastal communities."

– Ends –
Notes to Editors
On 4 August 2020, the Government confirmed the list of over 300 successful projects which will receive a share of £900 million from the Getting Building Fund.
The full list of projects is available on GOV.UK.
The Getting Building Fund is investing in shovel-ready infrastructure projects to create jobs and support economic recovery across the country. Projects funded include:
• regeneration of town and city centres
• green infrastructure and clean energy
• transport and digital connectivity improvements
• unlocking of housing and business sites
• support for SMEs and learners
The successful projects (over 300) are expected to deliver up to 85,000 jobs, over 1,500,000 sqm of commercial floor space, unlocking 45,000 homes, almost 1,000,000 sqm of public realm or green space improved or created, over 50,000 new learners assisted, and 65 million kgs of CO2 emissions saved.
All projects have been selected by Local Enterprise Partnerships and Mayoral Combined Authorities in each area and endorsed by the Housing Secretary.
The Solent Local Enterprise Partnership is a locally-owned partnership between business, education and local authorities and plays a central role in determining local economic priorities and undertaking activities to drive economic growth and the creation of local jobs.
Further information on the Solent LEP is available at www.solentlep.org.uk